XP: How will users respond?
Technology intelligence provider IDC has been considering the uptake scenarios for Windows XP Home and Windows XP Professional...
This Article Covers
RELATED TOPICS

Download this free guide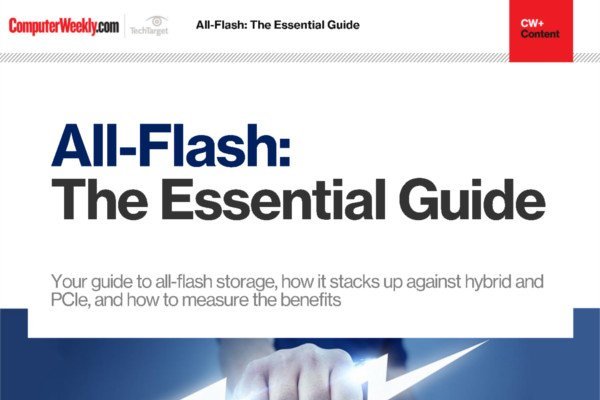 All-Flash: The Essential Guide
Access this guide to learn about all-flash storage, how it stacks up against hybrid and PCIe, and how to measure the benefits.
By submitting your personal information, you agree that TechTarget and its partners may contact you regarding relevant content, products and special offers.
You also agree that your personal information may be transferred and processed in the United States, and that you have read and agree to the Terms of Use and the Privacy Policy.

Technology intelligence provider IDC has been considering the uptake scenarios for Windows XP Home and Windows XP Professional for the past several months. In an extract from IDC's Windows XP: Huge uptake potential; little alternative choice report, CW360.com presents its key findings.



Simply stated, IDC sees Windows XP as quickly absorbing the momentum that Windows 98 and Windows Me have gained as well as the momentum that Windows 2000 Professional is experiencing in the market.

Another trend that IDC expects to see is a significant shift among business users from Windows 9x products over to Windows XP Professional, marking a parting of company between consumer and business users. This trend will be particularly important for the acceleration of Windows XP Professional.

However, at the top line, IDC does not see Windows XP as creating a significant surge in Windows COE (common operating environment) new licence shipments; instead, we see this as a product that will quickly replace existing product shipments, carrying forward the growth curves that have been underway in the Windows COE market for some time.

Coming into play are a number of factors convincing IDC to project such fast uptake of the new product. Those factors include the following:

Consumers will have little alternative choice
Since consumers are effectively at the mercy of what is available on retail shelves or offered on the large PC OEMs' Web sites, they will find themselves facing little choice at the computer store. Because hardware OEMs will rapidly switch from pre-installing Windows Me to Windows XP Home because of better reliability and stability (which translates into fewer support calls), users will quickly find themselves able to purchase Windows XP Home- based systems only. An interesting side effect happens as a result of this trend, however. Small business users that purchase through the retail channel may find that stores will not stock both Windows XP Home and Windows XP Professional systems.

To lower their inventory costs, they are likely to stock only systems having Windows XP Home. Business users may shortly face a situation in which they must manually install Windows XP Professional or end up using Windows XP Home on their networks. Microsoft contends that the retail channel will probably stock both versions on preinstalled systems. Also, Microsoft has suggested the possibility that a Windows XP-Home-XP- Professional upgrade may become available, but if this emerges, it won't be free.

Windows XP is perceived as a dot-release over Windows 2000 Professional
Business users will have a mixed reaction to Windows XP Professional. They will probably see this product as a dot-release, or minor upgrade, to Windows 2000 Professional that includes cosmetic improvements and some improved functionality but no fundamental structural changes. This upgrade will present a scenario more like the Windows NT 3.51-Windows NT 4.0 migration - as opposed to the disruptive Windows NT 4.0-Windows 2000 upgrade.

Further, a Windows XP client system can be easily supported by a Windows 2000 support specialist, given some minor incremental training. This means that Windows XP Professional won't create the kind of impediments to adoption that Windows 2000 Professional introduced. Nevertheless, this same dot-release perception will not necessarily be a stimulus to business user adoption.

Licensing terms will force users to the most current Microsoft COEs
With Microsoft's clear message delivered by its Licensing 6.0 terms, business users are now strongly encouraged to purchase the most current COE licences offered by Microsoft. If they do so, Windows XP will see a faster uptake than is historically seen with other new Microsoft client operating environments. But for many organisations that already began moving forward with Windows 2000, IDC believes that the process of testing product and rolling out Windows XP Professional won't be a priority.

A more likely scenario is that organisations will purchase Windows XP Professional licences to satisfy Microsoft's new licensing requirements but continue to roll out Windows 2000 Professional under the "downgrade" licence included with each new Microsoft product. These organisations are likely to continue to use Windows 2000 Professional until the systems are obsolete and need to be replaced or a compelling reason emerges to deploy Windows XP Professional. For other organisations that have held back their rollout of Windows 2000, a shift to Windows XP Professional may alleviate some of the porting issues of older applications to Windows 2000 Professional.

A shift from consumer to business versions of Windows COEs will take place
Another trend is shown by IDC's uptake projections: a market shift from "consumer" versions of the Windows COE family to "professional" versions. IDC believes that volume licensing terms (not available for Windows XP Home) and other benefits of moving to Windows XP Professional will encourage business users to move to the professional grade products, while most consumers will best be served by moving to Windows XP Home. This trend represents a significant shift for use models within Microsoft's customer base. In the past, both business users and consumers used the Windows 9x product family. For the first time ever, a clear shipment picture will emerge from Microsoft for business versus consumer customers.

Conclusion
IDC believes that Windows XP represents one of the most important products that Microsoft has ever launched, one that will ultimately touch hundreds of millions of users. Neither consumer nor business users will be able to avoid the new operating system unless they stop purchasing new Windows COE licences in the future or abandon Windows COEs entirely and use an alternate product.

Given Microsoft's dominance in the client operating environment market and the clear message delivered by Licensing 6.0 terms that business users will stay current or face higher costs down the road, it's likely that Windows XP will start showing up in corporate accounts within a few months of the release of the product. A six-month lag prior to any significant adoption, as was seen with Windows 2000, is an unlikely prospect. Further, the availability of volume licensing terms for as few as five systems will encourage business users to purchase Windows through non-retail channels.

IDC is a key provider of technology intelligence, industry analysis, market data, and strategic and tactical guidance to providers and users of information technology

Further information
www.idc.com
Read more on Data centre hardware