Voice over IP - On call on the move
Before rushing into VoIP, it is important to get back to basics and understand the needs of mobile workers in terms of...
The number of mobile workers worldwide continues to grow rapidly. In the US alone, this number is expected to reach 103 million by 2008, comprising a staggering 72% of the total workforce, according to a report by InStat MDR in 2004.

This represents a huge communications requirement for businesses to leverage voice over Internet Protocol (VoIP) as an enabler to support this mobile workforce, and a huge opportunity for suppliers. Before both parties rush in, it is important to take a step back and look at what is really required by businesses and what they realistically expect to achieve.

To better understand the needs of mobile workers and the organisations that employ them, in the autumn of 2004, Avaya commissioned in-depth global research to examine the impact of mobility on communication and working practices.

The survey found that workstyle mobility fits into one of four categories:

Download this free guide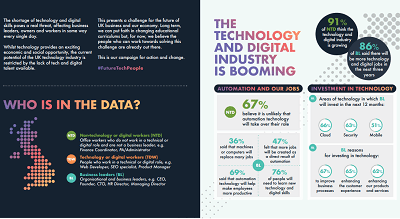 Infographic: Future-proofing UK technology
The shortage of technology and digital skills poses a real threat, affecting business leaders, owners and workers in some way every single day. Whilst technology provides an exciting economic and social opportunity, the current potential of the UK technology industry is restricted by the lack of tech and digital talent available. This presents a challenge for the future of UK business and our economy. Long term, we can put faith in changing educational curriculum but, for now, we believe the people who can work towards solving this challenge are already out there.
By submitting your personal information, you agree that TechTarget and its partners may contact you regarding relevant content, products and special offers.
You also agree that your personal information may be transferred and processed in the United States, and that you have read and agree to the Terms of Use and the Privacy Policy.
Traditional workers who spend most of the time at their office desktop
Workers who use a virtual or home office
Enterprise nomadic workers who may stay on site but spend little time at their desks or who may work in public hotspots
Road warriors who spend most of their time moving between locations.
Although workers may have a dominant work mode, many will move into different modes throughout the day. It therefore seems sensible to classify mobile workers as those who are not working at their desktops most of the time.

For such workers, there is an overwhelming demand for the same communication capabilities to be available to them as they move from one mode to another.

However, Avaya's research highlighted another key issue: a conflict is evident between the business' desire to give employees additional flexibility in their work arrangements to increase their job satisfaction and company loyalty, and the need to retain control over employees.

Within an organisation, IT directors should be looking to provide a two-fold strategy that extends mobility for employees while centralising control for the IT department. All of this can be achieved by gaining economies of scale from VoIP to reduce costs and gain competitive advantage by adding mobile communication applications.

As a result, organisations can gain central and consistent management policies for their communication infrastructure, such as a record of all calls, regardless of whether they were made from the office or from a mobile device. Not only will this make communication easier to manage within organisations, but it will also give a complete and accurate view from which to manage costs better.

Employees need to be as productive as possible regardless of their location or the type of mobile worker they are. As these requirements are still nascent, mobility products offered need to be highly flexible and adaptive. A simple way of doing this is to choose a supplier that bases its solutions on open source code that will be available to third parties to develop future applications.

Security is another key concern for both users and the IT director. As devices multiply, so do network access vulnerabilities. Mobile software products will soon all be IP-based. When data and voice worlds coincide, security becomes even more complex and ensuring your mobile and fixed communication architecture is secure and your security policies are updated continually is vital to the existence of every organisation.

With a clear VoIP and mobility strategy in place, businesses can extend communication services from the office desktop to mobile workers, delivering these capabilities using IP telephony and a variety of applications such as extensions to mobiles, wireless and speech access. Mobile workers can be reached through their "one number" communication services on their preferred device, reducing the likelihood of missed calls.

Avaya believes businesses can achieve an estimated 15% increase in personal productivity through smarter communication and a 30% cost saving by carrying more calls over the corporate network with VoIP. Also, these technologies can help businesses to overcome the challenge of retaining control of their communication and work towards enterprise-enabled mobility.

Buddie Ceronie is vice-president for Avaya in the UK, Ireland and Southern Africa
Learn more at the VoIP for Business conference
VoIP for Business is an event designed to help IT managers and business executives understand voice over IP technology and build the business case for implementation. It takes place on 1-2 June at the Olympia Conference Centre in London.

The event will feature a "case study theatre" in which leading independent experts and user organisations that have adopted VoIP share their insights. Keynote sessions will be presented by analysts from Ovum and Deloitte.

There will also be technical presentations from VoIP hardware, software and services suppliers.

More information

www.voipforbusiness.co.uk