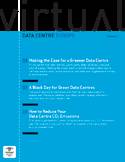 Whether you're building a new data centre, managing an existing facility, or considering cloud computing and managed services, our Data Centre Europe e-zine addresses IT professionals' day-to-day challenges.
This quarterly e-publication covers key data centre concerns for facilities that need to reduce their footprint, save on IT costs, and improve automation and efficiency.
In Virtual Data Centre Europe, we cover data centre design and power consumption, data centre infrastructure technologies and challenges, virtualisation deployment and management and more.
Virtual Data Centre,February 2012 issue (Vol. 2, No. 1)
How to Build an Internal, Private Cloud by Daniel Eason
Data centre administrators -- aware of how popular cloud services have become -- are now assessing whether they can take the idea of a public cloud and build one behind closed doors. Here's how IT teams can find a strategy that will fulfil the promise of private cloud.
Virtual Data Centre, December 2011 issue (Vol. 1, No. 4)
The Realities of Virtualised Data Centres by Roberto Salucci
Virtualisation allows you to create a nearly unlimited number of virtual resources, and it takes vigilance to control the growth. Initiating proper management practises means you needn't look into every system to stem problems.
Case Study: Server Consolidation Yields Long-Term Savings by Archana Venkatraman
Case Study: Standout Approach to Desktop Virtualisation Pays Off by Archana Venkatraman
Case Study: Airline's Disaster Recovery Strategy Boosts Efficiency by Archana Venkatraman
 
IT in Europe - Virtual Data Centre, August 2011 issue; (Vol. 1, No. 2)
Sketching Out Your Virtual Infrastructure Design by Daniel Eason
When it comes to deploying a virtualised data centre infrastructure, create a plan and stay on track. Focus on architectural governance, technical design, virtualisation's role in current and future business processes and, most important, budget management.
Virtualisation Infrastructure Monitoring: Eat Your Veggies by Eric Siebert
Five Ways to Improve Virtualised Server Infrastructure Performances by Rick Vanover

 
Virtual Data Centre, April 2011 issue (Vol. 1, No. 1)
Making the Case for a Greener Data Centre by Roger Keenan 
Data centres, particularly older facilities, are energy hogs. If you make the investment to retrofit a legacy data centre, you'll help reduce your carbon footprint and save an organisation serious money.
A Black Day for Green Data Centres by Clive Longbottom
How to Reduce Data Centre C02 Emissions by Clive Longbottom

 
Email Alerts
Register now to receive ComputerWeekly.com IT-related news, guides and more, delivered to your inbox.
By submitting your personal information, you agree to receive emails regarding relevant products and special offers from TechTarget and its partners. You also agree that your personal information may be transferred and processed in the United States, and that you have read and agree to the
Terms of Use
and the
Privacy Policy
.
This was first published in March 2011