Using technology to buy a home: Smart moves
Moving house may be among the most stressful life events, but one estate agent group is using technology to halve the time it...

Download this free guide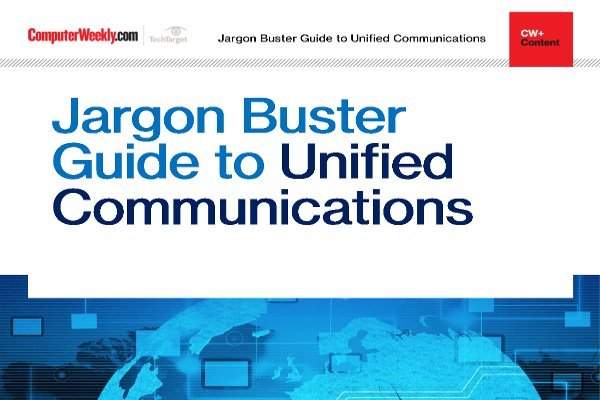 Jargon buster guide to Unified Communications
Explore some of the key elements of a Unified Communications deployment and discover insight into some of the emerging trends that are changing the way we communicate in our working lives.

By submitting your personal information, you agree that TechTarget and its partners may contact you regarding relevant content, products and special offers.

You also agree that your personal information may be transferred and processed in the United States, and that you have read and agree to the Terms of Use and the Privacy Policy.

Moving house may be among the most stressful life events, but one estate agent group is using technology to halve the time it takes to find, buy and move into a new home. Karl Cushing finds out whether IT can make it happen



Estate agents constitute one of the most detested professions. As comedian Stephen Fry put it, "Love them or loathe them you'd be mad not to loathe them." Whatever your view of agents themselves, however, the fact remains that buying a property can be a frustrating business, with visibility almost non-existent, hair-pulling and gritted teeth the norm.

The situation is not helped by the failure of the industry to adopt new technologies. Although most estate agents have a Web site the majority are merely online shop-fronts and for many the flirtation with technology ends there. However, as is often the case, there are exceptions to the rule and a good one is the Tmx Spicerhaart group of companies.

The group, which started out as a single branch operation in Essex, has grown to a point where it is the largest independent estate agency group in Europe. Through a series of acquisitions it now encompasses the Haart, Spicer McColl, Darlows, Felicity J Lord and Bailys estate agencies. Also under the Tmx banner is a financial services firm, Mortgage Direct, and surveyors Wolton. In all it has more than 300 branches, about 2,000 employees and generates an £80m turnover. However, despite its size, the company is still essentially a family affair, with chief executive Paul Smith and his father Alick retaining a firm grip on the reins.

The Smiths are staunch advocates of using technology to support the business and deliver the "tmx" - total moving experience - for the customer. Over the past 18 months the company has undertaken a massive change management scheme, incorporating about 30 separate projects. It has spent more than £2m in a bid to fully integrate its branch office functions with its Web site and standardise its IT function on a single platform. For an independent firm like Tmx Spicerhaart this is not small beer. The company's project director, Ian Russell, points out that the organisation does not have the resources or the infrastructure of similarly-sized financial services or insurance firms, so rolling up your sleeves and getting stuck in is often in order. "The style of the organisation is non-corporate and very hands on," he says.

Russell says a key belief of the group is that technology can help to make moving home quicker, less stressful and ultimately a more pleasant experience. It aims to make moving "an online and interactive experience" as opposed to a "paper and word-of-mouth experience". The Internet, and the electronic exchange of information, is central to the company's plans. Autonomy is another recurring theme. As well as trying to do as much as possible in-house - the company has its own helpdesk, maintenance team, technical assistants and engineers - it tries to keep as much control over its data as possible. Thus, whereas other estate agents will allow their data to be held on other property Web sites or portals, Tmx Spicerhaart keeps all its properties on its own site. "We don't want our customers to have to look in four or five places for our properties," explains Russell.

Pictures of new properties, taken using digital cameras, are sent, along with the relevant information, to a company in Ireland which publishes colour brochures. This information is simultaneously uploaded on to the Internet. The company aims to get a property on both the Web site and placed with the relevant branch within 24-48 hours. "That requires end-to-end straight-through processing," Russell says.

Prospective customers can request more information and view upcoming properties, auction properties and new instructions. Prospective sellers can book services such as valuations online. Such requests are forwarded to the relevant branch office. Each branch has a workflow system which helps staff to keep track of requests and follow them up. The company is also looking at sending SMS text messages to house-hunters' mobile phones. As Russell explains, in the current situation, properties are selling quickly and this will help them to keep up to speed. A recent trial in Essex saw the company sending 1,000 SMS messages a day to a pool of about 5,000 house-hunting guinea-pigs.

To help it to make the house-buying procedure online as efficient as possible, the company has teamed up with solicitor firms that are "tech friendly" and able and willing to communicate electronically. The idea is that all of the relevant information is captured, held and transmitted electronically, allowing the solicitor's staff to keep track of the process online. The long-term goal is to allow customers and branch staff to do the same, after logging on to a secure area of the Web site. "It's not rocket science - it's often just a case of improving communication," says Russell. However, he admits that it will be a few years before the company can realise this vision. On top of the usual problems such as chains in the house-buying process, a more pressing concern is that bodies like local authorities and the land registry are not up to speed with technology.

Tmx Spicerhaart is also trying to drag the surveying profession into the digital age. At present, most surveyors visit a property, gather their information and then compile a report when they get back to the office or their home PC. Tmx's idea is that surveyors will dictate their reports using digital voice recording technology. This information will be then sent electronically to a call centre where a typist will input it before transferring it back to the surveyor's terminal. Russell says the aim is to get 70% of all surveys turned around within 24 hours. It might sound like a roundabout way of doing things but, as Russell puts it, "We want to walk before we run." Tmx IT director Steve Lamb adds that a lot of surveyors are older and less willing to embrace technology. The use of personal digital assistants with bespoke applications, enabling surveyors to input information into prescribed fields is planned for the future, though.

Another key area is financial services. Tmx hopes to enable its customers to at least get an "agreement of principle" for a mortgage online. However, a basic stumbling block here is that most lenders still demand a written signature before they will offer a mortgage.

The immediate aim is to complete the moving process within six or seven weeks. As Russell explains, typically the industry gives 12 weeks as the norm. In a small pilot project involving about 50 people the company has succeeded in getting people moved in 26-30 days. The basics on their side should be in place by early next year and that alone should lead to improvements for its customers.

As Lamb explains, last year was a busy one on the tech side. The company fitted new hardware in all its 300 offices, standardising on a Dell platform, chosen for its "reliability and resilience", with between three and 12 terminals installed in each of the branch offices, depending on size. About 200 have ADSL and 0.5Mbyte links while the other 100 have ISDN - largely for geographical reasons. The 20 high-spec servers at the head office supporting the Web site are also from Dell, with further Dell servers installed in the bigger branch offices.

The head office now has 8Mbyte connectivity serving all the requisite channels. The network itself is 100Mbyte. The company uses a variety of products to manage the bandwidth. This allows it to send traffic down different routes, boosting reliability and resilience, says Lamb. One of the key products is from Energis2. "It enables you to view traffic problems in real time, which is excellent," he says. However, since the company updated all its central systems to become client server, traffic has actually decreased, he says.

Tmx is also moving towards convergence and, since February, has been slowly putting in hardware in readiness (about 20 of its phones are now Internet protocol-enabled). The key focus at the moment, however, is on sorting out the data network. The company aims to have all its branches linked by a virtual private network (VPN) by the end of the year. Lamb says that the branches are all ready - it is just a case of getting head office up to speed, and ironing out the connectivity issues. Once the data network is sorted out it can then piggyback it for VoIP.

Sorting out the voice network will lead to big savings, says Lamb. One of the company's biggest expenses is phoning mobiles from landlines. To address this the company is building a voice VPN based on a Mitel Networks platform. Calls to mobiles will be routed to head office where they will be handled by a rack of mobile phone sims, turning them into mobile-to-mobile calls, which are cheaper. "It's a self-funding project," says Lamb, who believes that it will pay for itself within two years.

Savings will also be made from internal calls between the branches which will be free, although Lamb says that such calls account for only a small percentage of call costs. With inbound calls its hands are largely tied - to ensure a high standard of customer service, callers need to be handled by someone with local knowledge, explains Lamb.

All this is a far cry from when Lamb joined the company two-and-a-half years ago. "IT had no real presence within the group, it had a bad reputation and no budget," he says. A key factor was the acquisition of Haart - formerly Woolwich property services - in 1998. "That took a long while to recover from," he says. Previously Tmx would spend if it needed to. "There was very little planning," he says. Then, in the following year, it went straight into "multimillion-pound" budgets.

Lamb attributes the success so far to a number of factors, a key one being the level of support the IT function receives from the business side. "The chief executive is very tech-aware and he drives technology at board level," he says. "That kind of support is paramount for any business. After all, IT isn't cheap."

He also points to the fact that the IT staff, including himself, have first-hand experience and knowledge of the industry. "It is not just about understanding IT - it's about understanding the requirements of the people at the coalface," he says. And with its stable, common network, the business is well placed to go forward. "Now it's time to start leveraging some of the benefits for the business," he says.

Tmx Spicerhaart Company information
Tmx Spicerhaart started out as a single branch operation in the central Essex area in 1989
It is still a family affair, run by chief executive Paul Smith and his father Alick
It now has about 2,000 employees
It has about 300 offices, including financial services
Annual turnover is approximately £80m.
The company's Web site
URL: www.tmxhome.com
From January to March the site had a monthly average of 96,000 unique users who made 450,000 visits with 40 million hits, generating 10 million page impressions
Every day 4,500 automated e-mails are sent to notify people of new properties on the market
The site generates 500 valuation opportunities a day for the branch networks.
TMX Spicerhaart: the tech specs
1,000 PCs across its branches


Supported by 20 servers at head office, with extra servers in branch offices in place of PC s where needed


SQL-based database in head office, supported by six servers


Branches use a FoxPro database


The company also uses the Quest database - a bespoke product for the surveying industry - which is interfaced with its own systems


Microsoft-based, with Dell hardware


The company is installing thin-film transistor screens in all its branches.


Self-help the Spicerhaart way
Although it does fall back on consultants for areas such as connectivity and has a number of maintenance agreements up and running for products like firewalls, Tmx Spicerhaart tries to do as much as it can in-house. "Doing things in-house gives us maximum flexibility and it helps us to control our destiny, to an extent," says the group's IT director, Steve Lamb.

To this end it has:
A four-strong helpdesk


Four engineers


Its own maintenance staff


A second layer of tech support has three people, two of whom are MCSE qualified


A dedicated telecommunications person.


The company also does its own Web hosting and application development, employing four full-time development staff.
How much does TmxSpicerhaart spend?
The IT and telecommunications budget for 2002 is £4,225,000. This breaks down as:


Telecommunications - voice and data - £1,850,000


Hardware - capital expenditure and leasing - £1,575,000


IT resources (including development) £800,000.
Read more on Voice networking and VoIP