Tivoli offers privacy mangement tool
Systems management supplier Tivoli has launched an initiative that aims to build privacy policies into corporate information...
Systems management supplier Tivoli has launched an initiative that aims to build privacy policies into corporate information systems, says Lindsay Clark
The cornerstone of the IBM subsidiary's SecureWay Privacy Initiative is a technology dubbed SecureWay Privacy Manager, which will allow companies to build their privacy policies into access control systems, Tivoli says.

Download this free guide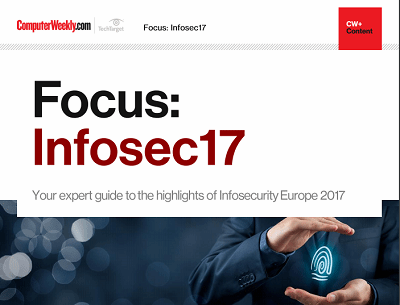 From forensic cyber to encryption: InfoSec17
Security technologist Bruce Schneier's insights and warnings around the regulation of IoT security and forensic cyber psychologist Mary Aiken's comments around the tensions between encryption and state security were the top highlights of the keynote presentations at Infosecurity Europe 2017 in London.
By submitting your personal information, you agree that TechTarget and its partners may contact you regarding relevant content, products and special offers.
You also agree that your personal information may be transferred and processed in the United States, and that you have read and agree to the Terms of Use and the Privacy Policy.
Consumer confidence is essential in creating brand loyalty for companies moving into e-business, says Carl Kessler, vice president and general manager of Tivoli SecureWay. Businesses need policies controlling access to personal data collected through e-business in order to achieve this, he says.
"While the high-tech industry is far from solving the complex privacy issues on both the consumer and enterprise fronts, we will begin to see solutions like Tivoli SecureWay Privacy Manager available to empower e-businesses to effectively enforce their privacy policies," says Kessler.
Tivoli has allied with consultancies such as Deloitte & Touche to advise companies on privacy policies. With recent changes to privacy legislation in the UK in the new Data Protection Act, together with further privacy directives coming from European Union (EU), it is essential that businesses use technology flexible enough to enforce these policies without having to redesign access control systems, says Mike Collins, Tivoli product marketing manager for security.
"Instead of updating systems, this technology allows you to take a lot of hard work out of the loop," Collins says. "You can conform with whatever privacy policies emerge from the EU."
KLM, the Dutch airline, already uses SecureWay Policy Director, the access control architecture that privacy manager is part of. Bert van Wijk, head of KLM cabin crew projects, says the system has reduced the need to write permissions identification and access control into each application and allows the creation of a central policy scheme, so reducing the cost of ownership.
SecureWay Policy Manager runs on Microsoft Windows platforms and on AIX Unix. It supports standard lightweight directory access protocol and as such can integrate with corporate network directories, Collins says.
Read more on IT risk management