Strategy Clinic: How do I exploit my social network better?
To make the most of social networking it is important to appreciate where social media is heading, writes Puni Rajah, analyst at TechMarketView....
To make the most of social networking it is important to appreciate where social media is heading, writes Puni Rajah, analyst at TechMarketView.
Based on current adoption patterns, organisational and cultural realities and the economic imperatives we face, TechMarketView believes IT professionals need to assess the business impact of several emerging social media trends.

Download this free guide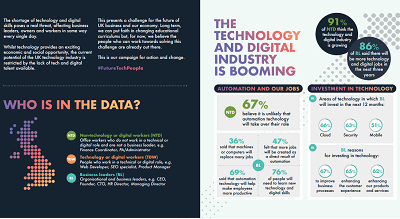 Infographic: Future-proofing UK technology
The current potential of the UK technology industry is restricted by the lack of tech and digital talent available. Read through this challenge for the future of UK business and our economy.
By submitting your personal information, you agree that TechTarget and its partners may contact you regarding relevant content, products and special offers.
You also agree that your personal information may be transferred and processed in the United States, and that you have read and agree to the Terms of Use and the Privacy Policy.
People, avatars and brands - quantity and quality growth
Social media will enjoy increased adoption, and we will become better at distinguishing technologies (applications such as tagging, status updates), platforms (social environments such as Facebook) and content (conversations, information, opinion, collectively coined as media). Brands too have been developing social identities, and as early success stories promote confidence, we will see an avalanche of corporate brands establishing social profiles.
Real-time search
Volume will drive smarter use, which in turn will lead to greater sophistication. Translation technologies will improve, connecting user generated content across language barriers.
Google has just linked with Twitter to expand its scope of searchable content to include the publication of dynamic social web content. Real-time search will also deliver additional commercial opportunities such as real-time conversations, discovery, and trend tracking.
Mobility
In the near term, social technologies will drive more of us further towards the mobile lifestyle. Device readiness (smartphones, netbooks, tablets) and wireless broadband availability allow us to do more on the go. This in turn will lead to simpler websites, faster to load, point functions. Apple's AppStore is the best indicator of the future of applications.
Mobile payments will enable more nimble businesses and business processes. Square, founded by Twitter co-founder Jack Dorsey, is the start of many such specialist clearing houses targeting specific demographics. Customers who can pay with confidence will be the hottest target markets.
Mobility, and user generated content, will also unleash a wave of localisation that will impact how businesses acquire customers, and deliver services and products. Platforms such as foursquare and ubertwitter (geo-tagging) create new opportunities for businesses and local communities. One example of augmented reality today with high business relevance is WorkSnug. Many more will proliferate.
More answers to the question: "How do I exploit my social networks better?" >>
Got a question for the Strategy Clinic panel? E-mail strategy@computerweekly.com