Serving up the stats
With the Wimbledon tennis championships 11 days away, Karl Cushing looks at how technology helps players, officials and fans keep...

Download this free guide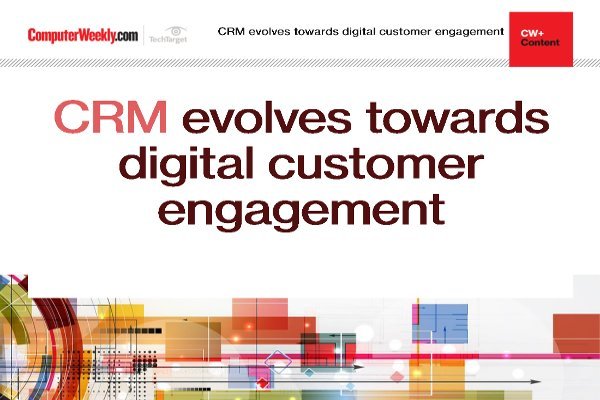 Enhancing digital customer engagement with CRM
Learn about customer relationship management has evolved towards engaging with customers through every channel, with digital at the forefront.

By submitting your personal information, you agree that TechTarget and its partners may contact you regarding relevant content, products and special offers.

You also agree that your personal information may be transferred and processed in the United States, and that you have read and agree to the Terms of Use and the Privacy Policy.

With the Wimbledon tennis championships 11 days away, Karl Cushing looks at how technology helps players, officials and fans keep on top of their game



The All England Lawn Tennis & Croquet Club, home of the Wimbledon tennis tournament, may have a reputation for being stuffy and traditional but in one way at least its outlook is progressive. Technology is everywhere at Wimbledon, most of it unseen, and the IT professionals that keep it running are the unsung heroes of the championships.

IBM, the club's IT supplier, employs a team of about 180 during the championships to deliver a volley of stats and results as well as the back-room systems. Probably the most important, IT-related role is that of the data entry operative. "Data entry is pivotal to all the services we provide," explains Mark McMurragh, IBM's director for Wimbledon. "It's the start of everything." It's also a high-pressured role, says McMurragh, requiring a considerable concentration, speed and accuracy.

Another requirement is a sound knowledge of tennis. The 60 or so data entry staff are all county-level tennis players and working in pairs they analyse, define and input every stroke played. The ones on the main televised courts are armed with laptops and headsets. On the outer courts, they use personal digital assistants (PDAs) and cradles in the main IBM control room to upload the information after the match has ended. All the information is input into the central IBM computer.

The data from the courtside operatives fuels the two core pieces of kit used during the championships: the Wimbledon Information System (Wis) and the Commentator Information System. The former is a browser-based intranet system that stores and collates all of the information generated during the tournament. Since being introduced in 1999 to replace an earlier system, the Wis has helped the club to build up an impressive archive of information and database. The match information stored in the central Wis server is also used to create graphics for use on TV.

The Commentator Information System is a client/server application which supplies analysis, details of the draw, order of play, player comparisons and previous form. Every year more than 750 journalists from over 52 countries attend the championships and this vast pool of data feeds information-hungry tennis fans with an endless rally of facts and figures. The system also helps commentators to keep track of the action on all the other courts without leaving their seats. It is supported by the commentator prompt service. For the duration of the championships, tennis expert Keith Sohl remains in the main control room, surrounded by facts and figures, and has the job of sending messages to the commentators' screens each time a point of interest occurs or is about to happen.

IT also plays a crucial role on the court. The Championships Management System, supplied by EDH Tennis, supports the referee's office with information relating to entries, draws, match scheduling, results and prize money and last year the umpires used handheld computer score-pads connected to the central systems, to provide immediate results. Other applications assist in the scheduling of officials for matches and arranging players' interview schedules.

A favourite with the viewers is the radar gun, which records the speed of the serves. The system is based on two specially designed radar sensors positioned behind the baseline at either end of the court. The gun, designed by IBM, made its debut at the 1991 championships on Centre Court and has been a regular fixture ever since. Punters who fancy themselves as the next Goran Ivanisevic can test their strength using IBM's Speed of Serve net in the Kids Zone, behind Court 13 at Wimbledon, which uses the same technology.

The official Wimbledon Championships Web site, run by IBM on behalf of the club, is the largest sports site hosted by the company and at its peak is supported by four server farms based in the US. "It's a technological feat," says McMurragh.

The site contains pictures; real-time match scores; an interactive section which enables users to go on a virtual tour of the facilities by controlling robotic cameras; video footage courtesy of the Wimbledon Channel; broadcasts from Radio Wimbledon; and archive footage courtesy of the Video Vault. Users can also register to get results as text messages to their mobile phones or as nightly

e-mail bulletins. For the humorous there is a monthly caption competition, with Wimbledon merchandise the incentive. The online shop boasts an alarming array of Wimbledon merchandise, from strawberry patterned socks to giant tennis balls.

More than 3.2 million unique visitors from around the world visited the Web site in 2001 and, according to McMurragh, the average visit lasted 69 minutes. Over 800,000 unique users logged onto the site in one day alone, after the men's final was delayed until the Monday because of rain. However, despite its success, the role of the Web site is downplayed by the club. As McMurragh explains, "The club does not want the Web site to overtake the Wimbledon experience, it wants it to complement it."

The Wimbledon championships are obviously the high point of the year but for a core team of six IT professionals the job of supporting the club is year-round. As Paul Figgins, IBM's Wimbledon project manager, explains, as well as being the IT supplier for a wide variety of systems at the All England Lawn Tennis Club, including hardware, software and networks, IBM Global Services provides consultancy and project management skills. A recent example was the migration from Token Ring to an Ethernet infrastructure using Cisco switches. Figgins says IBM worked closely with the club on the project which, with its Gigabit backbone, he claims is "fairly future proof". Other yearround activities include maintaining the Web site and the AS/400 computer that supports the club's administrative, financial, ticketing and debenture systems.

Little new is happening on the technology front at this year's championships, "It's really just a case of consolidating where we are," says McMurragh. There will be a few tweaks and subtle enhancements - such as extending the number of courts covered by the radar gun, modifying the players' reports and putting PCs in the players' lounge to provide access to the intranet. The main development will be the pilot of a mobile application. The idea is to send real-time match information direct to mobile devices such as PDAs using BT's GPRS mobile network and a wireless Lan. McMurragh stresses that the pilot is "very limited", using about 40 volunteers, but he says IBM will consider rolling out the service next year if it proves successful.

McMurragh says technology plays a crucial role at the championship, helping to open it up to a massive audience worldwide. However, technology is just an enabler. One thing is clear: Wimbledon doesn't do gimmicks. "We only use tried and tested technology at Wimbledon," asserts McMurragh. "We don't deploy technology for the sake of deploying technology."

Wimbledon online

URL: www.wimbledon.org


Built in1995


More than 3.2 million unique visitors visited the Web site in 2001, with over 800,000 unique users logging onto the site for the men's singles final


On average, each visitor was logged onto the site for 69 minutes per visit


The biggest market is the US, accounting for about 60% of users, but countries like China are coming on fast


At present the site is only available in English but McMurragh says IBM will consider translating it into other languages in the future if it identifies sufficient demand


Last year there were more than 145,000 updates a day when the site was "running hot", says McMurragh.
Facts and figures

IBM employs about 180 people during the championships
More than 20 miles of cabling are installed at the club (equivalent to the length of about 1,350 tennis courts)
Over 250,000 tennis strokes are recorded and analysed during the tournament, creating about 800 facts per match
IBM installs about 160 systems for use during the event
More than 140 countries rely on the statistical output, as well as the on-site commentators and journalists
During the championships, more than 200 desktop and Thinkpad laptops are used


The physical network is managed by IBM and Cisco. After last year's championship the network was migrated from Token Ring to Switched Ethernet over a Gigabit backbone.
Read more on Business applications