Ready to roll
Before implementing Linux, IT managers need to consider how they will tackle a host of user issues. Danny Bradbury explains
Before implementing Linux, IT managers need to consider how they will tackle a host of user issues. Danny Bradbury explains.


IT managers in the UK generally wait longer to see how new technologies fair, which is one reason why technology markets often catch on in the US before gaining ground over here. UK IT managers considering rolling out Linux will therefore be considering the variables carefully before taking the plunge.

One of those variables is employee skills. Generally, Windows systems will be managed by Microsoft certified systems engineers, who will probably be unschooled in the way of the penguin. Although server-based Linux systems can be GUI-controlled just like their desktop counterparts, the mindsets of Linux systems administrators are often different,according to Martijn Dekkers, head of the Linux and open source strategies team at IT services company Computacenter. "Windows systems administrators are lazy because everything is scripted," he says.

This comment is not likely to be popular with MCSEs, but he is not the only one with this point of view. Stephen Lockhart, IT manager for pharmaceutical development company Strakan, has been running a Linux-based infrastructure since 1999. Because Linux systems administrators are encouraged to get into the heart of the system, their mindset is often different. "There is a can-do attitude," he says. He has a point - you can't recompile a Windows kernel.

Whether you retrain staff or bring in contractors to manage your Linux boxes, there are two certifications to look for. The Canada-based Linux Professional Institute offers online systems administrator exams for Linux professionals. Red Hat has also introduced its certified technician programme, which provides a stepping stone to certified engineer status. The Linux Professional Institute certification is still gaining ground in the UK.

Application availability is an issue at the desktop and server level. Desktop users generally find themselves able to run the relevant applications on a Linux desktop as long as they are not too adventurous in the software they use. Workers using Microsoft Office can switch to Staroffice or Openoffice on Linux. If workers are using more esoteric software such as accounting, photo editing, computer-aided design or audio editing applications, you may run into problems.

If you do find Linux-based applications in these categories, your choice will be relatively limited and users will probably have to be retrained - all of which increases your overhead. English-born Clive Whincup, IT director at Banca Popolare di Milano, is moving his branch office desktop systems to Linux and replacing Microsoft Office with Staroffice. But desktops at the headquarters will remain Windows-based, because of the number of other productivity applications.

Many companies making the move to Linux whether on the server, desktop or both, are unlikely to do so wholesale. Instead, it is likely to deployed on a piecemeal basis, leaving users with an application compatibility issue. Getting your Windows database application to talk to your bespoke Linux-based workflow management software may not be easy.

Imel Rautenbach, who works at broadcast management software company Pilat Media, has to transfer workflow management data from his SQL Server database to a format usable by Linux applications. To do so, he connects to SQL Server through a Linux-based Oracle database. In cases where that is not appropriate, he uses a scheduled task on his Windows platform to produce an ASCII file from the SQL Server database that is then dropped into a Linux file share and parsed by his Linux application.

Companies will face similar challenges on the desktop. Openoffice will read Microsoft Office files but its macro language is different, meaning that if documents have inbuilt code, your support team will have to rewrite them from the ground up, or persuade employees not to use them at all.

David Sumray, Linux expert at PA Consulting Group, says that because of the investment involved in creating links between applications on different platforms, deploying Linux can often be a good opportunity to upgrade application infrastructure across the board. However, one thing he overlooks is the risk factor. Upgrading everything at once removes the comfort of continuity and, if this approach is adopted, risk should be managed carefully, using the traditional impact and probability matrix favoured by project managers.

Licensing will be less of an issue for firms making the jump to Linux. New licensing initiatives from companies such as Sun with its Java desktop seek to simplify the process. Because Linux licences tend to be support-oriented, product upgrades and maintenance releases become less of a problem, says Sumray.

This may be true, but there are other licensing issues. Existing Windows users labouring under Microsoft's draconian licensing agreements may find themselves locked in, meaning that they have to make a decision about how much residual value to relinquish. When it was introduced on 31 July 2002, version 6.0 of Microsoft's Select Agreement tied customers in for three years, as opposed to two years under version 5.1. Customers who threw in their lot with Microsoft will need to examine their options.

The final problem for IT departments adopting Linux is less technical and more cultural: many users simply do not like change. Whincup says that his IBM System 390 experts, familiar with working in the robust, conservative mainframe world, took a lot of persuading when he decided to install virtual Linux servers on his IBM mainframe using Big Blue's Z/VM technology.

Adam Jollans, IBM's worldwide Linux strategy manager, recalls a German customer whose IT manager gave away a set of stuffed toy penguins to persuade end-users to embrace the new operating system. "It was just the incentive to get them to use it and now they are happy," he says, adding that getting over the initial inertia is the hardest part.

A free penguin with every deployment does not sound like the sort of strapline that will sell a new operating system to end-users, but stranger things have happened. Such as the growth of a fledgling Unix clone released in 1991 into a multimillion-pound industry.

This article is part of Computer Weekly's Special Report on Linux produced in association with Novell

Download this free guide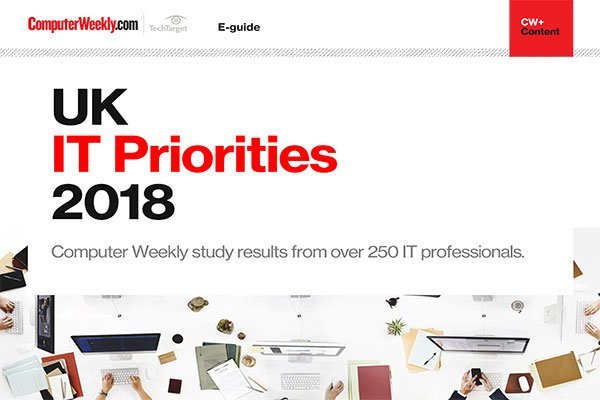 UK IT Priorities 2018 survey results
Download this e-guide to discover the results of our 2018 UK IT Priorities survey, where IT leaders shared with us what they are going to be investing in over the coming 12 months.
By submitting your personal information, you agree that TechTarget and its partners may contact you regarding relevant content, products and special offers.
You also agree that your personal information may be transferred and processed in the United States, and that you have read and agree to the Terms of Use and the Privacy Policy.
Read more on Operating systems software