Prudent firms should learn from Prudential's project
A leading software supplier is facing court action over a problem project for the third time in a decade. Are suppliers and...

Download this free guide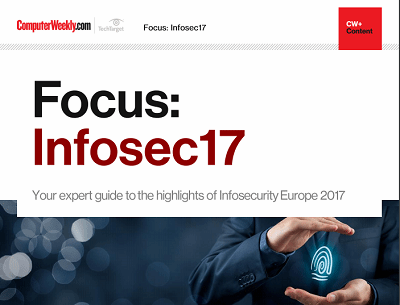 From forensic cyber to encryption: InfoSec17
Security technologist Bruce Schneier's insights and warnings around the regulation of IoT security and forensic cyber psychologist Mary Aiken's comments around the tensions between encryption and state security were the top highlights of the keynote presentations at Infosecurity Europe 2017 in London.

By submitting your personal information, you agree that TechTarget and its partners may contact you regarding relevant content, products and special offers.

You also agree that your personal information may be transferred and processed in the United States, and that you have read and agree to the Terms of Use and the Privacy Policy.

A leading software supplier is facing court action over a problem project for the third time in a decade. Are suppliers and customers expecting exceptional benefits in unrealistic timescales? Tony Collins reports



August 2001: an internal e-mail gives a hint that one of the UK's largest Internet computer projects is about to fail.

The e-mailed message, which relates to Prudential Europe's £35m Unite project, is addressed to the company's business end-users and is written by Jill Robinson, a senior executive at Prudential.

"Unisys [Unite's main IT supplier] has been set 20 acceptance criteria which must be met by the end of August," says the e-mail. "At this time we will make a judgement as to whether these criteria have been met and the timescales meet our business requirements."

The memo goes on to talk down rumours that the project is doomed. "In the meantime please be assured that the project is definitely still progressing and your continued support is required," it said.

Over 200 staff and managers at Prudential Europe and Unisys had been working on Unite for more than a year. The total cost of the project was estimated at some £35m and about £12m of this had already been spent by the end of the summer of 2001.

Crucial to Prudential's European expansion plans, Unite was to provide new back- and front-office life and pensions systems, attracting new business by allowing insurance agents to close deals via the Internet in near real-time rather than by processing forms by fax and post, which could take several days.

In the customer's presence an agent could log into the new system, obtain details immediately of existing customers, access and print product information, illustrative premiums, sum assured and projected values. If the client wished to proceed, medical and administrative information could be checked online and authenticated, with data being uploaded to the back-office systems.

But after Robinson's memo few of those working on Unite felt completely assured of the project's future, or their own.

Many expected to lose their jobs if the scheme was cancelled. The project's failure might also hit Unite's third-party suppliers: Siebel, PMPL, Magnum, Entrust Services, SAS, Oracle and Sun Professional Services.

By September 2001 there were strong rumours that an announcement about the future of the project was imminent. The rumours caused deep concern.

Indeed the human cost of a failure would be hard to measure. It would affect not only the project office staff, but those allocated to the main Unisys software development; security; design and analysis; corporate governance; integration systems development; workflow services; proof of concept; infrastructure management; testing; data migration; delivery enablement; allied SAS management information systems; and Siebel customer relationship management development.

The rumours of the project's impending demise were given extra force when new executives at Prudential ordered a review of major projects, particularly those that promised no quick return on investment. The Unite project had been in trouble for some months: costs had increased; contracts had been renegotiated; timescales changed; and payments withheld from Unisys.

At the centre of the project was Unisys' flagship insurance product Unisure, which had a big following among major insurance companies, including Norwich Union.

Another Unisure customer, United Assurance, which later became part of Royal London, was at that time pursuing a High Court action against Unisys. United Assurance had sued over the alleged failure of a £14m Unisure-based project.

It was not so much the risk of installing Unisure that had caused problems at United Assurance. Unisure was only the core software with facilities that could be used by most, if not all, major insurance companies, but it needed tailoring to suit the needs of buyers.

In United's case, Unisure was to be the basis for a single integrated system that replaced legacy applications. The risks came in tailoring the standard Unisure package and the human challenge of ensuring open and frank communications between different teams in the user and supplier organisations.

The companies settled the dispute before a judgement was given.

At Prudential, the development, integration and testing of the Unite systems was to have been achieved within demanding deadlines of about two years, so that competitors could not easily catch up.

But by the end of August 2001 the relationship between Prudential and Unisys was beginning to suffer. Some Prudential executives felt that Unisys was not meeting its requirements and deadlines. In the same month Unisys told project executives that specifications were not being signed off or fully defined by the Prudential. Unisys said that it was waiting for a number of decisions from Prudential.

By early September 2001, everyone on the project at Prudential received the e-mail they had been expecting. The author was again Robinson, Prudential's project sponsor.

"Last Thursday, at the Prudential Europe board, I presented the findings of the review process [on the Unite project] I outlined in my previous e-mail dated 15 August 2001," she wrote. "In summary, these were that the revised proposal put forward by Unisys failed to meet our requirements."

She said the project was "no longer viable from a financial perspective, the extended timescales for project completion no longer support our business plans and sales targets" and "there are serious concerns about Unisys' ability to deliver the project".

The e-mail continued, "As a result, a letter was sent to Unisys last Friday terminating our agreement and it has been decided to review the Unite project. We will be moving to action contingency plans to ensure that disruption to the business is minimised."

Fears about jobs proved unfounded but many of those who had laboured on the project for more than a year saw their work come to nothing.

Once the contract was terminated, in September last year, negotiations began with Unisys to recover the millions of pounds spent on the project. After nearly a year, these have ended with a £12m legal action by Prudential. A date for the hearing has yet to be set.

No one at the Prudential or Unisys was prepared to comment.

What's what?

Unite - Prudential's project to introduce new back- and front-end systems for the life and pensions business


Unisys - the selected supplier and a leader in the insurance sector


Unisure - the flagship product of Unisys on which Prudential's Unite system was to have been based.


Third time unlucky?
The latest High Court action is the third time Unisys has been sued in the High Court over the premature end of an insurance computer project. The other two cases were:

In 1994 a High Court judge found that Sperry, which merged with Burroughs to become Unisys, had acted deceitfully and made misleading sales claims. A project involving marine insurance company Tindall Riley had failed, partly because of performance-related issues. The judge ordered that the supplier pay damages


In 2001 Unisys was involved in a High Court hearing lasting several weeks after United Assurance (which later became Royal London Insurance) accused it of misrepresentation. The case followed the early termination of a project based on Unisys' flagship insurance product, Unisure. The dispute was settled before a judgement was issued.


Countdown to failure
Winter 2000: Unite project gets Prudential Europe board approval and Unisys is chosen as supplier
August 2001: Unisys is set 20 acceptance criteria which must be met by end of August
September 2001: Prudential Europe ends contracts with Unisys and negotiates to recover money spent
Summer 2002: Prudential Europe launches a High Court action against Unisys, claiming £12m plus costs and interest.

What went wrong?
Specialist observers of the Prudential's Unite project believe there was a lack of realism on both sides about the risk of building such large systems in the short time available. The experts also added that the project required staff with a formidable range of legacy system and Web-based skills. Tailoring existing packages rather than adjusting existing work practices to suit the package is known to be a high-risk strategy.
Read more on IT risk management