Novell must adopt strategy of co-operation to realise benefits of SuSE Linux takeover
Novell needs to convince users and developers that it can make the most of Linux.
This Article Covers
RELATED TOPICS

Download this free guide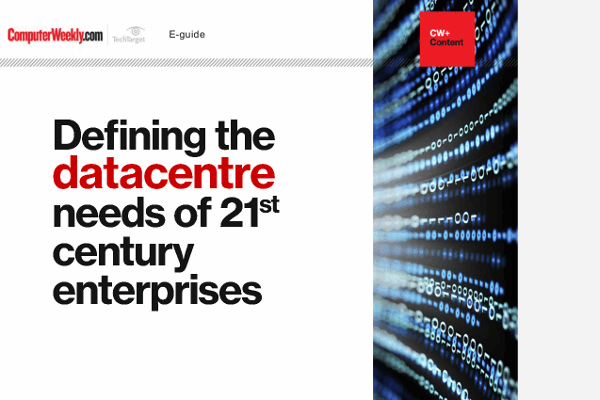 Defining the datacentre needs of 21st century enterprises
A collection of our most popular articles on datacentre management, including: Cloud vs. Colocation: Why both make sense for the enterprise right now; AWS at 10: How the cloud giant shook up enterprise IT and Life on the edge: The benefits of using micro datacenters
By submitting your email address, you agree to receive emails regarding relevant topic offers from TechTarget and its partners. You can withdraw your consent at any time. Contact TechTarget at 275 Grove Street, Newton, MA.
You also agree that your personal information may be transferred and processed in the United States, and that you have read and agree to the Terms of Use and the Privacy Policy.

Novell needs to convince users and developers that it can make the most of Linux.



The £125m acquisition of SuSE by Novell is good news both for the two companies and the wider Linux movement as a whole. However, having purchased the chance to regain its former glory, Novell still has work to do in order to reap the potential benefits of its acquisition.

The acquisition is a natural extension of the strategy that Novell announced at its annual Brainshare event at the beginning of the year. Novell made a strategic commitment to Linux and has been steadily delivering on that commitment over the past few months - most notably with the acquisition of Linux software developer Ximian. SuSE completes Novell's offering, and means that Novell can rightly claim to have the most complete stack of software for the Linux platform.

Novell can also now offer a clear future to its existing base of Netware users, who despite showing tremendous loyalty have started to drift away. Now Netware users have a choice - they can migrate to Windows, or to the next generation of Novell's server operating system.

On the face of it, Novell's Linux portfolio has received a boost from the addition of the number two Linux distribution to its portfolio, placing Novell in the top tier of the blue chip IT companies that are promoting Linux, and SuSE has been brought onto a par with Red Hat in terms of the support, research and consulting resources at its disposal.

SuSE is also set to benefit from access to a massive network of independent software suppliers and value added resellers that would take Red Hat years to replicate.

Naturally, not everyone benefits as a result of this deal, and Novell needs to execute a careful strategy of co-operation with software houses, its existing channel partners and the Linux community if it is to capitalise on its new status.

Also, businesses wishing to adopt Linux will no longer find that Red Hat is the only viable option; Novell/SuSE will represent a very capable alternative.

In order to capitalise on this move, Novell still has some work to do, however. The company needs to:

Get software houses and the channel on board

Novell has to engage quickly with independent software suppliers to reinforce their support for SuSE. Novell should be pitching to be the primary Linux platform for companies such as Oracle and SAP.

Encourage existing Netware users to migrate

Although Novell will have to commit to supporting the core Netware operating system for some time to come, the company should provide incentives to its installed base to migrate to the Linux platform - Novell can give Linux a huge boost by ramping up the number of enterprises that run Linux for core network services.

Promote education and training around SuSE Linux

If Novell can replicate the success of its CNE (certified Novell engineer) programme with SuSE it will have a powerful army of CLEs (certified Linux engineers).

Play nicely with Red Hat

Finally, Novell should commit to supporting Red Hat as an alternative for the foreseeable future. If SuSE and Red Hat are to be the de facto leaders in the world of commercial Linux they must strike a sound balance between competition and co-operation.

SuSE is the only close competitor to Red Hat, and over the past few months the gap between Red Hat and SuSE appeared to be widening. Novell's support changes SuSE's position fundamentally. Novell has 1,200 support staff and about half of these already have Linux expertise.

Novell has an army of consultants thanks to its acquisition of Cambridge Technology Partners, all of whom can support SuSE's push into the enterprise. More importantly, Novell has a huge channel programme which includes tens of thousands of independent software suppliers and value added resellers, all of which, if properly trained and incentivised, can become a powerful consulting, support and sales channel for SuSE Linux.

The obvious loser in the short term is Red Hat. Although Red Hat's revenues currently eclipse SuSE's by a factor of nearly three, SuSE has been given a huge boost thanks to Novell. Over the longer term, Red Hat's customers (and perhaps even Red Hat itself) will benefit from the presence of a strong, viable and competent competitor in the market.

Novell is now in a position to start chipping away at those parts of the Microsoft installed base where Linux can show significant savings in time and money.

Another noteworthy loser is SCO, which is embroiled in a legal battle with IBM and the Linux community over claims that some versions of Linux contain SCO's proprietary Unix code. Novell and IBM have disputed SCO's claims from the outset, and this acquisition demonstrates that Novell is confident that SCO will lose its case. Confidence to the tune of £125m is difficult to ignore.

Gary Barnett is research director at analyst firm Ovum