Government help for small business
The Government and industry have joined forces to help small firms make the most of e-business. Jenny Searle, director of UK...

Download this free guide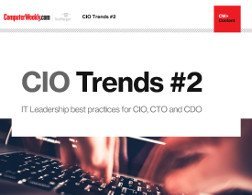 Your exclusive guide to CIO Trends #2
Access the collection of our most popular articles for IT leaders to help you get prepare for post-Brexit world, make use of "bimodal" IT strategy and blockchain technology.
By submitting your personal information, you agree that TechTarget and its partners may contact you regarding relevant content, products and special offers.
You also agree that your personal information may be transferred and processed in the United States, and that you have read and agree to the Terms of Use and the Privacy Policy.

The Government and industry have joined forces to help small firms make the most of e-business. Jenny Searle, director of UK Online For Business, outlines what is on offer



The days when IT was restricted to large corporates are long gone. Today nearly all businesses use technology in one form or another. Over the past year increasing numbers of small businesses across the country have realised the benefits of having a presence online and the latest figures from UK Online For Business show that 1.9 million UK small and medium-sized businesses (SMEs) now have a Web site, make regular use of e-mail or use electronic data interchange (EDI).

In the continuing drive for more efficiency, and especially in the current economic climate, many businesses are looking to harness business-to-business technology to save both time and money. E-procurement, e-supply chain and e-human resources are becoming the buzzwords of the new century and more businesses are looking beyond simply marketing and trading on the Internet.

The potential growth capabilities available to those willing to tap into the technology are enormous and this is where UK Online For Business can help. It is a partnership between industry and government, led by the Department of Trade & Industry, that helps UK companies, particularly SMEs, to understand what e-commerce and e-business can mean to them - from firms that are taking the first steps to get online, through to those that want to manage their online presence more effectively. It helps these companies to take advantage of IT and demonstrates precisely what the real value would be to their own organisations.

The backbone of UK Online For Business is a network of advisers who are part of Business Link in England and their counterparts in Scotland, Wales and Northern Ireland. The advisers provide impartial, practical and cost-effective advice suited to local companies' needs, rather than promoting technology for its own sake. They are able to provide a whole range of e-commerce services, ranging from direct company-specific assistance, to training and consultancy. They also offer access to equipment and demonstrations. Essentially, the advisers are there to show smaller businesses where and how IT can improve their business.

The services provided by the advisers are applicable to all companies, ranging from those with no current use of IT through to specialist multimedia hardware and software developers. Last year alone, about 160,000 small businesses were helped.

As well as the advisers network, UK Online For Business provides information and advice online that encourages businesses to actively consider the adoption of e-commerce. This information is available through the programme's Web site and is also an integral part of the small business service Web site. "Be online for business" is an online toolkit that offers practical and tailored advice on how to create and apply a realistic plan for e-business success. It is designed to help any firm to get the best out of the technology it uses, give advice on how to get started and identify the e-business solutions that will provide the greatest commercial return.

The site also offers a range of free UK Online For Business publications on various technologies to explain the jargon that can be confusing and alienating to non-technical people. UK Online For Business is committed to building partnerships with public and private sector organisations to reach more small and medium-sized enterprises. It works with more than 270 organisations, including leading names such as BT, Royal Bank of Scotland and the CBI and a number of other partners representing a wide range of industries.

Partner organisations share UK Online For Business' objectives of making the UK the best place in the world for e-commerce and contribute to the success of the initiative in a variety of ways. At one level, organisations contribute resources to support activities within the programme. For instance BT and Sage ran seminars during this year's

E-Business Week, a national and regional event promoting the benefits of e-business. Other companies, including Fujitsu Siemens, have contributed content for publications and BT is distributing UK Online For Business publications at its current programme of Easy events. Most partners contribute lower levels of support, mainly promoting e-commerce through events, newsletters or providing case study materials.

The benefits of working in partnership mean UK Online For Business can harness a wealth of additional resources and communication channels as well as creating a forum for best e-business practice. Larger companies can help by sharing the lessons they have learnt in implementing e-business solutions. The partnership can help them by encouraging their suppliers and customers to join the electronic trading community.

By making more companies aware of the support and services available to them, the UK Online For Business partnership can create an environment that will help all UK organisations to succeed in online business.

A key example of partnership work is the E-commerce Awards. Run with InterForum, the awards recognise and reward best practice in the use of electronic business amongst companies with fewer than 250 employees, from all business sectors.

Supported by industry sponsors which this year included the Royal Bank of Scotland, Cisco Systems, Sage, CMP Europe and BT, the awards take the form of 12 regional heats across England, Wales and Northern Ireland, followed by a national final. The national winner is awarded £30,000 with each regional winner receiving £5,000. Scotland is not left out, there is a separate competition - Winners at the Web - which feeds into the e-commerce awards at the national level.

This year's national winner was legal practice Pryse Jones. The firm launched an online conveyancing system earlier in the year and its e-commerce strategy positioned Pryse Jones in an arena not previously visited by the legal profession.

Next year's awards will be launched at the end of January and UK Online For Business would like to encourage companies to apply and help it to recognise how technology can be used to improve business.

The programme has much to offer organisations of any size, whether they need advice and support; want to learn from others or would like to become a partner in helping the UK become the best place in the world for e-commerce.

Web sites
www.ukonlineforbusiness.gov.uk/
www.ecommerce-awards.co.uk/
www.businesslink.org/

Case study: Maelstrom
Bournemouth retailer Maelstrom, which sells contemporary design-led home accessories and giftware, has seen its database of customers grow by 2,000 per month as a result of its online business, www.maelstrom.co.uk/, which was set up two years ago.

Maelstrom, the shop, sells a range of furniture, home, lighting, kitchen and bathroom gifts and accessories and was set up in 1994 by Rohan Master to appeal to customers aged between 25 and 45 with a reasonable disposable income. After consulting UK Online For Business adviser, Nicholas Steven at Dorset Business Link, Master and his partner Anne Wait decided that there was potential to reach a national and international customer base via their Web site.

Steven has advised Maelstrom on a number of business issues over the past few months. "When I first met Rohan and Anne, they had a mail-order business and a good Web site that served to promote it. But they had few details on who their customers were and how to target them effectively, and it became clear that they did not have the back office systems needed to provide real growth to the business."

Maelstrom has achieved great success with its online presence. Orders have been increasing rapidly and have been received from all over the world - including the US, Australia, Eastern Europe, as well as the rest of the UK - accounting for about 12% of all orders received on the site. The US market in particular is growing considerably and Maelstrom's site now shows prices in sterling and dollars.

Maelstrom.co.uk has full secure e-commerce capabilities, allowing customers to order and purchase online, and a database of more than 300 products. E-mail addresses of customers are collected so that they can receive updates of discounted prices and new products. Auto-response mechanisms are in place so that customers are automatically told when their orders have been received. The site offers a power search engine, a text-only viewing option, and a gift-wrapping service in which customers can provide a personal message. Specialised gateways are also in place, such as the Maelstrom Members Club, offering exclusive deals.

Master has been delighted with the success of the Web site. He says, "As a company, e-commerce is our only way forward. As the customer becomes more conversant and confident buying online, we will concentrate more on the e-commerce route rather than the traditional mail-order route."

Master and Wait have learned a number of valuable lessons from running an e-business. Partnership programmes with companies such as lastminute.com, the Internet bank egg, and Securicor have been useful, and are seen as a key area for the business to develop in the future.

Maelstrom has also found that the Internet delivers the best results when used in conjunction with traditional business methods such as advertising, marketing and customer service. Master and Wait are seeking funding to allow them to further develop the business.

In taking the business further forward, the couple has received some useful e-commerce advice from the Wessexbiz site provided by Business Link Wessex, which supplies more than 800 subscribed companies in Dorset, Hampshire and the Isle of Wight with e-commerce news directly relevant to their businesses. It was through this service that Maelstrom heard about the UK Online For Business/InterForum E-Commerce Awards 2000.

Steven adds, "Maelstrom is a great example of a company that is using e-commerce to its fullest potential and achieving great success with it. It is encouraging to see that it is not resting on its laurels and is constantly searching for ways to both improve the Web site and seek out partnerships with other companies to sell its products.

"It is gratifying that the advice we have been able to provide via UK Online for Business has assisted the company in developing its aims and visions for the future."

www.wessexbiz.com/
Read more on IT for small and medium-sized enterprises (SME)