Encryption key management is vital to securing enterprise data storage
Encryption key management tools enable IT organizations to lock down data on storage media, but difficulties in managing third-party keys and interoperability concerns mean they're in use by only a small percent of UK companies.
While the threat of losing unsecured data is a headache in itself, the proliferation of encryption products to secure everything from backup tapes to laptops and USB sticks brings its own encryption key management overheads.

Download this free guide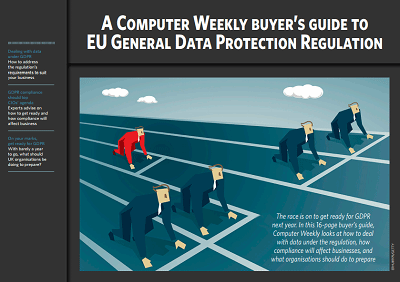 Computer Weekly's Buyer's Guide to GDPR
The race is on to get ready for GDPR next year. Computer Weekly looks at how to deal with data under the regulation, how compliance will affect businesses, and what organisations should do to prepare.
By submitting your personal information, you agree that TechTarget and its partners may contact you regarding relevant content, products and special offers.
You also agree that your personal information may be transferred and processed in the United States, and that you have read and agree to the Terms of Use and the Privacy Policy.
Not so long ago, data encryption technology was confined to sectors such as financial services and defence, where it was used to secure only the most sensitive information.
But this has changed as compliance issues such as the PCI Data Security Standard (PCI DSS) and high-profile data loss incidents have become prominent news. Such drivers have encouraged organisations to encrypt their data more and more, and in particular on removable media such as tapes and mobile devices like laptops.
Encryption keys: Private key and public key
The main challenge brought by improved security is that introducing encryption software also introduces management complexity, and in particular this means dealing with encryption keys.
An encryption key applies a set of complex algorithms to data and translates it into streams of seemingly random alphanumeric characters. There are two main types -- private key (or symmetric) encryption and public key (or asymmetric) encryption.
Encryption key management tips
Key management is not simple: If encrypting data, somebody must manage the keys and you must have key recovery procedures in place.
Within large businesses, key management processes must be capable of being distributed across multiple business functions with the same standards, rules and quality levels.
Have one point of contact for cryptography; don't spread it among operational users.
Ensure the central key repository is well protected.
Decide whether your outsourcer will have any role in key management, such as key pair generation, recovery of keys and escrow access.
Decide whether you will have a 'two person' rule for aspects of key management.
Decide whether information security should manage keys as well as encryption policy. (In practice, during development, key management is the responsibility of the project, but handed over to security at implementation.)
Source: The Corporate IT Forum's Information Security Service.
In symmetric encryption, all users have access to one private key, which is used to encrypt and decrypt data held in storage media such as backup tapes and disk drives. Although considered generally secure, the downside is that there is only one key, which has to be shared with others to perform its function.
Asymmetric encryption, meanwhile, is mainly employed to keep email and instant messaging communications private; the main programs used are Pretty Good Privacy (PGP) or the open source equivalent, GnuPG.
Asymmetric encryption comprises two elements: a public key to encrypt data and a private key to decrypt data. The public key is used by the owner to encrypt information and can be given to third parties running a compatible application to enable them to send encrypted messages back.
But the private key, which decrypts data, is not shared. On receiving mail from a third party, the private key will request that a password be entered before decrypting the information. Such a technique is generally considered more secure than symmetric encryption as a result of this dual protection.
Encryption key management challenges
Managing encryption keys effectively is vital. Unless the creation, secure storage, handling and deletion of encryption keys is carefully monitored, unauthorised parties can gain access to them and render them worthless. And if a key is lost, the data it protects becomes impossible to retrieve.
However, as more encryption software is implemented in different parts of the storage infrastructure, the number of keys to be managed increases.
While many encryption systems come with basic management software to help automate such processes, existing offerings only support their own keys and not those of other vendors. So, with multiple encryption systems in place, key management systems begin to proliferate. This brings admin headaches as enterprise data storage professionals have to manage storage encryption for backup tapes, storage switches and any other kit on which the key management technology is deployed.
"People are only now starting to wake up to the problem, and rather than manage keys in multiple places, they're now looking for ways to manage them in a centralised way with standardised policies and procedures," said Simon Daykin, senior technical architect at IT solutions and services company Logicalis UK.
"If you have the key to your house and someone else has the key to your car, it adds complexity," he added.
Enterprise encryption key management systems
Encryption key management systems come in the form of console-based software or hardware appliances, and are intended to provide a single point of management for keys. They enable users to manage the lifecycle of keys and to store them securely, while also making key distribution easier. But, according to Gartner, only between 1% and 5% of all encryption users have implemented enterprise encryption key management systems to date -- despite high levels of interest -- because of their limited ability to manage third-party keys.
Suppliers, which include EMC's RSA, IBM and NetApp, are working toward systems that can enforce standard policies to all of an organisation's encryption key software usage, but progress in this direction is in its early days and at present encryption key management systems are only able to look after keys that secure sensitive data held in certain silos such as backup tapes and databases.
Gartner advises potential adopters of enterprise-wide encryption key management systems that they will have to wait another year or so before such products start supporting proposed new interoperability standards.
Tony Lock, a programme director at analyst firm Freeform Dynamics, also believes widespread adoption is at least a couple of years out. "It'll take a while to get a head of steam and it won't be an overnight revolution," he said. "People will deploy encryption technology more broadly and then require the right tools to manage it so use will pick up slowly and grow."
He added that a current general lack of awareness and a need for education around the whole encryption key management issue, particularly among smaller organisations, will inhibit uptake in the short term.
KMIP and IEEE P1619.3 interoperability standards
To try to solve the lack of interoperability among existing products, a coalition of vendors led by IBM, Hewlett-Packard, RSA and Thales has submitted a specification called the Key Management Interoperability Protocol (KMIP) to the Organization for the Advancement of Structured Information Standards (OASIS) standards body.
KMIP comprises a protocol or communications interface that enables all kinds of encryption keys to be stored, distributed and backed up in a standard way. The aim is that it will be possible to administer keys from disparate encryption systems using centralised policies.
The proposed standard will also embrace the Institute of Electrical and Electronic Engineer's IEEE P1619.3 (Standard for Key Management Infrastructure for Cryptographic Protection of Stored Data), which is currently under development. This specification aims to define a system for managing security objects for encryption data at rest, which includes messaging, transport and backup, using an XML format.
Version 1.0 of the KMIP standard, meanwhile, went out to public review at the start of December 2009 and the review period is scheduled to close at the start of February 2010. There will then be 15 days to incorporate any comments into the specification, before OASIS members vote on whether to ratify it or not.
If accepted, it is then expected to be submitted to other bodies such as the International Standards Organization (ISO) for further endorsement, and compliant products should appear before the end of 2010.
"We're not expecting anything too major from the public review as there have been significant reviews on earlier drafts so we could have the standard finalised this quarter," said Jon Geater, a founder member of the OASIS KMIP technical committee and director of technical strategy at Thales. "It may be cutting it fine for the end of this quarter, but it'll probably be close."
The committee is already working on Version 2.0 of the specification, but Geater believes that most of the core elements are now in place. As a result, any future work will focus on polishing the standard and developing guidelines for use cases in specific vertical markets.
Encryption key policies and processes
With all-encompassing encryption key management tools some way off, how should IT organisations manage encryption in the meantime?
For the time being, users are stuck with the basic key management functionality included with their encryption software, which allows them to generate, delete and deliver keys. This usually means organisations will have one or more encryption key management systems in each department that uses encryption. Obviously this creates a significant management overhead.
Kate Danbury is head of the Information Security Service at the UK's Corporate IT Forum (CIF), a blue chip IT user group that counts about 130 large companies among its membership. She said that although products will play an important role in tackling key management issues, it's important to also introduce effective encryption administration policies and processes, and to monitor compliance to them.
Such policies and processes should be decided upon before organisations think about introducing a system to automate and enforce them.
An important principle to be put in place is the separation of powers. This means the person charged with approving staff members' use of keys should not be able to use them. This eliminates scope for abuse on the part of that person, who should be the one who ensures there is no abuse of keys by approved holders.
Key protection, and the long-term use and retention of keys, are also major considerations.
"If, for example, you're encrypting data that needs to be archived, you must make sure the key used to encrypt that data is kept somewhere that is secure and accessible for as long as, say, seven years," Danbury said.
It is also necessary to ensure keys are backed up to ensure business continuity should systems go down. "Understanding the criticality of key availability in case of emergency will enable you to calculate the impact on disaster recovery time," she said.
In addition, it is important to make strategic plans for how to deal with encrypted data in case of merger, acquisition or divestment, not least because organisations are likely to employ a range of technologies, which can make merging corporate information tricky.
"On the flip side, when a decision is made to de-merge, segregating data can be difficult where a certificate is shared. A potential solution for this problem would be to have a different key for each business unit," Danbury said.
Outsourcing to a cloud service provider presents another challenge and not only because service providers may use different encryption mechanisms to service users. Organisations need to decide whether their outsourcer "will have any role in key management -- for example, key pair generation, recovery of keys or escrow access," Danbury explained.
Read more on Data protection, backup and archiving