Comdex: CIOs spell out how to achieve return on investment
Many visitors to the Comdex show in Las Vegas this week focused on the latest technology and gadgets on display. Others took the...
This Article Covers
RELATED TOPICS

Download this free guide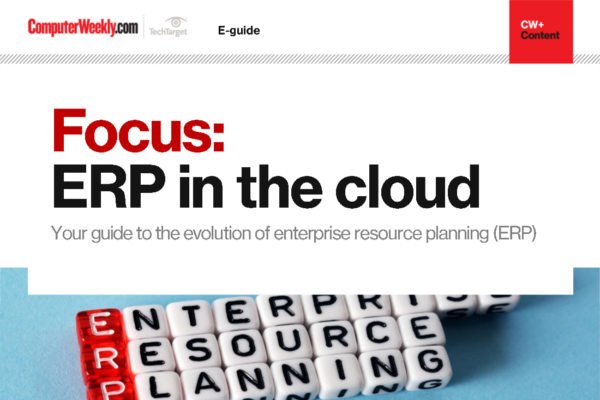 Are you keeping up with the ERP evolution?
Read about the new best practices for the ERP systems and how to tackle the growth of ERP integrations.

By submitting your personal information, you agree that TechTarget and its partners may contact you regarding relevant content, products and special offers.

You also agree that your personal information may be transferred and processed in the United States, and that you have read and agree to the Terms of Use and the Privacy Policy.

Many visitors to the Comdex show in Las Vegas this week focused on the latest technology and gadgets on display. Others took the chance to hear four US IT leaders outline how their departments have delivered quantifiable value to their businesses during the prolonged economic downturn.



Vehicle manufacturer
Susan Unger, the senior vice-president and chief information officer at DaimlerChrysler, outlined the implementation of an enterprise-wide material cost management system.

The aim was to help the company's 54 component teams share ideas about how best to streamline the number of common parts used among different vehicle lines.

Based on Lotus Notes, the system took less than a month to develop and roll out - at a cost of less than $1m (£630,000) - and component team members are now using the system to conceive an average of 570 weekly "idea changes" to improve vehicles, Unger said.

The system has, so far, helped the company cut the types of fog lamps used in various vehicles from 18 to nine, saving $7m. The material cost management system also helped reduce the number of seat structure components, which should lead to another $40m savings during the next two years. The number of transmission controllers in cars and trucks has been streamlined, releasing an additional $20m a year in savings.

Unger called the return on investment for the project "unbelievable", and her senior colleagues outside the IT department agreed. When the company's 2003 IT budget was presented to senior management DaimlerChrysler's unit heads for sales, finance, procurement and other departments "all said that we can't afford to cut the IT budget because of the business value we create", Unger told the Comdex audience.

Financial services
Capital One has been a leader among credit card issuers in its sophisticated use of data mining to identify sales and cross-selling opportunities,

Earlier this year, CIO Gregor Bailar decided to replace the bulk of the bank's Hewlett-Packard/Oracle data warehousing platform with an NCR/Teradata environment.

"Last year, we did 64,000 tests on customer sets," ranging from evaluating how customers prefer to be contacted by Capital One to the creditworthiness of different sets of customers, said Bailar. "For me, that's a ton of software transition."

After evaluating other data warehousing platforms, the company opted for Teradata, because, Bailer said, it is better suited to pull together disparate data sets from customer tests into a single, integrated data warehousing environment.

The effort should cut the amount of time company executives must wait for results on customer tests. Bailar estimated the investment in hardware and software for the platform swap at "tens of millions of dollars", and said the data warehousing effort should deliver a two to three times ROI.

Hotels
US hotel giant Wyndham International last month rolled out a centralised call accounting system that has already contributed to cost savings and higher enrolment of its most profitable customers.

In June, the Dallas-based company began offering a free telephone service to its "loyalty customers" staying at Wyndham properties - including free long-distance and local calls made within the US, said Mark Hedley, senior vice-president and chief technology officer at Wyndham.

The call accounting system serves several purposes. It helps front desk clerks identify loyalty customers while enabling the hotel to keep track of individual customer charges for costing purposes, said Hedley.

The system appears to have helped boost enrolment in Wyndham's loyalty programme. Since June, the number of enrolled customers has grown from 330,000 to just over one million, claimed Hedley. Two years ago, Wyndham had just 25,000 loyalty members.

Wyndham's investment in the system has delivered other benefits. The $220,000 in software, hardware and deployment costs are expected to deliver $50,000 to $60,000 in annual maintenance savings for hardware and software that is no longer needed.

Wyndham's loyalty members typically spend 20% more than non-members during their stays and are more likely to stay at a Wyndham hotel. "More stays means more cash to the bottom line," said Hedley.

Gaming
Tim Stanley, CIO at US gambling giant Harrah's Entertainment, has used technology to target the most profitable of his company's 26 million customers.

Harrah's installed a Teradata-based data warehouse that tracks customer gaming behaviour at its casinos. It can then use the system to track the profitability of each customer during a stay at a hotel/casino, the type of marketing vehicle used to contact a customer, whether the invitation was redeemed, and when and where it was redeemed.

The system can also show a three-dimensional view of each casino and which slot machines are generating the most traffic, using an infrared-type colour-coding system that illustrates usage over elapsed time.

Thanks in part to its sophisticated use of data warehousing systems, Harrah's now generates 23% of its revenue as a result of using incentives to get customers to visit its various hotels and casinos. Stanley said that Harrah's share of the US gaming market has risen from 36% to 42% during the past year.

Each extra percentage point of market share represents another 20 cents to the company's earnings per share, said Stanley.
Read more on Business applications