A week in the month
Party time approaches for Web designers Ellipsis Media as the company's first anniversary approaches. Tink Taylor, head of new...

Download this free guide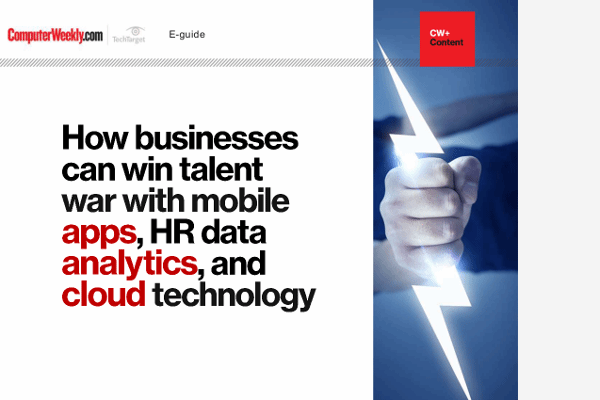 How businesses can win talent war with mobile apps, HR data analytics and cloud technology
Latest articles on HR best practices: mobile apps disrupting the annual staff appraisals; reasons for and against open-source software; and Rolls-Royce case study.
By submitting your personal information, you agree that TechTarget and its partners may contact you regarding relevant content, products and special offers.
You also agree that your personal information may be transferred and processed in the United States, and that you have read and agree to the Terms of Use and the Privacy Policy.

Party time approaches for Web designers Ellipsis Media as the company's first anniversary approaches. Tink Taylor, head of new business, sets the scene



Monday
The week begins with looking forward to an important anniversary as the company becomes one year older. We hope that the difficulties of selling ourselves to clients as a young company will recede with each year that passes.

Although it is not a time to rest on our laurels, it is nice to sit back and reflect on what a long way we have come and plan on how to take the company forward. Most of the day was spent looking at this and detailing the best way to complete our hefty workload.

We have been working for some time on a new site for Ellipsis Media, and it is proving to be one of the hardest assignments we have ever had. It's the same old story - because this internal project is not a direct earner for our company we have put it on the back burner. However, we have now been tough on ourselves and set up real deadlines, with phase one due for completion before our first anniversary party next week.

Tuesday
Today we had some interesting communication issues with a client. Our current success has been built on providing the client with their requirements on time and within budget. In numerous cases we have actually exceeded them, succumbing to the temptation to add bells and whistles to ensure client satisfaction.

One particular client quite rightly pointed out to us that some of the functionality we provided did not match the requirements we had been given, regardless of the fact that what we had produced far exceeded what was requested. Adopting a policy of 'the customer is always right' we happily agreed to produce the work to meet their requirements.

As a result we've tightened up the project management and documentation, to try to make sure this scenario doesn't happen again. It should also improve communication between the developers and our clients.

Wednesday
The firm won some more work today, which will involve further developing a client's existing site. It is always good to win work, but it is more challenging to start with a blank canvas. We have always used industry-standard development tools so, should someone wish to take our work elsewhere, the development will be easy to continue.

Why do some developers try to confuse and blind people with science? Perhaps it is a form of self-preservation but, to be honest, much of this type of work is real bread-and-butter stuff if it is explained properly.

This afternoon I popped off to a BMW car dealer who was interested in some work. Having just purchased a new car - in order to present a more presentable corporate image - I was mortified when the transmission failed and I had to be pushed into the car park. Still, I can think of worse places to break down than a car dealers! It was also a great icebreaker that led to a very successful meeting.

Thursday
Today brought whispers that a large Web agency, which provides website sales and commission tracking systems to many of our clients, may be in trouble and could be wound up. This is obviously sad for all those involved and my heart goes out to their staff, but it could be good news for us since we can provide bespoke systems to our clients in their place.

It is definitely time to have some rationale in the industry and look at the overheads that we are all carrying. Will the confidence be brought back in to the industry by those out there who thought that the good old fashioned natural growth of a company was a viable solution in the dotcom madness? I guess only time will tell if I am right or wrong.

Still, I reassure myself with the thought that although we have not been around as long as, nor be as large as some of the big boys, things are going well and the operation is being run sensibly. I can't wait for our upcoming birthday party and the many that will follow in the future.

Friday
I was really pleased to complete beta testing on the software demos that are to be implemented on our new site. These 'hands on' demos will make explaining how our systems work to clients so much easier.

Rounded the week off with some champagne. No, we haven't suddenly stopped being sensible, it was a gift from the company we had difficulties with earlier in the week. Apparently, they decided that the original work we had carried out was indeed far better than their original brief, and thought we deserved some bubbly for our efforts.

Sipping my champagne, I suddenly remember that I am due to make a reading at my friend's wedding tomorrow. Trouble is, I can't remember where I filed the poem I am due to recite. There won't be any fizzy stuff for me tomorrow if I've lost it, his fiancée emailed it to me months ago!

If only organising my social life was as easy as managing my working one
Read more on Web software