red150770 - Fotolia
Why digital is not enough
Digital has become a buzzword, but IT leaders instead need to understand the characteristics of a 21st century digital organisation
So here's the thing. The "digital" meme isn't working. It is causing lots of angst and confusion – partly because there isn't enough clear water between IT and digital, partly because the word "digital" has had a number of lives with slightly different meanings, but mostly because digital is not enough.
People throw around the words digital, digitisation and digitalisation with gay abandon – not out of wilful desire to jargonise the world, but because the meaning of enterprise IT was too limiting for the way information and technology are changing the world.
But the problem is that the information and technology, as amazing and cool as they are, are not enough on their own. Every day, we read about nano-drones, deep neural networks that can diagnose diseases, smartwatch hacks who can guess your password from the movements of your wrist.
The matrix of external services and capabilities that our businesses can tap into is ever broader, deeper, faster and more powerful, from infrastructure as a service, through blockchain, to machine intelligence.
But I called my mortgage company, Santander, recently, and they say I can't make an overpayment into my account within 10 days of another in case the systems get confused. And I watch TV and wonder why I still can't click on the shoes that Brad Pitt is wearing and buy a pair?
The reason is that our businesses and government agencies are, to quote a Jerry Garcia band name, old and in the way. Our businesses and government agencies have sleepwalked into the 21st century with 20th century business models, organisation structures, strategies, talent inventories and strategies, mindsets, leadership styles and infrastructures, and assumptions about global dynamics.
We need to take a radical, courageous look at each of our organisations, and get them ready for a century that began almost 20 years ago. At the Leading Edge Forum, we use this six-part framework:
The six aspects of the 21st century organisation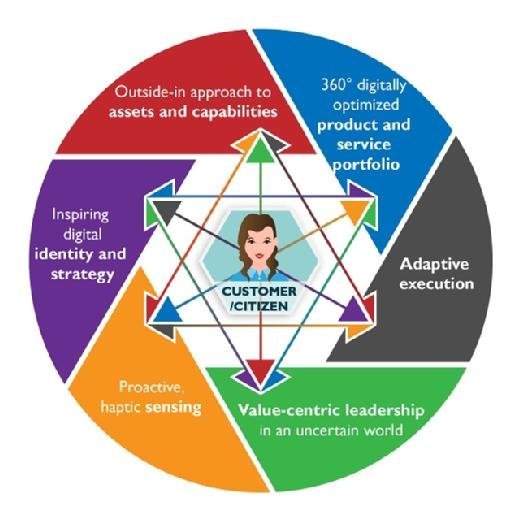 A proactive, haptic sensing organ
Our businesses are set up to execute on what is. Our sensing organs have atrophied. Research and development is too separate and weak. We must devote significantly more investment to sensing, ensure it is spread throughout the business, is proactive and haptic – experimenting and making rather than just reading and thinking – and coverage is broader than just technology or just our industry.
It should include how macroeconomics are restructuring the world and its industries, how technology platforms and interfaces are evolving, how societal attitudes are changing, and how legal and regulatory frameworks are adapting.
An authentic and inspiring identity and strategy
We need a strategy that makes sense in an increasingly digital world, and inspires customers, citizens, staff, partners and other stakeholders to engage with us. Not only where do we play and how do we win, but also what do we mean as a business or government agency, and does that continue to make sense?
An outside-in approach to assets and capabilities
This is an approach that recognises the importance of tapping in to "the Matrix", prioritises the ability to attract and unleash talent, and recognises information and customers as assets and sources of value and insight, not just waystations on the production line.
A 360-degree digitally optimised portfolio of products and services
Opportunities abound to exploit channels, embed digital capabilities in physical products and services, augment products with digital services, create digital-only offerings, make digital extensions into markets new to us, even create new markets. Most organisations have limited or skewed approaches, such as "digital washing" of traditional e-commerce strategies.
The ability to execute adaptively
This includes agile methodologies such as scrum and DevOps, but also includes a bigger picture of fluid organisational structure, a proactive approach to transparency, making collaboration an addiction.
Value-centric leadership
We need to make lots of big decisions in the coming years and decades, so we must step up the basics, such as full-lifecycle value management, and take lead metrics seriously. But in a world of volatility, uncertainty, complexity and ambiguity, 21st century organisations also need to master advanced techniques, such as platform economics and real option valuation, to participate fully in a more digital world.
Read more from the Leading Edge Forum
Last but not least, note that the customer is at the centre. This isn't just a nice-sounding intention – it represents three things.
First, the need to ensure our businesses are centred and shaped around delighting them. Second, that we may consider evolving all aspects of our business, even what business we are in – the constant is the customer. Third, that we involve customers (and other stakeholders) in co-creating all aspects of our business.
Let's take some courageous steps to reinvent our organisations to win in the 21st century.