Why IT must attract more women


At last year's world IT congress, and this year's IT Directors Forum, men will outnumber women by ten to one. Why?
Many will wonder with what...


At last year's world IT congress, and this year's IT Directors Forum, men will outnumber women by ten to one. Why?
Many will wonder with what knowledge, and with what right, a man addresses this issue. I do so because personal experience shows me how crucial it is that we boost the numbers of women working in IT. In my view, women have more natural skills in communication, rapport and listening - three key leadership traits - that we men have had to work hard at to learn.

Download this free guide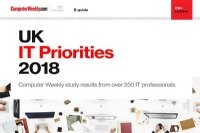 2018 UK IT Priorities survey results
IT organisations in the UK and across Europe are starting to accelerate the move to the cloud. Read more about the key areas in which senior IT managers are planning to invest in over the next 12 months.
How many senior IT roles are there, in companies of all types, departments, suppliers or related industries, filled by women? Not nearly enough.
Leading headhunters such as Aine Hurley at Odgers and Sophie Houstoun-Boswall at CalibreOne say that much of the problem is self-perpetuating. No matter what the opportunity, be it an IT director or dotcom, clients are looking for experience in specific types of company. You can't find a position because you don't have the experience, and you can't get the experience because you can't find a position. In other words, too few women in IT in the past means few women in the present.
In many ways it has been like that for years - and this complaint has often been made by people wanting to break into IT from outside. Certus recently had a debate about whether people need hard IT experience to be an effective CIO. Not surprisingly, those with IT experience thought you did, those that did not, did not.
Of course, one thing that has changed is our image. Let's be honest here, in days gone by when we had real programming and big technology hardware, IT was a magnet for men. Telecoms were life. We used to love to share code, talk in code, it was cool to hang out in code. There was a certain unwritten macho image about this hidden world over which we had complete control. None of us had even heard of customers, let alone sighted any, and all of this leadership thing was still many years away.
Today it is all very different. The skills we need to succeed at all levels in IT are very different. Today IT is much more about pictures, experience and stories, than it is to do with lines of programs, testing and massive printouts.
Another problem lies with chauvinism, which is still prevalent in too many companies - comments such as "We would love to have a woman on the board, to give a balanced view," are not helpful - as if one woman can speak for all women, rather than providing unique and individual skills.
There are ways to attract new thinking, and more women, into your company, while still being politically correct, and staying this side of the law.
Change the name of the department, from IT to new media

Bring in people from areas more traditionally attractive to women, such as marketing, which is, or should be, at the very core of e-business

Actively offer crŠche and working at home facilities - do it because you want to, not because you have to

Run fast-track courses for return to work mums and dads

We have many role models to follow - Martha Lane-Fox of Lastminute.com, Angela Baart at Royal and Sun Alliance.

The time has come to attract new blood of many types into IT. Only then will be truly shed our legacy image of history. I look forward to the day when the IT Directors Forum has an equal number of women, to men, and we can shatter the glass ceiling, forever.

David Taylor's Inside Track. A provocative insight into the world of IT in business, is out now. The book is the latest in the Computer Weekly Professional Series, published by Butterworth Heinemann: 01865-888180
Read more on Data centre hardware