Welcome to the old economy
It is time to man the lifeboats for an increasing number of dotcoms; and some senior executives over in the US are definitely...
It is time to man the lifeboats for an increasing number of dotcoms; and some senior executives over in the US are definitely trampling the women and children in their rush to jump ship and return to the Old Economy.
Toby Poston
Editor
January saw two darlings of the e-business community wave goodbye to their lifejacket-less colleagues. Heidi Miller left her post as chief financial officer of US e-tail giant "Priceline.com" to join insurance company Marsh & McLennan, and Jo Galli, a former number two to Amazon boss Jeff Bezos, handed in his notice as chief executive of electronic marketplace operator VerticalNet to join consumer products company Newell Rubbermaid. Both of them left within a year of taking up their dotcom positions.

Download this free guide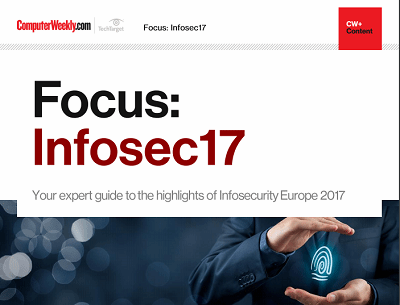 From forensic cyber to encryption: InfoSec17
Security technologist Bruce Schneier's insights and warnings around the regulation of IoT security and forensic cyber psychologist Mary Aiken's comments around the tensions between encryption and state security were the top highlights of the keynote presentations at Infosecurity Europe 2017 in London.
By submitting your personal information, you agree that TechTarget and its partners may contact you regarding relevant content, products and special offers.
You also agree that your personal information may be transferred and processed in the United States, and that you have read and agree to the Terms of Use and the Privacy Policy.
We examine this growing trend of dotcom deserters in a news analysis this month. Slowly, it seems, the old order is being re-established. Galli's former company, Amazon, comes under the spotlight in our investment section, which sees the start of a new series examining some of the companies that are shaping the development of the Internet economy. We assess Amazon's long-term survival strategy, with the help of some senior US industry analysts. The company saw some healthy sales over the Christmas period, but doubts remain over whether it will ever turn a profit.
If its Christmas sales are anything to go by, Amazon seems to have won the trust of many online shoppers, which is no mean feat. For those of you that are still struggling to make consumers feel confident in transacting via your site, this month's special report on trust and security will hopefully contain some valuable tips. We explore some of the main security concerns that are still worrying surfers, suggest some solutions and also indicate steps you can take to encourage public confidence in your online security procedures. For further information you might want to take a look at "www.securityatwork.org.uk", a government-backed research initiative, which aims to help UK businesses improve their security and privacy and counter fraudulent activity.
Read more on Antivirus, firewall and IDS products