alex_aldo - Fotolia
Value chain mapping – learning to use IT as a strategic weapon
Mapping, like viewing the board in a game of chess, is essential to any form of gameplay, and that includes IT
Issues such as cloud, the use of "open" as a tactical weapon, new forms of organisation and the exploitation of ecosystems are all important to today's IT leaders – but it's often even more critical to discuss not only these tools of the trade, but how companies learn to play the game of using IT as a weapon.
There are many different aspects to organisational learning from empowerment of individuals to continuous learning to system connection to strategic leadership. All of these are enhanced by the introduction of a map of the landscape.
In fact mapping, like viewing the board in a game of chess, is essential to any form of gameplay, and that includes IT:
With a map, it becomes possible to see where an organisation could attack, and from this, the "why" – a relative statement of why here, over there – can be determined.
With a map, it becomes possible to visually describe the connections and to have a common reference model for collaboration and discussion.
With a map, it becomes possible to learn how to play the game, what techniques work and what failed – the map itself is a vehicle for learning.
With a map, it becomes possible for each group to know the direction of travel, to make choices, to be empowered.
Alas, most organisations have no maps. In such companies, the strategic "why" of action is often vague because they cannot see where they can attack and hence it usually boils down to little more than the fact that everyone else is doing it.
Read more from the Leading Edge Forum
Individuals in those companies cannot see the battle and cannot know how their choices will influence the outcome. There is no common language; there is no common framework. These companies are playing a game of chess, oblivious to the board, oblivious to the rules of economic change, and with no strong mechanisms of organisational learning.
It doesn't have to be like that
The first question should be does it matter? Well, it turns out it does. Those organisations that tend to have high levels of strategic play also tended to show strong market capitalisation growth over the last seven years.
By strategic play, it don't mean just copying others - that is, we must do cloud, big data and social media because 67% of others companies do this - but instead an understanding of the landscape, its value chains, those of competitors and how this can be manipulated.
However, as much as mapping can be extolled as a mechanism of communication, collaboration, strategic planning, prioritisation and risk reduction – you don't have to believe it. It sounds too good to be true, it sounds like snake oil – what does this person mean I'm playing blind chess? I have a strategy!
Chances are you don't.
Alas, mapping is not something you can be taught or outsource to another company, but instead it is something you have to learn and experience. So, here are the words of several CIOs from well-known engineering and software companies, and an example map.
Mapping is not something you can be taught or outsource to another company, but instead it is something you have to learn and experience
"Rather than the tyranny of the 'how, what and when', we knew the 'where and why'. It enables you to identify the most important things from a business and user perspective. But most important of all, you can see the board, you can see the positions. It's difficult to explain unless you've seen the board and you've done it because you probably don't realise you're playing a game of chess blindfolded."
"Most business strategies follow the common wisdom of the Maginot line - continue to prosecute on previously successful tactics, until defeated. In contrast, a mapping-based strategy allows for a living business plan with visual and contextual triage. Mapping allows us to make quick, impactful decisions that both keep us in step with the market and ahead of our competitors."
"Beat your competitor by stealing their future? We've tried and succeeded. Disruptive technology is the excuse CEOs give for not using maps."
"Mapping is a pointless exercise and I would recommend competitors against its use..."
For an introduction into mapping, this short animated video explains what you need to know. As for an example map, this is one for HS2, the controversial high-speed rail line. Let your own curiosity take you from here.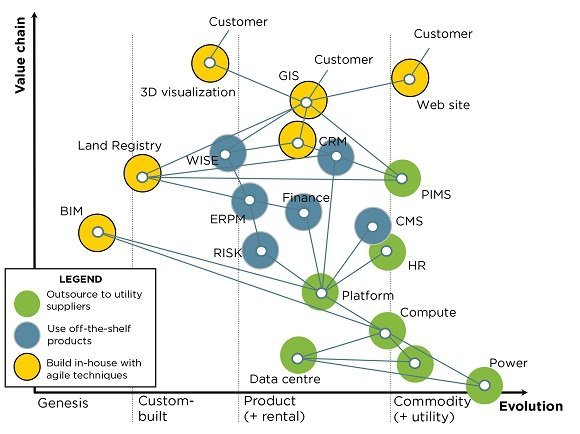 It will cost you nothing but your own time to map your environment, and it's as good as guaranteed that you will learn quite a bit in the process.
Simon Wardley is a researcher for CSC's Leading Edge Forum. You can read more about his recommendations on mapping in this report: The future is more predictable than you think – a workbook for value chain mapping.