Thought for the day:Hard times for enterprise ambitions
Hard-hitting IT commentator Dr Simon Moores gives his personal take on the hot issue of the day.Well, the marriage of...

Download this free guide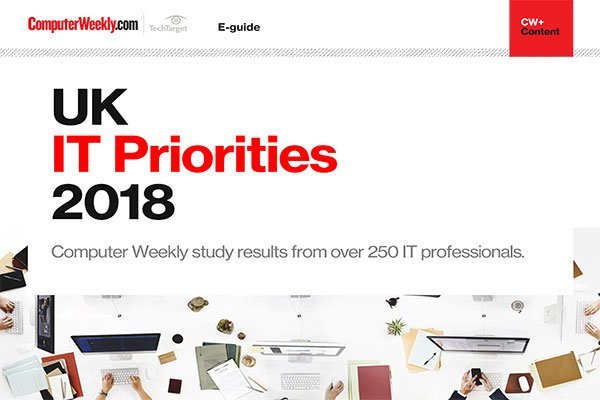 UK IT Priorities 2018 survey results
Download this e-guide to discover the results of our 2018 UK IT Priorities survey, where IT leaders shared with us what they are going to be investing in over the coming 12 months.

Hard-hitting IT commentator Dr Simon Moores gives his personal take on the hot issue of the day.Well, the marriage of Hewlett-Packard and Compaq finally happened. An $87bn partnership that aims to kick Dell where it hurts.



The HP/Compaq connection continues to raise some interesting ideas regarding Microsoft - in particular, its constant effort to push Windows 2000 Datacenter into the enterprise.

Not so long ago, Microsoft was starting to worry about the emphasis IBM was placing behind AIX and Linux. Now we see HP swallowing Compaq, traditionally Microsoft's favourite friend, and now the property of a company which has its own multi-platform agenda for the enterprise. Not a happy prospect.

Enter Unisys, the product of an earlier mega-merger (Sperry & Burroughs) that didn't quite go according to plan. I keep wondering about the company and where it sits, now squeezed between some very large playmates.

According to one story, research consultancy Illuminata has reported that the Unisys share of the joint ES7000-Windows 2000 Datacenter promotion represents 10% of the total annual revenues that Unisys realises from the ES7000 platform.

While Unisys is steadily moving more of its business focus towards the provision of services - 74% of 2001 company revenues - it's debatable whether this kind of marketing spend in support of its hardware business is sound.

Illuminata speculates whether Unisys can continue in the market as a systems vendor selling Windows mainframes and, if the new campaign doesn't succeed, then Unisys may find itself forced into the services sector for good.

On reflection then, the Unisys/Microsoft "Big Iron" Datacenter campaign could well prove pivotal for both companies. Unisys managing director Brian Hadfield once told me that the company had "bet the farm on Windows". Ironically, Microsoft might have done the same with Unisys.

Do you think Microsoft will crack the enterprise market? >> CW360.com reserves the right to edit and publish answers on the Web site. Please state if your answer is not for publication.

Zentelligence: Setting the world to rights with the collected thoughts and ramblings of the futurist writer, broadcaster and Computer Weekly columnist Simon Moores.
Read more on Data centre hardware