Overcoming communication barriers to successful IT implementation
There are many hurdles to success in an IT project that are principally issues of communication
Organisations of all types are littered with technology that has failed to deliver on its promise – or so the internal chatter would have us believe.
As we all know, the success of technology is not just down to how well it is put together, but also how well it is applied. That is both in terms of the suitability of design and the behaviours of those supposed to be using it.
Internal communication at many blue chip organisations has inevitably involved numerous user-facing technology projects – and shown there are many hurdles to success that are principally issues of communication.
There are five "usual suspects" that companies need to address to avoid poor communication being a factor in an IT project's perceived failure.
Let me play!
People love something new and shiny. We all like to be involved and play with a new toy, often whether we like it or not.
But in IT implementation, that involvement sometimes happens too late in a project or misjudges the level of detail – too much or too little. It can lead to rejection.
Users and managers need to be engaged in a careful and sustained way over the life of a project. This should be done on two levels.
One is to have regular communication, updating different audiences on progress using a variety of interactions such as face-to-face briefings, short emails, workshops and surgeries.
The other is to have project champions in each of the relevant user groups for the project. And start early – experience shows that people will appreciate the approach however light the details might be at an early stage.
Understand the cultural barriers early on in the project and design strategies to tackle these head-on, even over-communicating in those particular areas
People just don't get IT
Involvement is one thing, buy-in is another. Buy-in will only come about through sustained engagement, speaking to people in their own language and rooting the dialogue in their everyday working world.
That means understanding their day-to-day jobs and presenting the technology in that context, however difficult that might be, especially at the start of a project. You need your colleagues' support, to help with the development of the system and to spread positive messages about its implementation and benefits to wider audiences.
This is where the project champions and internal communicators can really begin to add value, by translating the project into something that has meaning for everyone involved. It can be brought to life in many different ways, from demonstrations through to fun and branded interventions on the shop floor or in the office.
In one "magic circle" law firm, we held 16 engagement events during a major worldwide initiative, and used a range of incentives and structured games. We have found that senior managers will allow a lot more leeway in terms of creativity and innovation with projects that are expected to deliver wide-ranging benefits to the organisation they run – take advantage of this.
Nodding is not the same as doing
We have all seen people nod along in enthusiasm to a proposal, walk away full of vigour – and do absolutely nothing. That is particularly problematic if those people are managers with control over business processes. IT projects can be great platforms for creating behavioural change in an organisation, but only if tackled head-on.
The level of engagement, therefore, has to go beyond the systems themselves, and actually talk to the fundamental way people do their jobs. That is challenging work for anyone. Our advice is to make sure strong project sponsorship is coming from the functional heads. They have to stand shoulder-to-shoulder with the implementation team.
Read more on how to avoid IT failures
We've grown apart
This next point is probably a very obvious one, but it would be remiss not to include it and emphasise its importance in this context.
Having more than likely implemented a number of systems over the past few years, your team could be forgiven for assuming that they know who they are building a system for, and their general needs and wants for any future development.
This could be an assumption too far, and we would urge teams to go out into the organisation and re-engage colleagues in new conversations. Internal social networking tools such as Yammer can be particularly helpful in sustaining dialogue and connecting departments. Socially-enabled organisations are better at forming relevant, self-sustaining networks.
We aren't in Kansas any more
Organisational cultures vary enormously. Implementing a customer relationship management (CRM) solution in professional services firms, for example, can be extremely difficult as many of the fee-earners may be reluctant to share their customer and prospect data even with colleagues.
In other situations, there may be barriers rooted in corporate history. In one international consumer goods manufacturer, the perceived failure of a previous project management system was routinely cited as a reason not to change the existing setup, despite many compelling reasons to do things differently.
The point here is to understand these cultural barriers early on in the project and to design strategies to tackle these head-on, even over-communicating in those particular areas.
As experienced IT professionals, you know that the success of an IT system implementation will largely be measured on how well your organisation uses the new or improved system – and therefore how well your organisation benefits from using the system.
Key to the adoption of a system by your colleagues is communication. But if you move away from the usual approach of "telling" people about the new system, what it can do and how it is going to benefit them and the organisation, to a more inclusive or "involvement" approach, that will see you and your departments linking with the people that will be using the system from the very beginning.
This will reap multiple benefits in the long run – for you, your department, your colleagues and your organisation.
---

Nick James is the founder of Westra, an agency specialising in communication and change.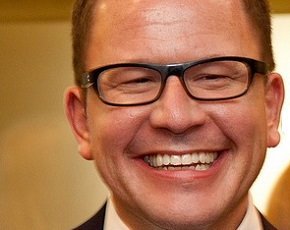 Ian Messenger works as a freelance and interim internal communication consultant, specialising in system and organisational change programmes.