mars58 - Fotolia
Open data in the public sector – what's next?
Public bodies have made important strides in open data – but there is still a long way to go to fully realise the benefits and opportunities
In the TV show The West Wing, President Bartlett, played by actor Martin Sheen, would often round off a discussion with his staff by saying "What's next?" to indicate he had grasped the issue and wanted to move on.
In a different governmental context, those two words sum up where we are today with open data in the public sector. We have lots of data and we are now exposing and sharing some of it. We have grasped the issue and need to move on. So what's next?
In 2010, the then Prime Minister David Cameron renewed the agenda on transparency in the public sector in an open letter, in which he said: "Greater transparency across government is at the heart of our shared commitment to enable the public to hold politicians and public bodies to account; to reduce the deficit and deliver better value for money in public spending; and to realise significant economic benefits by enabling businesses and non-profit organisations to build innovative applications and websites using public data."
But the subject of transparency around government data has been around for a lot longer than that.
In 2005, the Freedom of Information Act came into force, requiring the public sector to make any non-personal information available on request, subject to certain conditions. This was great for the public but also for the media, which could access data to hold government to account.
In 2007, the European Union's Inspire Directive was implemented, which, among other requirements, facilitated the sharing of geo-spatial data across the public sector. Following a newspaper campaign in 2010, Ordnance Survey made significant amounts of geographic data available as open data.
In the same year, the Greater London Authority launched the London Datastore, offering 200 datasets, stimulating development of many of the public transport apps used to travel round the capital.
In 2011, Cameron followed up his 2010 letter by documenting the open data achievements during the year. The central government Data.gov.uk platform was launched the same year.
The right data
Today, if you go on any government or public sector website, you should be able to see what data has been published. But is it data that answers our questions as citizens and taxpayers?
Does it tell us what we want to know in terms of value for money and improving our quality of life, or is it just the convenient datasets that those organisations find easy to provide?
Do the organisations that supply the data consult or engage with us to determine what we want to know and how we want it presented?
All too often, the answers are not what we want to hear. Public sector organisations need to make data-sharing and understanding of data relationships a key organisational priority, with smart goals and outcomes linked to data.
We in the UK could look for guidance to the US, where some state authorities have grasped the opportunities to create and share open data. Some of the best practice is emerging from cities such as New York and Seattle, where they are using data transparency tools to engage in citizen dialogue.
Of course, to ensure that we who work in the public sector gain citizen engagement in open data, we must maintain security and privacy. This seems like an oxymoron on the face of it, but the two go together.
In the age of cloud computing, it is critical for organisations to apply thought to their cloud information architecture.
As an organisation starts to apply policies and tools to manage its information and data, it needs to consider how to segment its cloud information model to keep separation within its architecture design as it starts to develop data-as-a-service platforms. The diagram below offers an example.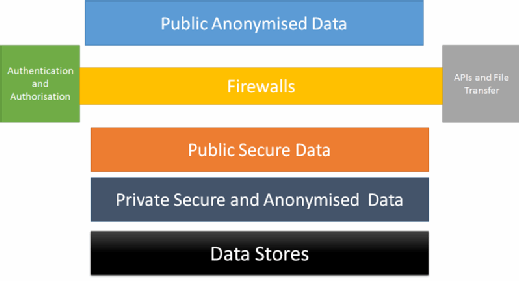 The classification of data suggested here works as follows:
Private secure data must stay protected behind the unsecure network zone, or DMZ, and includes any personal or commercially sensitive data.
Private anonymised data is also behind the DMZ, and includes data such as health records which, even when anonymised, may need some data-sharing protocol in place to share across organisations.
Public secure shared data is data about me that I can access but which needs a security layer because it is personal information.
Public anonymised shared data sits on an open platform, is pervasive and web accessible in an easy-to-consume format with open application programming interfaces (APIs) to access the data.
So what's next?
The open data and information agenda is a public necessity – savvy citizens, journalists and businesses want to see the data and information held by government.
The public sector needs to invest resources and skills in giving stakeholders what they want, not just because it is the democratic and right thing to do, but also because it will help to make better targeted resource decisions and create more empowered and resilient communities that can take charge of their data.
Read more about open data
Activities such as hackathons can improve engagement with developers and citizens to help solve public sector problems in ways we haven't thought of yet.
And emerging initiatives such as London's Supercloud offer opportunities for public sector organisations to collaborate on successful open data programmes.
---
This article reflects the personal opinions and views of Sean Green and not those of the London Borough of Tower Hamlets or London Grid for Learning.
Read more on Data quality management and governance