Now is as important as the (digital) future
There was much hullabaloo last week surrounding Lord Carter's report on "Digital Britain" and much to applaud.
There was much hullabaloo last week surrounding Lord Carter's report on "Digital Britain" and much to applaud. The pledge to create universal broadband coverage by 2012, for example, is welcome and could plausibly be seen as a physic for a UK economy in recession. It should at least mean all homes will delight in download speeds of at least two megabits per second.

Download this free guide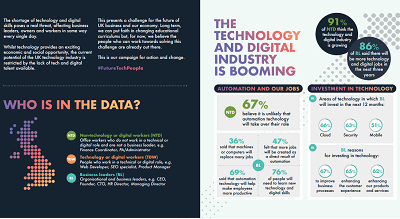 Infographic: Future-proofing UK technology
The current potential of the UK technology industry is restricted by the lack of tech and digital talent available. Read through this challenge for the future of UK business and our economy.
By submitting your personal information, you agree that TechTarget and its partners may contact you regarding relevant content, products and special offers.
You also agree that your personal information may be transferred and processed in the United States, and that you have read and agree to the Terms of Use and the Privacy Policy.
The report contains more than 20 recommendations, one of which is the creation of a second public-service broadcaster, another being more support for DAB digital radio.
It was accompanied by high-flown rhetoric about digital networks being the "backbone of the British economy" in the decades to come, as we parlay our world-class music, film and television content on to digital platforms. Who could not welcome this boosting of our telecoms and media industries?
Fine, but let's not get carried away by talk of "digital revolution", or industries of the future.
For the now much-derided financial services sector has been central to the UK economy for centuries, and will continue to be so, giving good employment to IT professionals, among others.
It will come back from its present crisis - chastened, no doubt, but it will return.
Karl Flinders reports on a new training centre at University College, London, that will prepare science PhD holders to be the detoxifiers of complex financial instruments in the future.
Ultimately, IT professionals working for user organisations owe no particular allegiance to such abstractions as "digital", or "Digital Britain", or even "IT", as such. Their loyalties are, rightly, to themselves and their employers.
And, as Richard Cross, director of technology at ITV, points out, we should be in favour of a digital world, not just a digital Britain. The spectre of protectionist nationalism has no business haunting a profession and industry as essentially global, and globalising as information technology.