Network and system administrators must acquire new skills to manage storage areas
The increased focus on data storage has broadened the responsibilities of network managers, but the creation of specialist roles in IT departments could help ease the pressure.

The increased focus on data storage has broadened the responsibilities of network managers, but the creation of specialist roles in IT departments could help ease the pressure

Download this free guide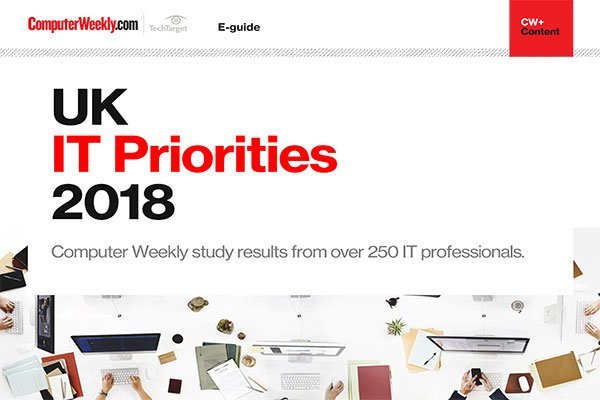 UK IT Priorities 2018 survey results
Download this e-guide to discover the results of our 2018 UK IT Priorities survey, where IT leaders shared with us what they are going to be investing in over the coming 12 months.
By submitting your personal information, you agree that TechTarget and its partners may contact you regarding relevant content, products and special offers.
You also agree that your personal information may be transferred and processed in the United States, and that you have read and agree to the Terms of Use and the Privacy Policy.
Never has IT change happened so quickly, for so many organisations, in so many different industries. Small and large companies alike are today facing a number of challenges that weren't even on the horizon until a few years ago.
But along with the pressure to comply with new legislation, share information across geographically dispersed offices and protect critical data in spite of ever-decreasing back-up windows, new technologies have come to the aid of the IT department. They enable these professionals to support their organisations with the most effective IT infrastructures.
In many cases the solution came in the shape of converged technologies, such as voice and data a few years back and, more recently, storage and data networking.
Although the intense attention might have somewhat softened, the merger has continued and has led to new breeds of solutions.
In the case of storage and data networking, the need to share and protect data has stretched the boundaries of both technologies to create a convergence of methodologies and a new way of distributing stored data to enable access, sharing and protection over short, medium and long distances.
However, the steady path to convergence was not mirrored by the convergence of the roles of system and network administrators. Even today, in many organisations we find that it is either the former (who understand applications and server/storage infrastructures but are less familiar with networking) who have come to manage the storage as well as the servers, or the latter (who are very intimate with networking but need to learn the specific implications of transporting storage traffic vs any other kind of data) who have had to stretch their knowledge to storage arrays.
It is easy to see why this happened. The computing infrastructure includes three main elements: the application/server, the storage device and the network that connects the two.
In the past, all of these components were hosted within the same system and were managed by system administrators. Since they all belonged to a single system, the importance of the "network" element was almost irrelevant. Over time the storage component moved out of the box to get externally and directly connected to the servers.
Meanwhile, organisations were generating more and more data and their storage requirements grew at an astonishing rate. The need to effectively store, protect and share this data led to the storage devices being networked, thus leading us to network-attached storage (NAS) and storage area networks (Sans).
Initially Sans were based on simple switches that enabled system administrators to fan out large storage arrays and spread their capacity across multiple servers. Subsequently, as they became proper networks, they started to offer increased scalability and flexibility.
As Sans grew in size and complexity, an ever-increasing number of features was added to the switches, making them very similar to their Lan counterparts.
This development created the need for individuals capable of managing an infrastructure that looked very much like a Lan, but which ran on a different protocol, Fibre Channel, and was dedicated to storage.
This new environment created the opportunity for the system administrators to develop their skills and for the network administrators to apply their understanding of management, design and troubleshooting of large networks to the storage realm. In other words, the increased capabilities of San switches created the need for a new figure: the San administrator.
Most IT departments today do not feature San administrators as their function is fulfilled by either the system or the network administrators. However, the increased focus on the storage side of the IT infrastructure will soon lead to the creation of such a role.
The presence of storage-specific protocols Fibre Channel and iSCSI in Sans highlighted the fact that both system administrators and network administrators had to learn about different aspects of storage networking in order to manage Sans, although the similarity between Sans and Lans has made it easier for network administrators to understand and manage storage networks.
While traditional administrators might think of storage networking as a daunting addition to their IT infrastructures, resources such as Storage Networking Industry Association courses are at hand to help professionals get the most out of their systems and networks and improve current performance.
The SNIA Storage Networking Certification Program (SNCP) provides a foundation of vendor-neutral, systems-level credentials that integrate with and complement individual vendor certifications.
Through evolving and enhancing the SNCP, the SNIA is establishing a consistent standard by which individual knowledge and skill sets can be judged.
So while Sans might at first look unappealing to both system and network administrators, these professionals should expand their skills to reap the benefits offered by years of technical development and customer adoption to provide increased support to their organisations.
Dante Malagrino is education committee chair of industry and standards body the Storage Networking Industry Association Europe
Storage needs
Convergence has led to new ways of distributing storage and data
System administrators are less familiar with networking
Network administrators need to learn the specific implications of transporting storage traffic
Read more on Networking hardware