Negotiating BPO contract termination in local government
Advice on negotiating contract termination clauses in business process outsourcing arrangements
Local government business process outsourcing (BPO) contracts often span many years and it is common for change to become necessary during the term of a contract.
Many factors can lead to change becoming necessary, such as new central government policies and budgetary pressures driving change in local government services, poor supplier performance or a badly scoped contract.
While some change requirements can be satisfied by renegotiating the terms of an existing contract, others can lead to early contract termination. Proper termination planning and contracting is critical to ensure that processes can be successfully brought back in-house or transferred to a new BPO supplier.
BPO contracts should not be especially difficult to terminate. They should not straightjacket the local authority into accepting services that do not match its requirements.
Addressing contract termination in detail early in the negotiation process is critical to ensuring that the lowest-risk, highest-benefit contract is created. This includes detailed planning for all types of contract termination – planned or unplanned.
A comprehensive contract termination plan would enable the contracting authority to identify and adopt a flexible approach to termination. This would entail building a framework and agreeing terms that are necessary for managing different types of termination and processes for change management.
Addressing BPO contract termination in detail early in the negotiation process is critical to creating the lowest-risk, highest-benefit contract

Sarah Burnett, research director, NelsonHall
NelsonHall recommends building a comprehensive BPO contract termination framework that addresses the different categories of termination and a set of components that are common to all types of terminations, e.g. process production.
This approach is in keeping with best practice in outsourcing contracts. While the points expressed below may be appropriate for your utilisation, however, each BPO client situation and needs differ substantially and the utilisation of any specific item below must be considered in light of their unique needs.
Different categories of termination
These include expiration or non-renewal; termination for convenience, including early and partial termination; and termination for cause.
Expiration or non-renewal
This is when the contract is allowed to expire (expiration terms are invoked).
Termination for convenience, including early and partial termination
Termination for convenience is the broadest category, which can be invoked for several reasons, including the following:
Changes in executive leadership of the local authority;
Changes in service delivery strategy of the authority, including sharing services with new partners;
A desire to rebid BPO services to obtain more favourable pricing;
A desire to rebid BPO services to change the BPO environment itself, such as moving from labour arbitrage to business transformation;
Uncertainty following the acquisition of the supplier by another company.
Termination for cause
Termination for cause is the most concrete reason for termination and generally involves failure to perform on the part of the BPO supplier in some form or another. This could be poor quality of service, failure to achieve agreed cost savings, or escalating costs.
In-depth resources on business process outsourcing
Common requirements in BPO contract termination
Regardless of the circumstances surrounding termination, all terminations involve certain common requirements. Correctly addressing these common requirements is critical to successfully terminating the contract regardless of circumstance. These include process production elements; service continuation; and transition support.
Process production elements
These are the elements needed to produce the business processes. Upon termination, they must be transferred from the service provider back to the client or to the new BPO suppler. These typically include:
Personnel transfers – including all the individuals and associated skills required to perform the process;
Assets and equipment – including facilities, infrastructure, hardware, etc;
Intellectual property – including software and client-specific methodologies;
Third-party contracts and services – at the same cost and productivity levels included in the contract;
Data – including other confidential information;
Process documentation – including manuals, instructions and other procedures.
Service continuation
Generally, the client will require the continued provision of services from the BPO supplier for some period of time following termination and the transition back to the local authority or to a new service provider.
Common requirements for continued services include:
All services or specific services selected by the client – and in the same manner as the service delivery model being used prior to termination unless authorised by the client;
Notice provision – including specific notification processes identifying contract personnel by name;
Timing elements – identifying pre- and post-termination assistance and shadowing time periods;
Service levels – including service level agreement (SLA) and other performance credits. These should not be affected by any service delivery model changes as indicated above.
Transition support
The objective of transition support is similar to the original transition activities associated with BPO contract initiation:
Continuation of business services without interruption;
Transfer of all resources required for the client (or its designee) to assume control and responsibility for the services from the BPO supplier;
Timely and orderly transfer of services to the client or the client's designee.
Common requirements for transition support include:
Clear definition of BPO supplier's role in transition planning and execution;
Given changes to the client environment the specific components of this role may be significantly different than the initial transition;
A cooperative environment regardless of the reasons for termination;
Relationship management is key to a successful transition.
Business process outsourcing contract recommendations
An organisation seeking to create BPO contract termination components that minimise risk and provide the most flexibility to address unknown future conditions should seek the most experienced counsel and assistance available, taking into consideration time and budget constraints.
Given the importance of contracts in the BPO lifecycle, the specific requirements associated with business continuity during any BPO-related transition are complex and require joint efforts on the part of the client and BPO supplier to be successful.
Without properly negotiated contract termination components, clients are at significant risk of business disruption. A high degree of value should be placed on ensuring BPO contracts are constructed well in advance of any termination event, utilising current and leading practices to minimise risk and ensure a successful transition.
---
Sarah Burnett (pictured) is research director for Public Sector BPO at NelsonHall
Content Continues Below

Download this free guide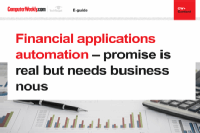 Financial applications automation – promise is real but needs business nous
The automation of the financial software that lies at the heart of any business & accountancy, budget management, general ledger, payroll, and so on & is a prize many organisations are eyeing up, with machine learning and robotic process automation close to mind. Find out everything you need to know by downloading this PDF E-Guide.
Read more on IT supplier relationship management