Mindful collaboration: Who shares wins
IT leaders seem to struggle to make collaboration technology projects work. Research by the Leading Edge Forum offers some possible answers
When you talk to people across a wide spectrum of organisations about the way in which technology helps or hampers effective collaboration, you hear stories of success and of failure. But the most surprising discovery is how common it is to find initiatives based on the Field of Dreams principle that have led to negligible outcomes – build it and they don't come.
Setting a goal of making your organisation more collaborative is a bit like saying you want your organisation to do more work. It's sensible, but, ultimately, it's a platitude. Providing platforms for collaboration without giving structure and method to how people might achieve that goal will probably end in disappointment.
To an extent, the rise of software as a service (SaaS) has exacerbated the issue in enterprise IT. Unless hard cash is invested in on-premise systems, the temptation to just bung things out there gets greater. Some of the most credible successes for enterprise social network implementations come in organisations that have invested in the most expensive products on the market – that correlation isn't merely chance.
But at the other end of the spectrum, IT groups still seem unwilling to learn from where collaboration is working in their organisations if the platforms of choice aren't those mandated for the job.
Email is constantly described as a problem to be solved, and yet its pervasiveness and popularity should surely be considered a case study in collaboration technology success. Spoiler: it's easy to use, it's extensible by the user, it's not weighed down by information security regulation, and it's used by the people you want to collaborate with in other organisations.
Teams working effectively
So how should organisations go about using technology to get teams working together more effectively? What are IT teams doing to get business advantage from emerging collaborative platforms?
The first question that should be asked is: what's stopping people from working together effectively today? Unless there is an understanding of systemic barriers to collaboration, no amount of shiny new systems will deliver significant improvement. A very obvious common example here is that if you highly incentivise your staff around individual performance, collaborative behaviours will be challenged.
But there are more subtle, cultural factors in play that can challenge the ability of colleagues to collaborate and share effectively. Professional silos, for example, can mean that accountants, lawyers, engineers and technologists are all speaking in languages the others simply don't understand. Technology alone will do little to facilitate the cultural adaptation needed to allow such professional tribes to work effectively with one another.
Ultimately, however, a couple of factors often appear in successful collaboration initiatives: they started small, and they involved a group of people mindful of a common objective that they were trying to achieve by collaborating more effectively.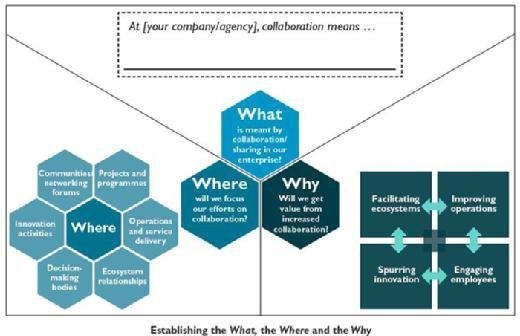 Starting small doesn't necessarily mean a small group of people. There are cases where an entire enterprise was involved, but the scope of what was being done was very precise.
For example, one food and drink manufacturer scheduled the launch of an enterprise social network to coincide with its sponsorship of the 2012 London Olympics, but the task at hand for the network was simply to let employees share stories of the passage of the Olympic torch relay across the country with colleagues. The exercise introduced the platform to the entire organisation, and four years on it is thriving.
But small initiatives within small teams are just as important. In this case IT's role is to facilitate and guide, and then share stories of success across the broader organisation to allow others to be inspired to find their own applications of common platforms. A sport governing body used such an approach to drip-feed the use of Huddle into its operations, and built demand among users as a result.
Read more about collaboration technology
The tools that organisations are using to enable their people to work with one another have, to a great extent, become commoditised. It's tempting, as a result, for IT teams to regard them as mere infrastructure, and, in a SaaS world, an infrastructure that requires little effort to provide. But getting people to change their often deeply formed habits of working – often revolving around email and duplicated files – takes much more effort if the promise of new collaborative or social platforms is to be realised.
Understanding the nature and purpose of collaboration is one part of the equation, but helping to nurture new ways of working is equally important. That, in turn, requires a much more collaborative outlook from technologists, not to mention a new set of skills to deliver such results.