Lessons from the NAO's report on government IT
The UK's public-spending review body, the National Audit office (NAO) last week published "Information and Communications Technology in Government Landscape Review"
The UK's public-spending review body, the National Audit office (NAO) last week published "Information and Communications Technology in Government Landscape Review", a short, polite, clinical but diplomatically scathing review of the UK central government's ICT strategy, with a few pointers towards a hopefully better future.

Download this free guide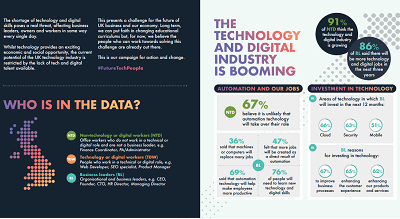 Infographic: Future-proofing UK technology
The current potential of the UK technology industry is restricted by the lack of tech and digital talent available. Read through this challenge for the future of UK business and our economy.
By submitting your personal information, you agree that TechTarget and its partners may contact you regarding relevant content, products and special offers.
You also agree that your personal information may be transferred and processed in the United States, and that you have read and agree to the Terms of Use and the Privacy Policy.
The NAO clinically described a dysfunctional ICT landscape, including ineffective policy creation, poor procurement that fails to leverage government's buying power, massive duplication of assets and structures that retard cross-departmental ICT initiatives and prevent adoption of shared services. It also points to poor information management, little re-use of ICT assets across departments and inadequate and fragmented IT governance.
The good news is that the report identified an embryonic public sector ICT turnaround strategy. A series of project reviews and new spending controls will shave hundreds of millions of pounds from the £16bn annual ICT spend, while the government will appoint a team of "crown commercial representatives" with powers to co-ordinate and manage relations with a portfolio of individual suppliers across all government departments.
What does this all mean?
UK national government, like some (but by no means all) of its European counterparts, cannot continue to take a chaotic and incoherent approach to ICT, given its importance and cost.
Government delivery machinery has no choice but to become more "joined up" and to view ICT as a cross-departmental resource. They need to buy and manage "vanilla" common elements centrally and department-specific elements must be based wherever possible on common technologies and standards.
Ministers should also drive adoption of cloud-based delivery where possible to lay the foundations of a flexible, cost-effective and future-proofed ICT infrastructure.
The successful transformation of stove-piped government ICT machinery will not succeed without reworking the financial and accounting rules (and change the ingrained management culture) that discourage the sharing of (ICT) ideas and services across organisational boundaries. Without new financial incentives, today's stovepipes will remain and will strangle shared-services initiatives.
This will take more than an ICT and shared-services project; it will be a massive change management exercise.
Nevertheless, while decisive action is needed and ministers have to be more prescriptive than they have been previously, the way forward is not simple. Uncritical wholesale privatisation using the traditional SLA-driven models have not always served the public sector well in the past.
Moreover, importing private sector techniques and processes into the public sector workforce needs to be done carefully so that the ethos and morale of the public-sector workforce is not degraded. The UK's example of how it handles these challenges could become the model, positive or otherwise, for some other European governments.