Keep IT staff motivated when outsourcing
Sainsbury's CIO says retaining staff with commercial experience and a keen sense of how to manage outsourcing contracts helps to...
Sainsbury's CIO says retaining staff with commercial experience and a keen sense of how to manage outsourcing contracts helps to keep the team motivated.

Maggie Miller, chief information officer at Sainsbury's, said that keeping her team of 25 in-house IT staff motivated when IT has been outsourced makes Sainsbury's one of the best places to work.

The danger for a retained team is that it can feel reduced to contract monitoring and invoice checking, but Miller said managing the outsourcing contract is just part of the job.

The retained IT team's main function is to devise, plan and oversee Sainsbury's IT strategy in partnership with Accenture and Sainsbury's business managers.

"Abdicating ownership of your IT strategy would be very foolish," Miller said.

Sainsbury's IT strategy has needed to keep pace with a changing business environment and has had a top-to-toe overhaul which is enough to keep both the retained and outsourced IT teams highly motivated.

"There is no shortage of new ideas. Retail is such a fast moving sector," said Miller. "Sainsbury's IT had got into such a state that the business could not move quickly."

By putting new systems into place, Sainsbury's is gaining the business flexibility and agility it needs to thrive in the fero-ciously competitive supermarket sector.

Because IT delivery is left to Accenture, Miller's team consists of those already in senior positions.

"Clearly we have no trainee programmers - the youngest staff are in their mid-20s, most are in their 30s, and a couple are in their 40s," she said. "I am the oldest."

As well as being non-junior, the retained team are also mostly not home-grown in corporate IT. Key to a retained IT department being a best place to work is staffing it with those who embrace outsourced service delivery, said Miller.

"The most successful background [for working in a retained team] are people who have worked for consultancies or outsourcers and can be happy in an ambiguous role," said Miller.

Those who are more comfortable with traditional corporate IT structures, defined reporting lines and intra-departmental feifdoms may not make a successful transition to managing an outsourced environment rather than an internal IT department.

At Sainsbury's, motivation also comes from the fact that the staff know they have to be top calibre.

"We have been extremely careful with our hiring and have a culture of striving for the best," said Miller. "Each individual has to have incredible ability."

The staff also know they have to match the calibre of the Accenture outsourcing team to make the outsourcing contract work.

"The Accenture team we work with is bright and smart - we have got its retail A-team. We keep each other on our toes," said Miller.

"There is a lot more maturity here," said Tim Cray, a senior manager for service delivery in Sainsbury's IT department. "We have gone for people who under-stand complex relationships with experience of commercial challenges.

"It is a combination of service delivery and technology focus with some contract management. There is a huge amount of learning about how to manage outsourcers and we have a unique opportunity to learn," he said.

"There is a great mix between the old IT world and new ideas - there is a real buzz working with this team."

Sainsbury's won the Computer Weekly Best Places to Work in IT 2003 award in the retail, wholesale and distribution category

Download this free guide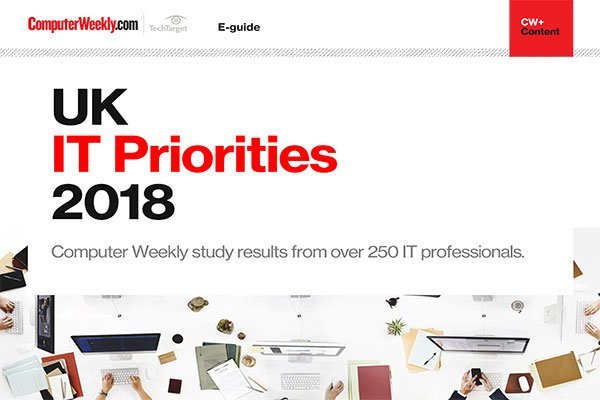 2018 UK IT Priorities survey results
IT organisations in the UK and across Europe are starting to accelerate the move to the cloud. Read more about the key areas in which senior IT managers are planning to invest in over the next 12 months.
Read more on IT outsourcing