Impressive words, but will UK Online go far enough?
Last week Tony Blair launched UKOnline, the Government's strategy to put every citizen on the Internet and make Britain the best...
Last week Tony Blair launched UKOnline, the Government's strategy to put every citizen on the Internet and make Britain the best place for e-commerce. We will examine the impact on small businesses, telecoms and broadcasting regulation, Whitehall and the UK economy as a whole
For once, it was not all spin. When Tony Blair took the podium last week to outline the Government's e-strategy he had some impressive figures to hand, writes Paul Mason.

Download this free guide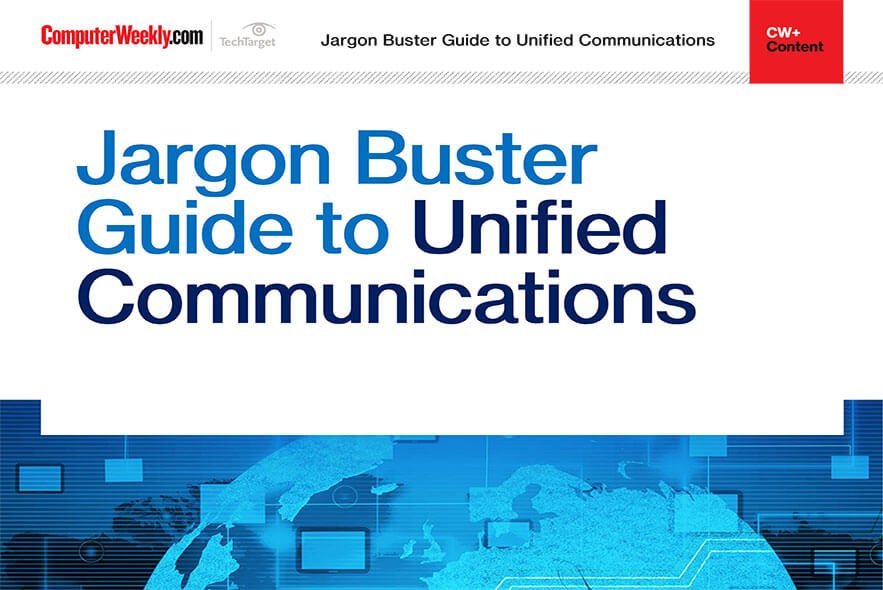 Definition guide: Unified Communications
In this e-guide, we break down what unified communications actually is through a series of definitions. Also, discover how UC is still relevant to mobile, why the mobile UC market is struggling and how blockchain can help to make you a happier person.
The number of UK households on the Internet has grown from 13% to 25% in one year; one-third of the workforce now works in "clicks and mortar" companies; e-commerce turnover has quadrupled; 450,000 small businesses are trading online; and the IT sector's contribution to economic growth is significant.
The UK, Blair insisted, is leading Europe on e-commerce. It offers the biggest e-marketplace in Europe and has more people online than any other EU country, according to the UK Online report.
For Blair, the success of the knowledge economy is not just icing on the cake of an economic boom: it is central to economic policy. At the heart of his strategy is a rejection of the "new economy" hype - if that means a separate, booming, dotcom sector surviving on zero profits.
"What is happening is no dotcom fad that will come and go," said Blair. "It is a profound economic revolutionÉ There is no new economy. There is one economy, all of it being transformed by information technology."
At the Loughborough launch of UK Online, Blair told industry leaders, "We cannot divide the economy into old and new sectors. What matters is whether companies innovate and deploy knowledge effectively, whether they master change or suffer it." And he explicitly linked the failure of UK businesses to innovate in the 1950s and 1960s with "40 years of relative economic decline".
Few doubt the prime minister's commitment to the e-revolution - the question is whether the Government's action tick-list can deliver the goods.
Peter Sommer, visiting research fellow at the London School of Economics and an authority on the Internet, said, "The whole tone of Blair's presentation was 'we've met these targets and let's go for the next lot' - rather like a sales team. The targets are all well and good but after a certain point it is about difficult political choices and we need more debate about that."
Sommer said that he had hoped Alex Allan, the e-envoy, would drive that debate. But Allan announced his resignation, for personal reasons, one week before the UK Online launch.
A panel of e-commerce experts, writing for Computer Weekly, delivered a negative verdict on Allan's achievements, and cited the failure to build "trust" in e-commerce as the key problem.
Whoever replaces Allan will face the same problem as he did: the Government has a clear e-vision but has consistently put tax and law enforcement above business empowerment.
Behind the impressive top-line figures on Internet access there are a series of barriers to e-commerce that the Government seems unwilling to address, namely obstructive legislation on tax and cyber-tapping, the high cost of Internet access, and the IT skills shortage.
Industry complaints
E-government minister Ian McCartney has the task of removing 70% of regulatory and legal barriers to online trade by the end of 2001, and 100% by 2002. But, for many business leaders, the most important barriers are the ones the Government has recently erected - the RIP Act, the IR35 tax regulation on the self-employed, and uncapped national insurance contributions on share options.
Blair dismissed concerns that the RIP Act placed an unnecessary burden on Internet service providers and that it was frightening off global corporations from the UK.
"A lot of the concerns expressed over RIP are hugely alarmist over what the Government was intending to do with it, and I think we have taken care of most of the difficulties that people have," he said.
On IR35 and share options, the report itself was keen to demonstrate that the Government is "listening to industry". IT contractors have complained loudly about the new tax rules, and there is anecdotal evidence of a brain drain beginning in some sectors. However, Blair is offering only to "monitor the effects of IR35 including its effects on the labour market".
Many start-up companies have complained that national insurance contributions on capital gains from share options are unpredictable, due to the fact that values may rise dramatically. The Government responded with a deal which will allow tax relief where an employee accepts liability - but only where the shares are held for four years.
Brett Mankey, chief exective of application service provider Hosteu, said the failure to properly address these tax issues was one of the biggest disappointments about the UK Online report. With many ASP start-ups looking to go public about 18 months after turning in a profit, the four-year timescale is too long, according to Mankey. "In order to foster a growth environment you have to retain and attract the best people - it is hard to do that through share options if they can't get value out of the company," he said.
Telecoms trouble
Blair claimed that the UK is the "best in the world" for off-peak Internet access prices - a claim that was met with cynicism by users for the simple reason that it is peak rates that matter. Add to this the tortuous process of removing BT's monopoly over the "local loop", and telecoms watchdog Oftel's recent admission that UK businesses pay too much for leased lines, and a picture emerges of a monopolised fixed-wire telecoms sector where pricing is an issue from the smallest business to the biggest corporation.
Blair's "best in the world" claim was based on a survey by the Organisation for Economic Co-operation and Development (OECD) in March 2000. The survey measured the "best available offer at the time" over the public switched telephone network (PSTN), but admitted that many of the UK's unmetered access offers had yet to be rolled out. The same survey showed that, for peak rate access, UK users pay way above the OECD average.
Blair countered, "UK peak prices have fallen a further 30% to 40% since then, and the OECD expects its next comparisons to show the UK shooting up the league table. On high-speed, broadband connections it is still early days, but Oftel's benchmarking shows we're up with the leaders."
The problem is that many of the promises on unmetered PSTN services have not been fulfilled. The May 2000 Friaco Directive, which ordered BT to let rivals provide access at a flat rate over its network, was hailed as the dawn of cut-price unmetered access. But Alta Vista has since withdrawn its unmetered offering, and Freeserve's £10-a-month unmetered service is facing very heavy demand.
Many users of unmetered services complain of poor response times. And most remaining providers are limiting the number of users. In short, it is hard to run even the smallest of businesses over unmetered PSTN Internet access.
This would not be such a great problem if digital subscriber line (DSL) services in the UK were as advanced as those in the US. But the roll-out is limited to one-third of potential users, and true competition in the DSL market will not take place until later this year.
David Harrington, director general of the Telecommunications Managers Association (TMA), was critical of Oftel's progress towards unbundling the local loop. "The EU said that unbundling has to take place by 31 December 2000, and Oftel is struggling to achieve that by July 2001. All we are going to see by the end of this year is a low level of unbundling, so the number of users that will be able to enjoy ADSL will be fairly small - but just enough for the UK to be able to say to the EU that it is complying," he said.
"There are 6,000 local exchanges in the UK, and BT has identified some 400 to 500 as being suitable for unbundling. It is a fairly small number but just enough to claim compliance with EU regulations," said Harrington.
"There is a whole raft of logjams still to be undone, " he added, "one of which is that there is no formal contact between BT and the ISPs yet. It is in BT's strategic interest to delay as long as it can, the longer the delay, the later the cannibalisation of BT's current market.
"BT will legitimately dig its heels in and it is up to Oftel to say what is a legitimate concern and what is not. Oftel certainly sees what the target is, but whether it can do it, and whether it has the necessary resources to enable it to move quickly, is another matter."
At the high end of broadband business access, the market for leased lines is not properly competitive, according to an Oftel report published last month.
Oftel's survey showed that UK businesses pay more than they would if the market was truly competitive. In addition, while prices have fallen in Europe, UK price reductions have moved much more slowly. Oftel is looking at setting wholesale bandwidth prices in order to encourage competition in the retail bandwidth sector.
The OECD said, "For consumers and small businesses, the most significant costs for engaging in electronic commerce are the prices of local communication access." The problem is that, from dial-up Internet access through to 2Mbyte leased lines, access still costs too much.
The skills shortage
UK Online promises a strategy to "make the UK the number one country for the supply of high-level ITEC skills". In the context of a growing skills shortage in the Internet sector, that is a bold promise - especially when compared to the detail of the strategy itself.
Labour's skills strategy clearly starts from the bottom up. Because it has eschewed the idea of a compulsory training levy - on the construction industry model - Labour steers clear of any centrally-managed or centrally-funded solution to the short-term skills gap. Instead, when Labour thinks "Information and communication technology skills" it thinks of computers in primary schools and training for the unemployed.
UK Online contains an impressive list of measures to overcome technophobia and techno-illiteracy among marginalised sectors of the community. These include free ICT "taster" courses for the unemployed and 80% discounts for computer literacy training for adult students.
The Government will invest £84m in the University for Industry (UFi) scheme, which aims to have 2.5 million people registered for online courses by 2003.
But out of the £3.8m it promised to put behind UK Online strategy, just £8m is earmarked to drive forward the ITEC skills strategy - and this over three years. The strategy includes:
A business-led campaign to improve the image of IT among women and children
A work-placement programme for electronics students
Boosting the profile of electronics in schools
Better labour market information from the Department for Education and Employment
Reducing the number of IT awards from 800 to 80 in order to clarify their value.

It is hard to see how this combination of measures will address the shortage of high-level skills, even in the medium term, let alone make the UK the "number one" source of IT skilled workers.

Internet for all?

One theme pervades Blair's pronouncements on the Internet - that it is for everybody. Indeed, earlier this year he likened it to electricity - a must-have service that is basic to inclusion in society. And many of the commitments in UK Online reflect Blair's determination to meet this goal. They include:
A network of 600 UK Online centres which provide Internet access and basic IT skills
All libraries to provide Internet access by 2002
A £35m programme to put the Web in post offices
An ambitious pilot scheme to give all households and public institutions free broadband access in selected disadvantaged communities
100,000 recycled PCs for low-income families.

But the London School of Economics' Sommer said, "I would have preferred a more reflective approach. As e-commerce becomes successful, we will have to make many more difficult choices - on the digital divide, for example - and the whole country needs to take part in that debate.

"One hundred thousand PCs for impoverished people is nowhere near enough. The paradox is that e-commerce relies on the free market. But to a full-blooded capitalist the bottom 25% of society is, to put it bluntly, a nuisance. These people have no computers, no bank accounts," Sommer said.

"If you want to overcome the digital divide, society has got to find some mechanism for doing that - UK Online makes gestures toward it, but offers nowhere near enough."
Read more on Voice networking and VoIP