How to attract more women to IT
How to bridge the IT gender divide Lindsey Armstrong, EMEA president of Salesforce.com, explains why the industry needs to turn around its "men-only"...
The number of women choosing careers in IT is worryingly low. The number who elect to turn their backs on the industry prematurely is also cause for concern.
Estimates now put the amount of women working in IT at around 10 to 15 per cent of the total workforce. This needs to be addressed and quickly not for equality's sake or to meet quotas, but for the sake of UK business.
It is straightforward common sense. If a business only gets to pick staff from half of the working population, then it is recruiting from a pretty stagnant talent pool.
More women need to be encouraged into IT careers so the industry can pick from the best of both genders and a broader mix of skills and personalities.
Of course, a level of sexism still exists in the dustier corners of the IT industry, and those who would cry "foul" about women starting families. But those attitudes are present across many sectors and are due for wider redress.
Puzzle-solving
Solving IT's problems, however, is a more specific, three-part puzzle.
In order to make this happen, schools and colleges need to make all students aware of their career prospects and what jobs in IT involve and what they can offer. They must also ensure that the curriculum is relevant to the technologies students will be using tomorrow, not the technologies their parents used yesterday. IT can be exciting and schools have a responsibility to show that.
This year's GCSE and A-Level results showed the number of girls opting for technical courses is still falling relative to boys, so the situation is only going to get worse. If this situation is not changed, then not only are young women being denied real opportunities by an education system that appears to favour drama and media studies courses over computing, but the industry will be failing to draw in enough talent.
Image improvement
The IT industry must also do more to improve its image and educate people about the opportunity and reality of a career in IT.
There are currently very well-paid jobs available in technology positions across the industry. At Salesforce.com we cannot hire fast enough right now, and I know we are not alone. How many other sectors or industries can say the same in the current economic climate?
Businesses still need talented techies because they can make a genuine difference and drive the business forward. So even when other sectors and industries make lay-offs there will still be very lucrative positions available in IT for the right candidate.
Female role models must also emerge and inspire generations of young female students to aspire to a career in IT. Is it any wonder few intelligent women want to work in an industry where Bill Gates is perceived as a role model?
And that problem sits at the heart of the matter. Technology has changed, but the stereotypes have not.
Advances in areas such as cloud computing and Web 2.0 mean the technical nature of IT is more interesting. Development cycles are shorter, results seen more quickly and the resulting user experience is more enjoyable. Everything is more dynamic and immediate yet the image is still of lonely men, keeping suitably unsociable hours, coding in the dark for years on end in front of their monitors only to see minor tweaks and improvements.
Business function
Most importantly, IT has a far greater role to play in business success than ever before. No other department carries the same power to change and innovate as IT. Look at how industries such as travel and tourism, gaming and retail have been turned on their heads through the use of IT.
Despite this, women still remain drawn more commonly to roles such as marketing and HR. But why not aspire to work in a department that makes a difference to the business?
Women can add real value to the talent pool of IT and help make it even more indispensable to business - and drive those businesses forward.
For that reason it is in everybody's interest to redress the balance.
Organisations and initiatives such as The British Computer Society Women's Forum, the Women In Technology group and Computer Clubs for Girls do a reasonable job, but they need greater support and greater results.
The shared responsibility for making this happen falls across individuals, businesses, government and the IT industry.
Lindsey Armstrong is EMEA president of Salesforce.com
EVENT: W-Tech 2009
Content Continues Below

Download this free guide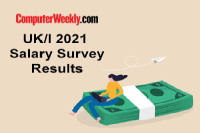 2021 UKI Salary Survey - Diversity Infographic
We take a look at our 2021 Salary Survey results from over 300 respondents who work in the UKI IT sector. We will be breaking down which job functions get paid what, what areas of IT companies will be investing in in 2021, the current diversity landscape residing in the UK tech sector and how the pandemic has effected IT staff.