Forrester: Four gaps keeping you from delivering great customer experience
To deliver a great experience, firms need to make interactions effective, easy and emotional for customers
Global business and technology decision-makers believe that improving the digital experience of customers is a critical or high business priority, making it one of the most important drivers of business success.
But it is no longer enough to simply meet a customer's needs with an effective experience. To deliver a great customer experience, firms need to make online interactions effective, easy and emotional for customers.
For decades, simply getting the right transaction data on a PC or web page to effectively meet a customer's needs was itself a miracle of technology investment. While this remains the foundation of digital customer engagement, it is not enough alone.
Think of how companies such as Burberry have simplified customer experiences. Burberry has spent millions to streamline the path to web purchases and invest in mobile shopping moments to increase purchase conversion.
Ease of use also matters in employee applications, particularly for customer-facing employees. Even SAP, the master of meets-needs business applications, now aims for a "run simple" user experience.
Measuring the impact of customer experience
Forrester's Customer Experience Index (CX index) – a measure of how well a company delivers the customer experiences that create and sustain customer loyalty – demonstrates the dramatic business impact of a substandard customer experience.
Watermark Consulting mapped the five-year stock performance of firms rated in the Forrester CX index, and the leaders outperformed the S&P 500 by a factor of two with 43% stock growth, while CX index laggards had negative returns of -34%
The final ingredient? Emotion. This drives customer loyalty and employee engagement. In mobile apps particularly, the more deeply a customer feels great about an experience, the more addictive and useful it is. Emotional experiences pay off in higher ratings, deeper engagement and repeat business.
Business and IT disconnect damages customer experience
Firms are in an arms race to mobilise their services, deliver new digital capabilities and delight customers on every step of their journey.
Customer-facing teams in e-business, marketing and customer experience are eagerly adopting new software to deliver these digital experiences. At times, they choose a conscious uncoupling from the CIO's team to move quickly and stay ahead of customer expectations.
Unfortunately, the mismatch of customer-facing teams scrambling to build new digital services, while CIOs and their teams hunker down to cut cost and risk, has caused a disconnect on the role of technology management in delivering great experiences.
To deliver a great experience, firms need to make interactions effective, easy and emotional for customers

John McCarthy and Ted Schadler, Forrester
In interviews with more than 35 companies globally, and by analysing survey results from 3,502 US consumers, Forrester uncovered this misalignment and identified the four experience gaps that result:
1. Performance
Customers want sub-second response times, even on a mobile device over a flaky network and even as transaction volumes soar.
Unfortunately, most CIOs closely hold vital applications in their own datacentres and attempt to bolt mobile capabilities onto creaky web architectures, so they fail to deliver speed, at internet scale, on any mobile device.
The business impacts of a performance gap are abandoned shopping carts, grumpy customers or delayed engagement. One UK banking executive expressed worry about every second of performance loss as a leading indicator of poor ratings and lower online banking engagement.
2. Convenience
Customers expect a well-designed service that works consistently on any device and channel in any given mobile moment.
But firms too often organise by channel and create different technology foundations for each, leading to clunky interfaces, confusing interactions and fractured experiences.
The business impact of a convenience gap is, at best, a lower conversion rate and, at worst, a lost customer. In a recent redesign of its mobile app, Delta Air Lines trimmed complexity and navigation, enticing 39% of its travellers to check-in through the app, up from 20% just a year ago.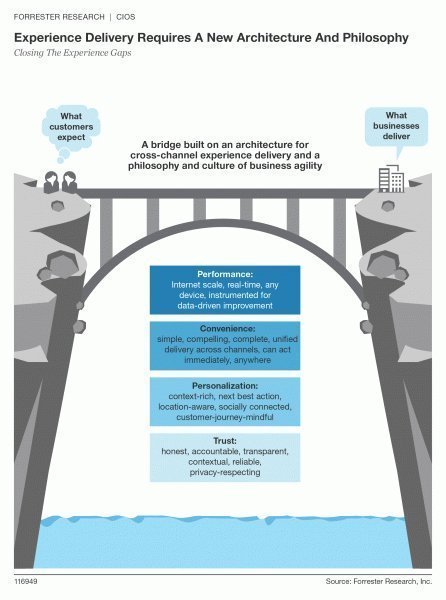 Customer experience gaps
3. Personalisation
Some 42% of mobile consumers expect companies to have a mobile app, and 23% expect that app experience to change based on their location.
But most companies are still attempting to squeeze their full-screen websites down onto a mobile device and deliver a one-size-fits-all experience. They have yet to use location, preferences, current status and history to tailor the experience to a customer's context and needs.
The business impacts of delivering an undifferentiated experience are less brand popularity, slower paths to a transaction and customer defection as digital disrupters make personalisation their calling card.
4. Trust
Customers expect an accurate, reliable service in which their preferences and privacy boundaries are respected.
Firms struggle to deliver a trustworthy experience in a single channel, and with the rise and proliferation of digital channels and interactions, brands are exposed in more places.
The business impact of distrust, as the executives of Target painfully learned, is that customers stay away. The company saw transaction volumes drop by more than 5% when customers found that their credit card numbers had been stolen.
More on customer experience
Customer experience is king in mobile loyalty programmes
Customer experience improvements hinge on good customer data
Closing the gaps in customer experience
To close the customer experience gaps in performance, convenience, personalisation and trust, firms must think differently and invest differently in the technology of experience delivery. In companies as diverse as Barclays, China Eastern Airlines and Starbucks, software technology has become a central pillar in the corporate strategy and brand.
Forrester believes it is time for firms to move beyond point customer solutions and instead take a more sophisticated and scalable two-pronged approach to deliver effective, easy and emotional customer experiences: an architecture for cross-channel experience delivery and a philosophy and culture of business agility.
By investing in a new collection of software capabilities, upgrading ageing web and commerce platforms and building application programming interfaces (APIs) to systems of record, firms are able to deliver at internet scale on any device in any channel.
In building common ground between business stakeholders, developers and technology professionals with a shared approach to agile development and technical engineering, they will deliver great customer experiences.
---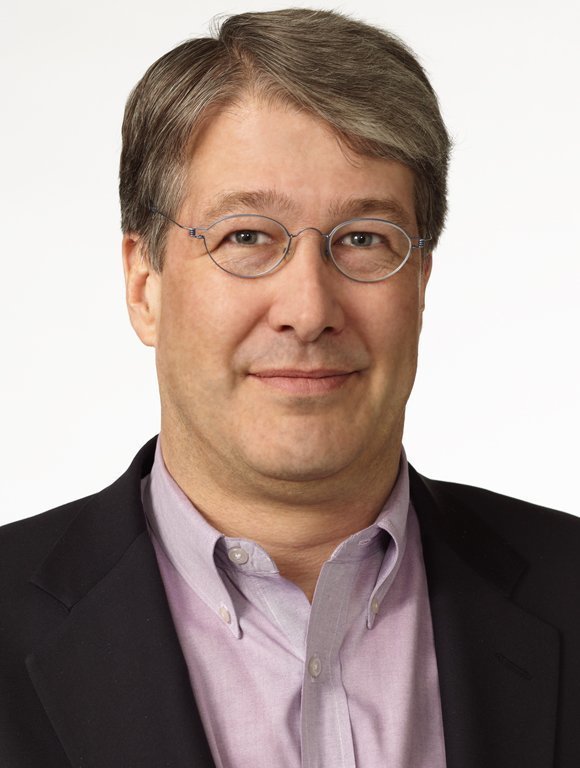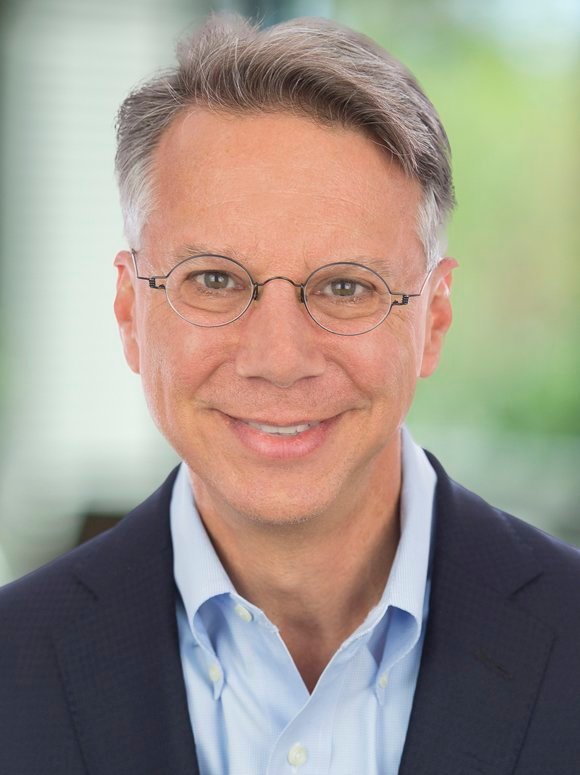 John McCarthy (above left) and Ted Schadler (above right) are vice-presidents and principal analysts at Forrester Research.