FotolEdhar - Fotolia
Creating a CIO legacy beyond the systems
So much of what a business does today needs to be technology-driven that CIOs have a choice between leading and lagging behind
Essentially, every company is now a technology company. No longer just a support function, IT is now so ingrained into all organisations that the CIO is facing both their toughest time, and most exciting, since the job began.
CIOs now need to do much more than drive cost efficiencies within the technology function. They are now expected to reimagine customer experiences, reshape how work gets done and even rewire business models.
Deloitte's annual CIO survey looks at how technology leaders operate in the organisations they serve. The 2015 survey – Deloitte 2015 Global CIO Survey – Creating Legacy – is based on in-depth interviews with more than 1,200 technology leaders across 43 countries, including the UK. It is focused on exploring their career aspirations and personal goals.
We uncovered three fluid patterns of CIOs – trusted operators, change instigators and business co-creators (see Figure 1). While you can read more about each pattern here, what is important is that no single CIO legacy pattern is better than the others. They are also not permanent personas, as CIOs are likely to shift from pattern to pattern.
What matters is choosing the pattern that matches the business need. It's about being able to step back and understand what pattern you are in right now, and where – if the right skills, relationships and investments are made – you have the potential to be in the future.
Talent and skills: It takes a village
Only 9% of CIOs in our survey said they have all the skills they need to succeed. The three skills with the largest gaps were the ability to influence internal stakeholders, talent management and technology vision and leadership. Clearly something needs to be done.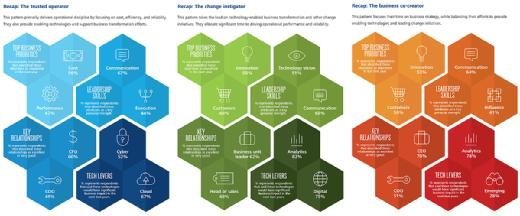 Yet the reality is that no individual can meet all the needs of a complex organisation. Therefore, surrounding yourself with complementary talent is essential. While many CIOs recognise the importance of talent management, few make it a personal priority. That needs to change.
Relationships: The key to unlocking influence
Relationships are also lagging. While the majority of UK CIOs claim to have excellent or very good relationships with CEOs, chief financial officers, business unit leaders and chief operating officers, outside of this group there is a long tail of relationships that need more attention. Just 20% said a relationship with their chief digital officer is important.
Establishing strong relationships is key to effectiveness and influence. It defines a leader's credibility and impact. Map out those most important to you, in both the short and long term, and take the time to build and maintain these relationships. Also look beyond your four walls to build contacts with your peers, industry and beyond.
Investments: Put your money where your mouth is
While CIOs named analytics, business intelligence and digital as the technologies that will have significant impact on the business within two years, UK CIOs still reported the highest current investments in legacy and core modernisation.
More from Deloitte's 2015 survey
Despite best intentions, many CIOs are still focusing on keeping the lights on. While that is important, the business will also be looking to you to drive forward the implementation of exponential and disruptive technologies. Don't just talk about them – show the potential.
Be on the front foot
Those who are prepared and have assessed their competencies will be well positioned to succeed. After all, so much of what a business does today needs to be technology-driven that CIOs have the choice – lead or lag behind.
Take a moment to ask yourself:
Which pattern do I identify most with in my current business context?
Is that pattern what my organisation needs today?
What pattern is best aligned to my organisation's future needs?
How am I preparing for that future and positioning myself for success?
---
Mark Lillie is UK CIO programme leader at Deloitte.