Create new m-commerce applications
Forget the attractions of marketing to one billion mobile subscribers - the profit will be in mobile B2B, writes John Fallon

Download this free guide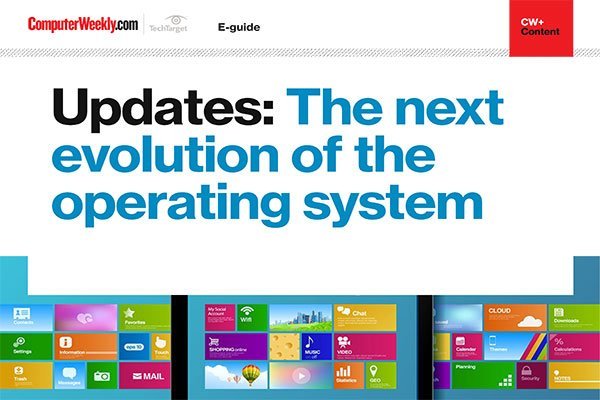 Unpacking the future of operating systems
In this e-guide, we take a look at how updates are the next evolution for operating systems. From security and iris recognition to 3D modelling and easier recognition with OneDrive, updates are key to keeping your device fresh and, most importantly, safe.

Forget the attractions of marketing to one billion mobile subscribers - the profit will be in mobile B2B, writes John Fallon



E-commerce is already revolutionising the way we work, shop and do business but the transformation to a digital economy will not be complete until mobile commerce becomes a workable reality.
In the never-ending search for the newest application or wireless gadget, are we forgetting to address the real business requirement to mobilise enterprise applications? Amid all the hype there needs to be a critical look at creating new mobile business applications to foster a natural cycle of innovation built on profitable m-commerce.
If the mobile revolution is to prosper or even survive, I believe new business models and revenue streams must not only be explored, but also turned into reality. The "new economy" has learned the hard way that however sexy the concept, its survival is dependent on an ability to generate sustainable revenue.
The focus in Europe to date has been very much on the consumer lifestyle element of the m-commerce revolution. This is due to high mobile phone penetration rates, the nature of devices with their small screen size and storage capacity, and networks with their low bandwidth and dial up connection speeds, as well as the consumer-centric marketing efforts of the phone manufacturers.
According to research company Ovum, there are currently 500 million wireless subscribers and by 2003 there will be more than a billion subscribers creating a glittering long-term market prize for m-commerce. However the allure of the consumer market has taken some of the focus from the smaller but more profitable B2B opportunities.
By contrast, in the US there is a robust and dynamic market of application developers satisfying the mobile business opportunity. The sheen on the mobile consumer market is adversely affected by the lower market penetration of mobile phones and the relatively widespread access of broadband home Internet connectivity.
These factors, together with the critical mass of personal digital assistant users and availability of different packet networks - and pricing to match - mean that there is a real focus on mobile e-business and the mobility of knowledge workers in the US.
The US is creating revenue-generating business applications now.
If it is not careful, Europe could find any competitive advantage it has over its transatlantic cousins in the mobile space, eaten away.
However, if the demand for mobile business in Europe follows the skyward and scattergun pattern that analysts suggest it will, businesses will have to adapt.

Primarily, existing in-house systems need to be "mobilised" in a secure, easily manageable and cost effective manner.
For businesses to move seamlessly into the mobile age, they must ensure that e-mail and customer relationship management (CRM) applications are at the top of their to-do list. Since customers and staff are the single two most important assets a business has, related applications must underpin any m-commerce strategy.
Priority applications are:

E-mail - the most commonly-used information-sharing application in business


CRM/sales force automation


Corporate intranets


Resource/logistics management


Directory listings.


Standing between the reality of m-commerce today and the full potential of mobile e-business are the problems presented by bandwidth and security. Wireless networks currently provide very low bandwidth and thus wireless data is five times lower than data transfer over an ordinary telephone modem, and at least 10 times slower than Internet access from a typical office network.
However, with commercial general packet radio services becoming available in the coming weeks and third-generation investment commitments in many countries, bandwidth is an obstacle the industry is getting ready to hurdle.
Security can unlock the potential of m-commerce and m-business. It is an enabling rather than restrictive force that builds trusted relationships between businesses, their partners and consumers on the move. So, let's see if humans really can learn from history and build security into m-commerce from the beginning.

John Fallon is director of wireless at Baltimore Technologies
Read more on Mobile software