CRM will be key to e-gov
Government should use CRM to get to know electors.
Government should use CRM to get to know electors.
Much has been made of the government's aims to make all public services available electronically by 2005. It has already achieved a great deal. Every department and ministry now boasts an extensive website, and key services such as the NHS have substantial sites that are widely used.

The secret of this particular organisation's success lies in the fact that it is heavily geared towards the public's requirements, as opposed to reflecting internal structures. This citizen-centric approach should be to government as a whole, and customer relationship management has some useful experience that can be brought to bear.

Today, if you have to register a death with the authorities you must deal with up to 26 different departments. CRM emerged to tackle just this type of problem in the private sector, using IT to help customers to stay in touch with suppliers, and vice versa.

Good CRM translates into increased loyalty - a vital quality in today's crowded marketplace. For business, improving the customer experience has become a mission-critical imperative but the customer loyalty argument is more difficult to apply to public services.

There is no rival provider of, say, tax collection services: the Inland Revenue has a 100% market share. What the Revenue does look for, however, is greater public participation. In 2001, non-payment of taxes cost £4.5bn. CRM offers an opportunity to build trust and co-operation with taxpayers, while slashing costs.

By bringing together contributions data, not just to the Revenue but also to local authorities and other agencies, e-government will help people to understand where their money is going, and perhaps make them more willing to co-operate, as well as making it easier to enforce the law.

E-government is about much more than placing existing services online. Simply creating online resources only complicates matters. The real challenge is to ensure that they are used.

The benefits are considerable, particularly building closer ties between citizen and government. Fortunately, CRM is in a great position to provide the secure, centralised and consistent information services that e-government needs, radically altering the nature of democracy in the process.

Alf Saggese is European managing director of CRM supplier Kana
Content Continues Below

Download this free guide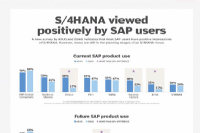 Infographic: S/4HANA viewed positively by SAP Users
SAP has recognised that customers will face challenges and costs when they upgrade to S/4 Hana. It has set out a roadmap to simplify integration, in a bid to lower the transition cost of moving from ECC to the S/4 platform. This infographic shows why most SAP users have positive impressions of SAP S/4Hana.