CIOs are from Mars, CMOs are from Venus? Not any more
To many people, marketing and IT, and CMOs and CIOs could not be more extreme in their differences, writes Forrester's Simon Yates.
Marketing and IT. Chief marketing officer (CMO) and chief information officer (CIO). To many people, these two functions and roles could not be more extreme in their differences, writes Simon Yates. The stereotypes show one as creative, driven by gut instinct and filled with insightful knowledge about customer needs, while the other is pragmatic, driven by budgets and compliance and a specialist in operational efficiency and cost control. They speak different languages, value different skills and have diametrically opposing views of the world.
Recently, these dramatically different perceptions have started to fade as CIOs and CMOs have more in common than they imagined. They must both focus on demonstrating their value to customers. They must both be able to measure their results and align those results to business strategy. They both have to deal with a rapidly-changing business climate where customers and employees have more readily available and useful technology tools available to them than ever before. And, ultimately, they must both answer to the CEO, COO and shareholders for their missteps.
With so much in common, why do we still think that CIOs and CMOs are so different? CMOs and CIOs both play a vital role in delivering compelling customer experiences. CMOs focus on developing a brand experience that drives growth, while CIOs plan and implement effective technology solutions that enable the business strategy.
Building a solid partnership
What is missing is a shared view of the customer, the business goals and common metrics that define success. CMOs realise that technology is a key enabler for any effective marketing programme, but easy access to technologies that do not require IT support perpetuates poor communication and the stereotype of the dysfunctional IT/marketing relationship. CIOs recognise that the definition of their customer is changing from employees on the payroll to anyone that uses technology to interact with the company.
In the Empowered Era, CMOs need to be masters of technology and CIOs need to understand the customer. Innovation in the business must be built on a solid partnership between the CIO and CMO, with shared goals and metrics, a common business language, and deep collaboration to:
Innovate across the customer lifecycle. Customers are the lifeblood of any business. And as empowered customers and employees find their voice and amplify messages on a worldwide scale, the pressure is on to constantly evolve and transform your brand experience. The challenge faced by CIOs and CMOs is how to orchestrate a diverse set of opportunities and resources - people and technology from within and beyond your firm's four walls - to create and maintain a compelling brand experience that delivers value to the consumer that results in more successful products and services, more loyal customers, and stronger brands.
Tap disruptive technologies to maximise growth. Today's explosion in technology innovation and adoption puts IT everywhere. But unlike previous growth cycles, the current surge does not have a single-technology focus. Instead, CIOs and CMOs must navigate a cornucopia of technologies based on cloud computing, mobile platforms, predictive analytics and online social interaction that all promise to transform the business inside and out. Business and technology leaders must decipher between opportunities and fads, prioritise solutions that engage customers and swiftly apply the truly game-changing technologies that drive business growth.
Redraw organisational boundaries to promote agility. Digital business leaders must transform the culture, the tactics, and the technology of their organisation to become more agile. To lead by example, CIOs and CMOs will need to accept change, dare to challenge the status quo, act continuously, participate personally and, most importantly, tear down boundaries that exist within the company. Now is the time for CIOs and CMOs to link arms and redefine the working relationship between their organisations. Co-innovation and co-creation of strategy will blur the lines between marketing and IT, and ultimately result in better solutions that are built for ongoing change.
But these challenges, while not insurmountable, are very difficult to overcome. They require not only a verbal commitment, but action to support organisational and process redesign and collaboration. On 14 April in London, Forrester will bring together CIOs and CMOs to tackle the issues and come up with best practices together to figure out:
How should CIOs and CMOs work together to develop a common view of the customer and the technology strategy, business goals and success metrics that align with that view?
What are the major hurdles and stumbling blocks that must be overcome to develop a successful and collaborative working relationship?
What should CIOs and CMOs do in the next 90 days and over the next 12 months to ensure success?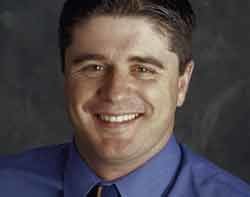 Simon Yates is vice-president, CIO Group at Forrester, responsible for the ongoing management, growth, and development of Forrester's Leadership Board of more than 400 CIOs worldwide. Click here for more information.
For information about The State of the CIO/CMO Relationship roundtable, email Simon Yates.
---
Previous articles in the series: