Byte Night 2011: Using technology to create a digital democracy
In 1982 over 10,000 people were massacred in Hama in Syria, yet it was months before news leaked out; stifling the opposition was relatively easy. It's striking how different the situation is today.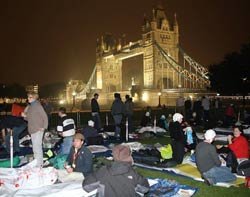 In 1982 over 10,000 people were massacred in Hama in Syria, yet it was months before news leaked out; stifling the opposition was relatively easy. It's striking how different the situation is today - technology makes it almost impossible for people and governments alike to hide.
In many ways, social media, IT and mobile internet made the Arab Spring of 2011 possible. In the early months of the year, thousands of ordinary people across North Africa and the Middle East created a rising tide of citizen-led protests to overcome what they saw as regimes whose time had come. They used Twitter, Facebook, e-mail, YouTube and the like.
Indeed, there is nothing new in people rebelling on the streets: they helped the creation of the USA, the French republic, even the start of Parliamentary democracy in England. But there is one striking difference that will set the risings of 2011 apart from anything that came before - the role digital media has played in enabling the uprisings to take place by bringing together disparate groups and allowing those inside and outside the country to understand instantly, without censorship, the nature of what was happening.
Most importantly, social media gave these demonstrators - many underprivileged - a voice. It gave them potential and opportunity; it brought them into the mainstream; provided a route to progress and showed how technology can be used in an egalitarian way to enable real change.
Sadly in the UK, many within our society don't have the tools to improve their own life, let alone change the world. Disadvantaged young people, those in the care system and those who don't live at home often have little or no access to computers, the internet, mobile phones or other technology.
This lack of access to technology has a significant impact on their lives - at a social, cultural, professional and financial level. First and foremost, the technologically-illiterate and disconnected suffer enormously in the workplace. A lack of computer skills limits visibility of job vacancies and means many do not possess the skills required to secure a job. Often, they don't have the confidence to apply for jobs or study courses, while others can't even compile a CV. With many courses involving online submissions procedures, the barriers to entry are significant.
With no job, most unemployed people must look to the state for support - but with no access to the internet, the digitally disadvantaged are not equipped with the knowledge or tools to easily request and keep track of their applications for government support or benefits, as so much of our interaction with authority is now virtual.
Of course, a lack of internet access means they cannot enjoy the kind of social networking sites that many of us use every day without a second thought. At best, this is a social tool they are missing out on; at worst it can lead to social exclusion because they are not able to easily engage with their peers. The younger these people are, the more significant this particular point becomes as social media is an important point of interaction for younger generations.
Put simply, many in our society don't have access to the kind of technology most of us take for granted. Increasingly to operate in our society, to get the skills needed for work, to play a meaningful role in society and with one's peers, a certain level of access and skills in technology is essential.
I'm part of a group of people who want to change this. That group comprises technology professionals who join forces each year to raise money for some of the most underprivileged and vulnerable young people in the UK. Each October, we spend one night sleeping outside to raise money for Byte Night, the IT industry's annual fundraising event for Action for Children. Money raised by Byte Night - well over £500,000 last year - goes towards funding a number of projects designed to provide support and education for young people at risk of homelessness or deprivation.
As those in Africa and the Middle East have shown, technology empowers people to make a difference: it is an enabler, a force for change. But it is increasingly becoming an essential tool for a meaningful life in 21st century Britain.
I'd encourage anyone within the IT industry or interested in the evolution of technology to join me in supporting Byte Night 2011, as we campaign to give homeless and disadvantaged young people the chance to enjoy a better future.
Alwyn Welch is a member of the Byte Night board.
Read more about Byte Night 2011:
IT takes to the streets in the fight against youth homelessness >>