An evidence-based approach must underpin digital transformation
The government IT profession needs to question failings in IT delivery and consider a different approach to business analysis
These are challenging times for government IT professionals. The relationship between government, the public and the IT industry has transformed. Now, more than ever, government IT professionals need a clearer understanding of what their customers want and the options for satisfying those customers – they must be better informed.
There has been an explosion in technology choice - in what can be provided and how it can be provided. We have seen the advent of cloud services, a renaissance in disaggregating composite services or products, increased focus on open source and open standards and more use of social media.
At the same time, the public's understanding and use of technology has matured; exponentially so in the younger generations who have grown up with continual and rapid technological innovation.
There is an expectation that information will be immediately and always available; that transactions will be conducted online; and that public services should be as accessible as services in their private lives.
Paying a fine or applying for a court hearing should be as straightforward as online banking or shopping.
While it might be popular to portray government as inert to all this change, that simply is not the case. Cabinet Office initiatives, such as "digital by default" and the recent cloud-first strategy, are now transforming the way government IT professionals view the public as their customer and, building on that, revolutionising the way they design and deliver services.
The best IT talent are also engaging IT suppliers to encourage innovation, to drive better value and to make suppliers part of the answer – moving away from cumbersome long contracts and inflexible and unresponsive working arrangements.
Such transformation involves many radical changes. So, does something as considered as business analysis have a place in this fast-moving new world? While it might not have the same buzz as other recent trends, business analysis should form the bedrock of understanding upon which innovation and transformation take place.
There is a tendency for projects to wallow at feasibility stage; for organisations and their projects to spend huge amounts of time writing business requirements in minute detail, developing detailed technical solutions and entering into endless debates on the right way forward
There will be some IT professionals who say there is nothing new in business analysis; or who lean towards trite maxims such as "analysis leads to paralysis". But the track record of IT in public sector is testimony to too many unsuccessful deliveries and dissatisfied customers.
A key factor has been a poor understanding of the customer and of technology – decisions made without an appropriate evidence base and a rush towards solutions without fully understanding what is needed. But, that said, it is clear that business analysis needs to adapt to the new world in the same way as other disciplines and approaches.
The government IT profession needs to question two common failings in IT delivery and to consider how a different approach to business analysis might provide part of the answer.
First, there is a tendency for projects to wallow at feasibility stage - for organisations and their projects to spend huge amounts of time writing business requirements in minute detail, developing detailed technical solutions and entering into endless debates on the right way forward.
In one case, a simple requirement for a correspondence management solution spent over two years in feasibility, with effort costing over £200,000 – disproportionate for a requirement that could have been met within six months and where the total project cost should have been more like £50,000.
Second, some projects appear to fly straight into delivery, without any adequate feasibility and a mistaken belief that this is agile working or that somehow things will be sorted out with suppliers when negotiating the contract.
It is extraordinary that all of this often takes place without any real evidence or intelligence.
Over the last year, an innovation at the Ministry of Justice (MoJ) has been to develop an analytical approach that is owned by the business; engages suppliers; is proportionate to the scale of the requirement; is sensitive and responsive; and provides high quality intelligence to inform decision making. Aligned to the Government Service Design Manual, the characteristics of this analytical approach are:
Engage the user
The user or customer must be at the heart of the analysis – they must drive and own the approach, its scope and its findings.
This is not just about customer surveys or submitting reports to a business board for approval. The approach needs to be much more embedded – a feature of the business and not an act done to the business.
But this doesn't mean acquiescing to every design request, it means understanding users – understanding what they need, how they want to access information and services, and working with them to deliver a solution that will work for them.
Targeted and blended use of expert resources
If you are fortunate and have the right analytical resources in-house, that's great. But it is a false economy to cut back or make-do on inadequate resources. The analysis / discovery stage represents a fraction of the full project cost and is critical to delivery. Setting off on the wrong path can be extremely costly and lead to many problems later in the process often requiring considerable rework and delay.
There is real expertise in the marketplace, in particular, in small and medium-sized enterprises (SMEs) who genuinely understand innovation and digital working, and who are very responsive.
The government's CloudStore provides a fast and cost efficient means of accessing the right kind of suppliers. Service definitions and rate cards are clearly visible and the Government Procurement Service provides support in using the store. Buying analytical services in this way means that you can control spend and match it more closely to your delivery.
A structured analytical approach with flexibility
This is not about methodologies as such – BPR, BPI etc. It involves using time boxes to develop thinking in iterations to overcome procrastination and perfectionism. It involves building your evidence base using research such as services from Gartner – but then knowing how to apply this research to the specific problems at hand. It means engaging IT suppliers to understand the market and new ways of doing things. It means being proportionate and remembering that one size does not fit all – so tailor your approach to the actual customer need.

Diagram 1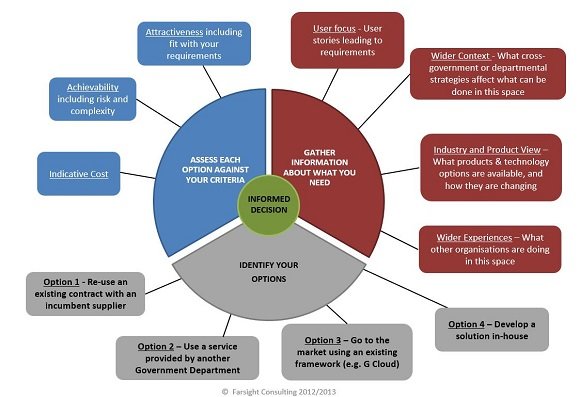 Diagram 2
The two diagrams (right) give a high level view of an approach used by one SME working with the MoJ.
At a time when they are facing increasing demand on their services, at the exact moment austerity forces them to look for significant efficiencies, government IT professionals should not underestimate the power of analysis to drive and underpin business, IT and digital transformation.
Arwaa York (pictured) worked for the Ministry of Justice and for the Home Office for 25 years. He recently moved to Capgemini as business development director focusing on UK welfare reforms and business transformations in the Middle East.