Warakorn - Fotolia
Gartner: Alibaba outperforms AWS, Microsoft and Google in public cloud revenue growth
While Amazon remains leader of the IaaS and public cloud market, Gartner's figures highlight emerging competitive pressure from Alibaba on the other runners and riders in the market
Alibaba achieved a higher revenue growth rate in 2016 than Amazon, Microsoft and Google, according to Gartner's latest global look at the infrastructure-as-a-service (IaaS) market.
The market watcher's figures suggest the IaaS market grew by 31% over the course of 2016, and saw its value increase to $22.1bn from $16.8bn in 2015.
"The worldwide public cloud service market growth continues, driven by digital business initiatives, datacentre consolidations and application migrations to the cloud," said Gartner research director Sid Nag.
Amazon Web Services (AWS) remains the market leader with a 44.2% share, followed by Microsoft (7.1%) in second place, Alibaba (3%) third and Google (2.3%) fourth, Gartner's figures show.
However, Gartner's revenue breakdown of the big four cloud firms' 2016 performance shows that Alibaba and Google outperformed AWS and Microsoft, with both achieving triple-digit percentage revenue growth over the year.
Alibaba saw its IaaS-related revenue increase by 126.5% between 2015 and 2016, up from $298m to $675m, while Google's doubled from $250m to $500m over the same period.
Gartner said Alibaba's performance could largely be attributed to the popularity of its services in its native China, which it set out to replicate over the past year or so with its datacentre expansion announcements in Europe, Australia, the Middle East and Japan.
Read more about cloud growth trends
Of the top four, Amazon notched up the smallest year-on-year revenue growth (45.9%), followed by Microsoft with 61.1%.
Even so, Gartner said Amazon's cloud services continue to meet the needs of the broadest range of customers, in both size and technical expertise, which is why it remains so far ahead of its nearest competitor, Microsoft.
"The market for cloud services is growing faster than virtually every other IT market today, with much of this growth coming at the expense of traditional, non-cloud offerings," said Nag.
"The demand for cloud-based IaaS continues on its path of aggressive growth, and the high growth of IaaS is also driving growth in related cloud markets. While platform as a service [PaaS] and software as a service [SaaS] are also exhibiting strong growth, IaaS is expected to show the fastest growth over the next five years."
Content Continues Below

Download this free guide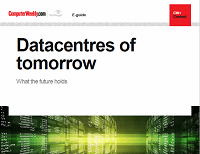 Datacentres of tomorrow: What the future holds
New technologies are widely-tipping to become a mainstay of datacentres in the future. Learn about new and emerging technologies that look set to shake-up the way datacentres are managed, monitored, powered and cooled as well.