This Content Component encountered an error

As Saudi Arabia gears up to diversify its economy away from oil, local businesses are turning to big data analytics.

The Saudi Vision 2030, announced in August, aims to increase non-oil revenue sixfold from $43.5bn to $267bn a year by liberalising business policies and introducing entrepreneurship initiatives.

This turning point in Saudi Arabia's economic history is driving IT investment to record levels. According to IDC, tech spending in the kingdom is set to pass $35bn in 2016 as organisations embrace digital transformation initiatives to optimise costs and improve business process efficiencies.

Saudi Arabia's big data analytics market is expected to grow from $920m in 2013 to $1.85bn in 2018, according to Micromarketmonitor.

The country's big data market, like the rest of the world, is being driven by the need for business insight to guide better business decisions and performance in an increasingly competitive and globalised market.

Aongus Hegarty, president for Europe, Middle East and Africa at Dell EMC, told Computer Weekly he had seen an uptick in big data interest among Saudi Arabia's biggest companies. "Dell EMC is very involved in the country's 2030 plan and is helping businesses and the government to achieve their objectives," he said. "The Saudi plan is heavily focused around how technology can be an enabler for SMEs, more private sector companies and entrepreneurship."

Hegarty said big data analytics would be an integral part of the nation's plan. Dell EMC was a partner for big data projects with the nation's top oil producers and government organisations, he said.

"But the national vision wants to create a much broader set of expertise and deeper sets of companies of all sizes in all areas," he added. "The current environment of low oil prices is making them think in a very strategic and innovative way."
Big data focus
Hegarty pinpointed manufacturing companies and conglomerates as potential areas for a big data focus. "Analytics can assist process manufacturing and bring together data from all different aspects into one place to understand an end-to-end process, rather than just elements of it," he said.
He said Saudi firms and SMEs were increasingly focused on using big data to identify new sets of customers, or insights around consumer behaviours to identify new products or services to develop.
"Ultimately, if companies don't take up big data, their competitors will get a leap on them as they will not gain the insights to support businesses," he said.
"When you are only focusing on your strategy, you can miss significant changes in the business model of your industry and suddenly a brand new competitor arrives on your doorstep. This is why Saudi CIOs are becoming more anchored in their business strategy."
Barig Siraj, director of IT and ERP at Zahid Group, one of the region's biggest conglomerates, agreed that big data strategy would loom large as his business becomes more globalised.
Although Zahid is not currently undertaking big data initiatives, Siraj said global partners of Zahid Tractor, such as Caterpillar and Volvo Trucks, are asking for data exchange and analytics to gain global information insights.
Read more about enterprise IT in Saudi Arabia
"Our legacy system and new ERP system have multiple interfaces with our partners' systems, similar to other dealers around the world," said Siraj. "Our partners want to collect global data and perform big data analysis to provide insights that are fed back into our systems also using the interfaces.
"This will empower Zahid with analysis for data collected in Saudi Arabia, but it can also be augmented with worldwide data from other dealers."
Jonas Zelba, industry analyst, digital transformation, at research firm Frost & Sullivan, said: "Around 90% of CIOs in the GCC region would like to invest in, and implement, big data solutions in organisations in the next three years – and the growth opportunities are across all sectors."
But despite the rapid growth of big data analytics in Saudi Arabia, there are several sticking points for CIOs considering implementing big data strategy, said Megha Kumar, senior research manager, software at IDC MEA.
"Data quality and validity are concerns," she said. "If not properly defined or managed, data quality and validity can negatively affect the outcome of big data projects. Organisations will need to assess this before undertaking a project."
Demand for knowledge
A wider issue is the demand for more big data knowledge in the Middle East, said Kumar. "There needs to be more awareness about big data technologies to pave the way for wider adoption," she added. "The kingdom needs to nurture special job roles, such as data analysts and scientists, who can understand and make decisions based on the analysis of big data.
"Lack of skills is a continuing inhibitor for engaging in projects. An organisation may need to seek support from its supplier partners, engage in automation or consider reskilling existing employees to support these projects."
Zelba predicted that, in coming years, Saudi companies would add senior leadership positions with responsibility for overall strategy around big data and analytics. "We have already seen new titles, such as chief analytics officer, chief data officer and chief strategy officer come up in the last few years," he said. "Businesses will align their management to streamline processes around analytics to facilitate better decision-making."
The Saudi government will also play a role in supporting the development of the big data industry by implementing data governance and data security policies.
Zelba said the scale of big data flowing into systems had made IT organisations turn their attention to data governance. "Organisations need to be able to verify the authenticity of incoming data, who is accountable, how to protect the information derived from big data, and who is allowed to share it with whom inside and outside the organisation," he said. "Policies set by the government could support this in the private and public sectors."
Content Continues Below

Download this free guide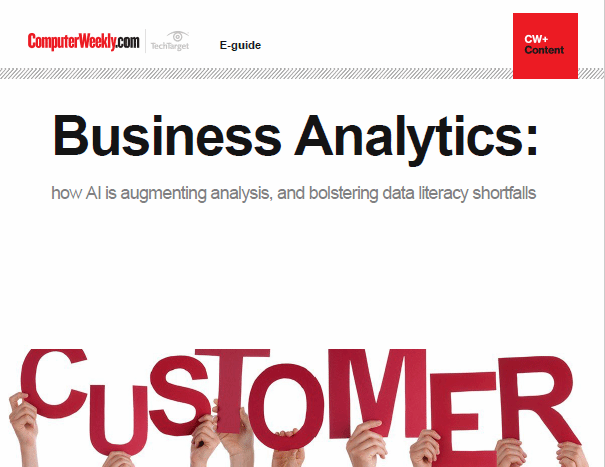 Business Analytics: how AI is augmenting analysis, and bolstering data literacy shortfalls
Artificial Intelligence and human analysis have been coming together in recent years. Whether using packaged BI and data preparation tools, or languages like Python and R, business analysts and data scientists and engineers alike have been exploring the use of machine learning algorithms to augment their data analyses. Read more in this e-guide.
Read more on Big data analytics