O2 set for August 4G launch
O2 confirms it will switch on its 4G network in London, Leeds and Bradford on 29 August, with 10 more cities going live by the end of 2013
Mobile operator O2 today confirmed its 4G network was set to go live on 29 August.
London, Leeds and Bradford will be the first locations to get the faster mobile speeds on launch day, but the company promised to hook up 10 more cities to the network by the end of 2013 – Birmingham, Newcastle, Glasgow, Liverpool, Nottingham, Leicester, Coventry, Sheffield, Manchester and Edinburgh.
O2 claimed the first phase would see up to five million people able to access 4G, while the continued roll-out plan will see an extra two million get the capability each month. Its overall goal is to provide 98% of the population with 2G, 3G and 4G coverage – an obligation it inherited from the spectrum auction earlier this year, with an imposed deadline of 2017.
"The full potential of 4G is as yet unexplored, but what we can be sure of is that it will allow for a whole new world of opportunity that people are now ready for," said Ronan Dunne, CEO of Telefónica UK – O2's parent company.
"Over half of our customers say they use more data than two years ago and even more use Wi-Fi wherever they go, to always stay connected. Given this trend, there is no doubt that 4G will transform our lives, be it as consumers, in business or through public sector services."
Tariffs are set to start at £26 per month, although further details of O2 plans have yet to be revealed. The operator did promise there would be specific business tariffs for tablets and mobile broadband from launch though, along with mobile Wi-Fi in the coming weeks.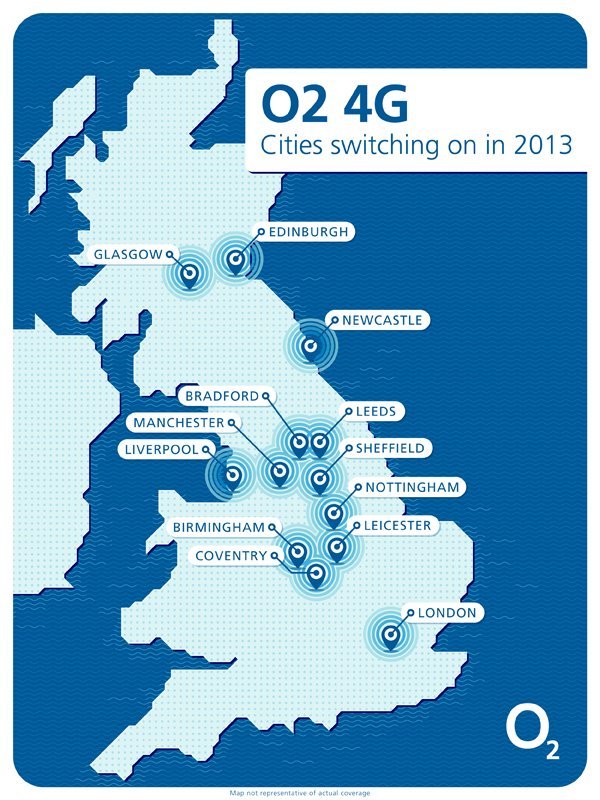 With this launch, O2 becomes the second operator to offer 4G in the UK following EE's launch in 2012.
Steven Hartley, telco strategy analyst at Ovum, welcomed the extra competition coming to the market but warned EE did have a distinct advantage still.
"In spite of the impending competition, it should be stressed that EE has a considerable LTE coverage (and therefore addressable market) lead and a particularly strong spectrum position relative to O2," he said.
"This is readily apparent in the fact that O2's launch includes only three cities from the outset."
But Hartley still believed O2 would win over customers with its reputation.
"O2 has proven adept in the past at attracting customers in the fiercely competitive UK market," he said. "Although details of O2's LTE plans are lacking in today's announcement, we like O2's '30 day Happiness Guarantee', in which dissatisfied customers can switch to a 3G plan if LTE fails to meet their needs.
"Getting LTE in the hands of users so that they can experience the benefits of the technology has been one of the key challenges for operators around the world and this approach allows hesitant customers to take the plunge."
O2's announcement comes the day after Ofcom confirmed all the spectrum auctioned off for 4G services had been cleared by Arqiva and Digital UK, so was now ready for its new purpose.