Wi-Fi superchip threatens Bluetooth
Bluetooth specialist CSR has packed a triple-mode a/b/g Wi-Fi adapter into a single ultra-small chip, complete with multiple...
Bluetooth specialist CSR has packed a triple-mode a/b/g Wi-Fi adapter into a single ultra-small chip, complete with multiple antennas ready for 802.11n MIMO, making possible wireless Ethernet as standard on smartphones within two years.

Download this free guide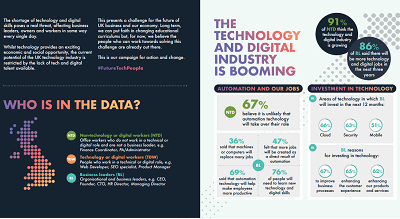 Infographic: How to future-proof UK technology
There is no doubt that the technology industry is booming right now, bringing with it exciting social and economic opportunities. However, there is a real fear that the UK industry may be stunted due to the lack of talent available. This e-guide helps to break down the future fears and expectations of dozens of business leaders and tech workers.
"Bluetooth will stay around for audio and for when you're on the road," said James Collier, CSR's chief technical officer and co-founder. "But we feel Wi-Fi will emerge too - for example, to work with commercial access points." He added that emerging smartphone applications such as video streaming, uploading high-resolution camera-phone images, VoIP and rich e-mail could all require Wi-Fi's extra speed.
CSR chief executive John Hodgson expects the percentage of phones with Wi-Fi to be in the low teens by mid-2006. "That's still 100 million phones a year," he pointed out.
Called UniFi, the CSR chip is 6mm square and contains all the logic needed for Wi-Fi, including a hardware MAC with its own TCP/IP stack. Collier said one of his customers would use UniFi to build a complete double-sided Wi-Fi module just 8mm square - several times smaller than the modules used in PDAs today.
Collier said CSR had chosen not to integrate Wi-Fi and Bluetooth onto the same chip because they would generally occupy different channels and switching from one to the other would disrupt a Bluetooth voice connection.
The downside of Wi-Fi is its power consumption, and UniFi needs 300mW to stream data at 54Mbps. "Bluetooth is ubiquitous and has broader appeal than Wi-Fi," said Collier. "It's also a third of the cost and has much lower power consumption."
He also said that Wi-Fi needed to become easier to use, with standard interfaces replacing device-specific drivers. "Wi-Fi is not seamless yet, and that's got to be sorted out before it will take off on phones. The best thing Bluetooth has done is come up with service profiles and we intend to continue that with Wi-Fi, so you won't need drivers any more."
Bryan Betts writes for Techworld