IForum: Deutsche Bank takes Citrix's access mantra to heart
Most of the time banks are trying to make their business metrics increase, but Germany-based Deutsche Bank is preoccupied with a...
Most of the time banks are trying to make their business metrics increase, but Germany-based Deutsche Bank is preoccupied with a particular decrease, namely cutting the number of PCs it owns.

Download this free guide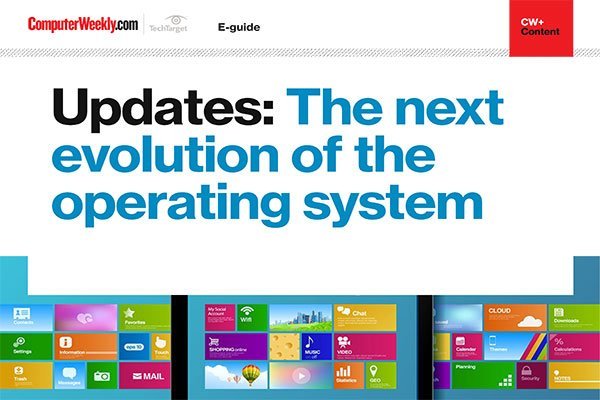 Software Updates: Our latest e-guide is available for your device. Download now?
See how operating systems are evolving with the help of continuous updates and learn about how the Spectre and Meltdown microprocessor flaws have led to improved, more secure processors being released and how Microsoft is evolving its Windows desktop operating system.
The financial institution plans to replace as many PCs as possible with thin clients - computers that source applications from back-end servers, rather than on-board hard drives.
According to Henry Fieglein, Deutsche Bank's director of global architecture, thin clients are easier to maintain than PCs. The IT department can make application updates and apply patches at the server level, rather than worry about managing thousands of traditional computers.
"We're moving towards a total instant office," Fieglein said, adding that in future Deutsche Bank employees will access not only applications, but also other desktop functions such as voicemail via their thin clients. It is the bank's way of ensuring the high-tech infrastructure meets end-users' needs.
Fieglein talked about this server-based architecture at iForum, a gathering of Citrix Systems clients and partners on 4-6 October. Citrix makes server-based computing technologies. Deutsche Bank is one of its customers.
In 2003 Citrix changed its marketing. Now the firm talks about "access strategies" more than server-based computing. "Last year we made a huge commitment to you," Citrix chief executive officer Mark Templeton told iForum participants.
He said the firm would continue to drive home the message that Citrix provides access solutions, not just server software.
Templeton expanded on the access mantra, describing "SmartAccess", a Citrix initiative that teaches servers to check just where the end-user is before presenting information. If the user is at a public internet kiosk, for instance, he may only be able to source basic data.
He also described "SmoothRoaming" which suspends sessions between an end point and the server if the connection between the two devices is cut off. This should make it easier to re-establish the session when the connection comes back on.
Stefan Dubowski writes for ITWorldCanada.com