Storage company doubles tape rack capacity
Storage Technology has produced a new 100TByte tape library that slots into a standard rack size but provides twice as much...
Storage Technology has produced a new 100TByte tape library that slots into a standard rack size but provides twice as much capacity as competing products.

Download this free guide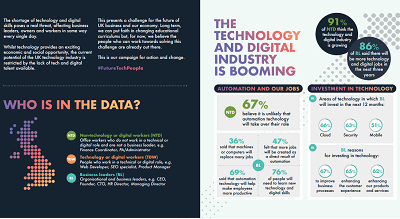 Infographic: How to future-proof UK technology
There is no doubt that the technology industry is booming right now, bringing with it exciting social and economic opportunities. However, there is a real fear that the UK industry may be stunted due to the lack of talent available. This e-guide helps to break down the future fears and expectations of dozens of business leaders and tech workers.
The StreamLine (SL) 500 is a 30 to 577 slot rack-mount tape library that supports the Hewlett-Packard, IBM and Seagate Technology linear tape open (LTO) format and, soon, DEC/Quantum Super Digital Linear Tape (SDLT) format.
It can have fibre channel or SCSI connectivity and offers capacity on demand. Additional drives or slots are delivered and enabled by an electronic key. The SL500 main advantage though is its capacity - at 90 slots per square foot, it is far denser than ADIC's Scalar 100 with 36 slots per square foot, or Overland's Neo family with 40 slots per square foot.
StorageTek believes customers want rack-based and modular libraries in the mid-range area. Standard racks fit in their datacentres and in-rack expansion with a single controller/robotics module preserves reliability whilst providing scalability. (Robotics and other components can be duelled for increased reliability.)
The SL500 is an intrinsic part of its Information Lifecycle Management (ILM) strategy, the company said. It may have additional functionality offered in the future as part of this, such as a disk cache or virtual tape system.
It is positioned below the SL8500, a much larger library with 1,000 to 300,000-plus slots and up to 2,043 drives. The SL500 also comes in a smaller deskside cabinet with 2 drives and 30-50 slots. The SL500, like the SL8500, can have any tape format in any slot; partitioning is logical rather than physical.
Sun Microsystems which already resells the SL8500, "will evaluate the SL500", said Christopher Jones, Sun's EMEA business manager for networked storage.
Jon Benson, StorageTek's general manager for its automated tape solutions group, expects its high-end Powderhorn libraries will eventually be replaced by the Streamline line and that a low-end Streamline model will be introduced. No end-of-plan exists for Powderhorn though and availability throughout 2005 was confirmed.
The SL500 will become available later this year. With just two basic components, controller and slot/drive modules, do not expect premium pricing.
Chris Mellor writes for Techworld.com