Notice issued in Microsoft antitrust case
A US judge is expected to give preliminary approval the $1.1bn (£691m) settlement in a class action lawsuit against Microsoft,...
A US judge is expected to give preliminary approval the $1.1bn (£691m) settlement in a class action lawsuit against Microsoft, allowing notices to be sent to California software buyers inviting them to file claims.

Download this free guide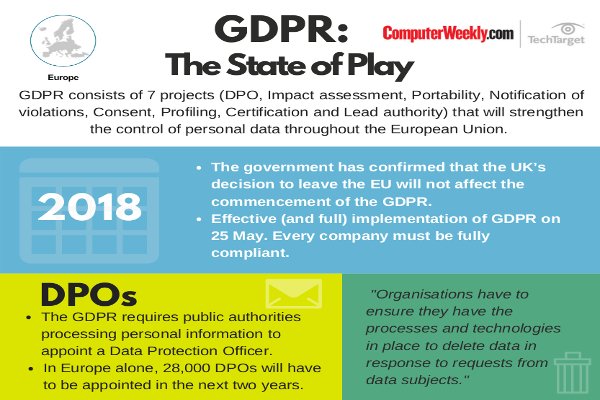 Infographic: GDPR - The State of Play
Get the latest information on how GDPR is going to affect your business and how to avoid any unwanted fines with this simple infographic.
By submitting your personal information, you agree that TechTarget and its partners may contact you regarding relevant content, products and special offers.
You also agree that your personal information may be transferred and processed in the United States, and that you have read and agree to the Terms of Use and the Privacy Policy.
Judge Paul Alvarado said he was ready to give approval in June. However, he could not because Microsoft and the plaintiffs, lawyers representing groups of California consumers, were at odds over the notices to computer users that are to appear in the media, in the mail and online.
The notice issue has now been resolved and preliminary approval is now expected to come later this week, said Eugene Crew, partner at Townsend and Townsend and Crew and lead counsel for the plaintiffs.
"We addressed the notice issues for the last four weeks. We took some time hammering out the language. When you're sending a letter to millions of consumers and you get only one choice of words, you want to get things right," Crew said.
Microsoft spokesman Jim Desler confirmed that the notice issues have been worked out. "The vast majority of issues were already agreed upon. There were just these final points that needed to be addressed," he said.
Over the next two months, the plaintiffs have planned to alert the 14 million California software buyers they believe are eligible for a voucher under the settlement, Crew said. Claims can be filed up to four months after the end of the notice period.
Notices advertising the settlement will appear in magazines, newspapers and online. Millions of electronic and paper mailings will be sent.
The plaintiffs already have a database of millions of e-mail and street addresses and have asked dozens of PC makers and Microsoft resellers for more addresses of software buyers.
Under the settlement, individuals and businesses who bought Microsoft's operating system or productivity software for use in California between 18 February 1995 and 15 December 2001, can get vouchers worth between $5 and $29 depending on the product bought.
These vouchers can be used to buy computer hardware or software. Claims valued up to $100 or for up to five product licences can be made without any documentation.
Joris Evers writes for IDG News Service
Read more on IT legislation and regulation