CA introduces multivendor storage management
Computer Associates International has announced a storage management application that discovers devices on a storage area network...

Download this free guide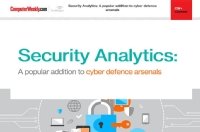 How to improve your cyber security with security analytics
Download this e-guide to read how many firms are looking to security analytics to keep abreast of the ever-evolving world of cyber threats. With traditional approaches to cyber security proving less effective against increasingly sophisticated and automated cyber-attacks, security analytics may well be your knight in shining armour.

Computer Associates International has announced a storage management application that discovers devices on a storage area network (SAN), automates backups across multivendor platforms and works from a Web portal - giving it the ability to consolidate the management of remote office storage environments.



CA's product uses a browser interface to let storage administrators access and control their networked storage resources across a variety of platforms and operating systems.

"It operates as a centralised management console that allows me to manage my local data centre as well as my remote sites, and that's really important," said Mike Peterson, president and senior analyst at Strategic Research.

Peterson categorises storage management software into five classes: storage network management, which includes topology and discovery; performance management tools; service management; resource management, which includes capacity and utilisation; and security management.

BrightStor Portal offers storage monitoring and utilisation, topology discovery, management of resources and backup automation.

CA uses an XML-based interface it calls iSponsor/iGateway technology to integrate with storage management applications from Network Appliance, StoreAge Networking Technologies, Fort Hill Systems (formerly CacheWare) and LXI, as well as CA's own BrightStor storage management applications, including BrightStor Enterprise Backup, BrightStor ARCserve Backup, BrightStor SRM and BrightStor SAN Manager.

Michael Dortch, principal analyst at Robert Frances Group, said enterprise storage ecosystems, like the desktop computing environments of years ago, increasingly resemble Noah's Ark, with "at least two of every different thing".

"CA's BrightStor Portal can help bring significant order to such chaos and help IT executives and storage managers prepare more calmly and effectively for future change and growth," Dortch said. "Also, BrightStor Portal is based on CA's CleverPath Portal technology, which should make it more flexible and easy to use than many competing storage management offerings."

Pricing for BrightStor Portal starts at $35,000 (£22,442), which includes a licence for up to 50 concurrent users.
Read more on IT risk management