Network Associates posts profit on strong US sales
Security company Network Associates posted a profit for the second quarter of 2002, thanks to strong sales of antivirus software...

Download this free guide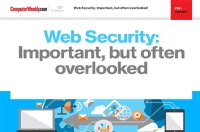 3 key web security guidelines from FS-ISAC
We address the ongoing issues regarding web security for businesses relying on an online presence. Download this e-guide and discover how to identify and address overlooked web security vulnerabilities as well as why you should look at the full security development lifecycle to reduce web threats.

Security company Network Associates posted a profit for the second quarter of 2002, thanks to strong sales of antivirus software and other products in the US.



For the quarter ending 30 June, Network Associates earned $21.2m (£13.7m) on a consolidated basis, or 12 cents a share on $233m (£150.4m) in revenue.

The per-share earnings met expectations of analysts polled by Thomson Financial/First Call. In the same quarter a year ago, Network Associates posted revenue of $193m (£125m) and a loss of 27 cents per share.

Excluding the company's McAfee.com subsidiary, Network Associates had pro forma net earnings of $20.5m (£13.2m), on $212.3m (£137m) in revenue. In the second quarter 2001, Network Associates tallied $178.1m (£115m) in revenue, excluding McAfee.com.

Network Associates saw 56% of its revenue for the quarter come from its McAfee Security division, which is distinct from the McAfee.com subsidiary, said George Samenuk, Network Associates chief executive officer. McAfee.com accounted for 9% of the company's revenue, with Network Associates' Sniffer and Magic Solutions business units rounding out the picture, Samenuk said.

The company ended the quarter with $1.1bn (£710m) in cash on hand, up from $1.08bn (£700m) in the first quarter of 2001. For the quarter, Network Associates spent $33.4m (£21.6m) on research and development, down from $34.8m (£22.5m) in the same quarter last year.

However, Network Associates experienced slow sales in Europe for the quarter, with international business accounting for 35% of the company's revenue. Samenuk said there had been problems with the company's sales force in Europe and high turnover in the region had contributed to weakness there.

The company expects to continue adding to its European sales force over the coming quarters.

At the beginning of July, Network Associates recommenced its stock tender offer to buy out the remaining 25% of McAfee.com that it does not already own.

McAfee.com's special board of directors advised shareholders to take no action on the new offer before the board made its recommendation.

Samenuk also said that he had "no new updates or information" on the US Securities and Exchange Commission investigation" into the company's accounts for 2000. The incumbent Network Associates management team took over after the previous administration resigned en masse at the end of 2000.
Read more on Antivirus, firewall and IDS products