File archiving more pressing than email archiving, says survey
Storage roundup: File archiving more pressing than email archiving; Altaro launches Backup FS; Buffalo launches wireless products; recertified tapes from eMediaplus; and more.
File archiving more pressing than email archiving, says survey
File archiving is a greater priority than email archiving in the coming 12 months for a majority of storage professionals. That's according to a survey of 300 IT decision makers in the UK, France and Germany in a study commissioned by BakBone Software.

Download this free guide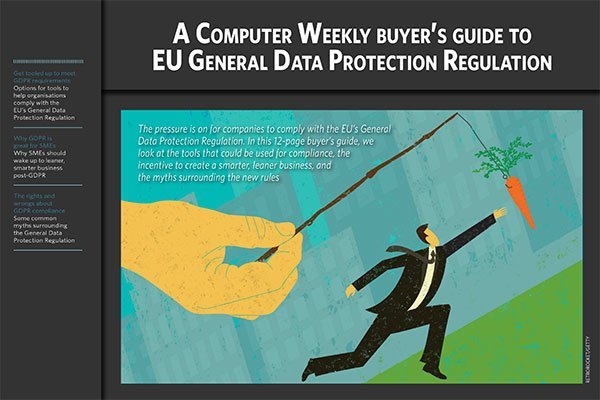 Computer Weekly's buyer's guide to GDPR compliance
This 12 page buyer's guide gives you the tools you need to get up to scratch with GDPR compliance and to understand the mythology surrounding the new rules.
When asked whether they were more likely to invest more in file archiving than email archiving in the coming year, respondents were found to be three times more likely to invest in file archiving. In Germany and France 72% and 79% of respondents, respectively, were more likely to invest more in file archiving, while in the UK the figure was 48%, although UK respondents' interest in email archiving (35%) was higher than in the other two countries.
Company size did not seem to affect the response, with 67% of organisations with 1,000 to 3,000 employees and 66% of those with more than 3,000 employees agreeing that file archiving was higher on the investment priority list than email archiving. In Germany and France, the manufacturing sector was the one most likely to choose file archiving in the next 12 months (92%), while in the UK it was the financial services sector (60%).
Altaro launches Backup FS
CDP product developer Altaro Software has announced the launch of Backup FS for Microsoft servers in the UK market. The product features the company's Reverse Delta technology used in Altaro's Backup FS, which allows users to carry out incremental backups. Altaro Software is a Microsoft BizSpark programme member and already supplies Oops!Backup worldwide directly and through its reseller network.
Buffalo launches three wireless products
Buffalo Technology has announced it will add three new wireless products to its existing product portfolio. These are the AirStation N-Technology USB 2.0 wireless network adapter, the AirStation N-Technology 150Mbps router and the AirStation Nfiniti Dual-Band Wireless-N Ethernet Converter.
Recertified tapes from eMediaplus
UK businesses can now have old tape cartridges cleansed of all data and returned to them shrink-wrapped as part of a recertified media offering from eMediaplus. Instead of shredding cartridges at end of life, tapes are either reconditioned and delivered to the user fully guaranteed for use or are recycled. Recertified previously used tapes are supplied to customers by eMediaplus at less than 50% of the cost for new.
Infortrend gets VMware certification and adds 10 GbE
Array maker Infortrend has announced its EonStor S16E-R1240 and S16E-G1240 products have achieved VMware Ready status. This designation indicates the devices have passed a detailed evaluation and testing process and are now listed on the VMware Hardware Compatibility List.
Infortrend has also announced that its ESVA (Enterprise Scalable Virtualised Architecture) E60 storage product now has 10 Gigabit Ethernet (GbE) connectivity in addition to the existing 1 GbE option. Drive options on the E60 have also been enhanced, with newly added support for 6 Gbps SAS and SSD.
Read more on Data protection regulations and compliance