Rackspace brings Xen-based cloud to the UK: News roundup
VMware and Google integrate cloud computing and GoogleApps; Citrix and Amazon team up for software in the cloud; and other news of the week.
Rackspace brings Xen-based cloud to the UK
Rackspace is lining up a Xen-based cloud service for small to medium-sized businesses (SMBs) in the UK in addition to a hybrid public/private service based on VMware for the enterprise. Due by the end of the year, the services will be similar to those already offered in the United States but will be delivered from UK data centres. The hosting provider will offer SMBs a Xen hypervisor service and the ability to build private clouds based on VMware's vCloud platform. This can then be extended by using resources from a public cloud when needed.

VMware and Google integrate cloud computing and GoogleApps
VMware has entered into a partnership with Google to better integrate cloud computing and GoogleApps. The two industry heavyweights are working on integrating Java into Google programming through the use of the SpringSource platform as well as a variety of new tools. For example, Google App Engine for Business offers enterprises pricing rates via a central console. SpringSource's Tool Suite and the application development tool Spring Roo have been integrated with the Google Web Toolkit.

Download this free guide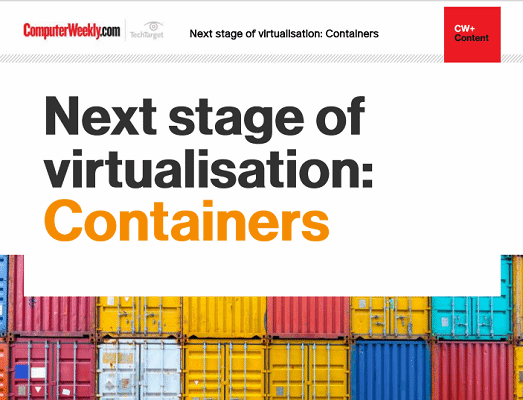 Next stage of virtualisation: Containers
Who doesn't love building blocks? Following the burst of cloud computing, containers are becoming a necessity for all organisational transformation and development. Follow us as we go through the technologies that complement and enhance their use, and outline a first-hand insight into the impact.
By submitting your personal information, you agree that TechTarget and its partners may contact you regarding relevant content, products and special offers.
You also agree that your personal information may be transferred and processed in the United States, and that you have read and agree to the Terms of Use and the Privacy Policy.
Citrix and Amazon team up for software in the cloud
Citrix Systems and Amazon are teaming up to put Citrix's application delivery software into the cloud. This aims to allow enterprises to stream apps to users from Amazon's data centres. The companies have announced a pilot programme to XenApp on Amazon's Elastic Compute Cloud service. According to Citrix, the pilot will allow customers to move their XenApp licenses from their data centres to Amazon EC2 and run their applications in a fully supported environment. Eligibility for the pilot is restricted to Citrix customers who are also members of Amazon's Windows Server License Mobility Pilot, which allows the migration of Windows Server Licenses to Amazon EC2. The pilot does not yet support Amazon's Virtual Private Cloud.
VDI Flex product for Double-Take Software
Vendor Double-Take Software has launched a virtual desktop infrastructure (VDI) Flex offering amidst rumours that the firm could be on the verge of a buyout. The vendor claims its Flex product can be used to prolong the life of PCs with broken hard drives by running them diskless and hooked up to a Flex server. Last month, Double-Take admitted that it had been approached by a potential buyer and that it was examining whether such a purchase "was in the best interests of the company."
Microsoft files lawsuit against Salesforce.com
Software giant Microsoft has filed a patent infringement lawsuit against Salesforce.com. The vendor has accused Salesforce of using nine Microsoft patents in its products. Microsoft claims Salesforce has infringed patents that are related to its core software functionality and user interface. Microsoft has requested a jury trial and is requesting large monetary compensation. Salesforce has been accused of infringement of methods that map between logical and physical data, methods for stacking toolbars, and the technology that is used to display a Web page with an embedded menu.
HP claims cow manure can power a data centre
HP Labs have claimed the future source for powering data centres could be cow manure. According to a white paper from the company, presented to the ASME International Conference on Energy Sustainability, there is potential for combining a data centre's heat output with the methane generated from manure and using it for power. HP Labs pointed out that this method could cut down on a data centre's carbon footprint in addition to helping prevent methane damage to the atmosphere.
Veeam unveils Reporter 4.0
Disaster recovery vendor Veeam Software has unveiled its Veeam Reporter 4.0, formally known as Veeam Reporter Enterprise. The latest version of the software is integrated with Veeam Business View to provide IT managers with analytics on how to manage their virtual environments, including how to perform reporting, change management and capacity planning. For example, IT managers can see how much storage is allocated and used by each business unit or department and which type of application used.
SunGard refreshes PCs for virtualised recovery
Hosting provider SunGard Availability Services has deployed 7,400 new PCs across its UK recovery centres, which manage virtualised desktop images. The refresh is meant to deliver a virtualised recovery capability that integrates with the company's physical Workplace Recovery Service.
RedHat JBoss Enterprise Middledware claims 500 ISVs
Open source provider RedHat claims to have seen a recent increase in the number of ISVs certifying their applications with JBoss Enterprise Middleware platform. Since launching its JBoss Certified ISV Programme in 2008, the vendor claims to have over 500 ISV applications, which the company attributes to a shift in customer demand. The company said the boost in JBoss-certified ISVs reflects a market shift from complex propriety platform towards open source middleware providers. JBoss Enterprise Middleware ISV partners include the likes of BMC Software, Adobe and Avaya.
RES Software reaches Powerfuse license milestone with PDMT
RES Software claims to have sold its one-millionth license for its RES Powerfuse product through a customer win with the Norwegian National Police Computing and Material Service (PDMT). Working with RES Software Gold Partner Steria, the PDMT has been updating its infrastructure by going virtual. Steria helped the PDMT select RES PowerFuse to address any desktop management challenges that may arise from the change in physical to virtual infrastructure.
Kayleigh Bateman is the Site Editor of SearchVirtualDataCentre.co.uk
Read more on Server virtualisation platforms and management