EMC Clariion array gets major refresh with SSDs and thin provisioning
EMC's Clariion CX-4 will include support for flash SSDs, thin provisioning, disk spindown, and an architecture for mixing Fibre Channel and iSCSI.
EMC Corp. is set to launch in August its new Clariion CX4 midrange storage system with support for solid-state disk, thin provisioning and disk spin-down, and a new I/O architecture for mixing Fibre Channel and Ethernet connectivity. The CX4 is expected to begin shipping in October.

The Clariion rollout is no secret. SearchStorage.com reported in June that the CX4 will include a solid-state disk (SSD) option, and EMC CEO Joe Tucci talked about a coming product refresh during the company's earnings report call last week. But industry sources and EMC product literature obtained by SearchStorage.com reveal more details about the CX4 systems.

Download this free guide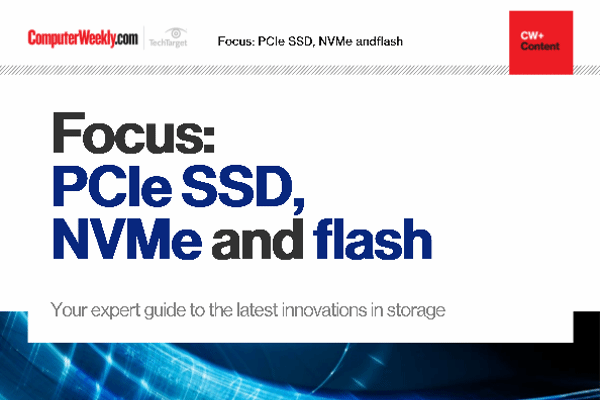 How to soar your storage performances?
The latest PCIe and NVMe technologies offer huge performance gains. Discover their features in this expert guide

By submitting your personal information, you agree that TechTarget and its partners may contact you regarding relevant content, products and special offers.

You also agree that your personal information may be transferred and processed in the United States, and that you have read and agree to the Terms of Use and the Privacy Policy.

The new midrange platform will include features now found in its enterprise Symmetrix product, including flash SSD and thin provisioning (EMC calls it virtual provisioning). EMC will add support for 8 Gbps Fibre Channel and 10 Gbps Ethernet. The Clariion CX4 line will support Fibre Channel and iSCSI, and will be ready for Fibre Channel over Ethernet (FCoE) when it arrives.

"In general, this is a serious evolution of the Clariion," said one analyst familiar with the product who asked not to be named. "It is the biggest advancement for Clariion that I can remember."

Industry sources said Dell will also sell the CX4 platform as part of its co-marketing deal with EMC for Clariion systems.

The CX4 models are the CX4-120, CX4-240, CX4-480 and CX4-960, with the number after the hyphen corresponding to the number of drives supported. The CX4-960 will support SSD in October, with plans to add SSD support for the CX4-480 later. Along with SSD, the systems will support Fibre Channel and SATA II drives.

Under the covers, EMC has switched architectures from what it called UltraScale in CX3 to UltraFlex in CX4. The new systems move from a 32-bit to 64-bit Flare operating system and include twice the memory and LUNs as the CX3. Each CX4 contains two storage processors – the CX4-940 uses quad-core Intel Xeon processors and the others have dual-core Xeon processors.

Customers can mix and match Fibre Channel and iSCSI connections through hot pluggable I/O modules so they can change the mix of connections through the life of the system. Along with front-end Fibre Channel and iSCSI ports, the systems reserve spots for "future connectivity" -- presumably FCoE.

EMC first launched spin-down for its EMC disk library VTL platform in May, and it will be supported in the new Clariion, but not at launch. EMC's spin-down – called MAID by other vendors -- will automatically place inactive drives in sleep mode and activate them on demand, but they must be set by disk drawer and not individual drives.

Also new to Clariion will be concurrent local and remote replication delivered with EMC's RecoverPoint/SE product.
Read more on SAN, NAS, solid state, RAID