Windows 8 looks to reclaim territory in the enterprise
Every few years a new Microsoft desktop operating system arrives. The latest version may influence how corporate IT regards desktop computing
Since the mid 1980s, Microsoft has developed and owned the business desktop. From DOS to Windows 7, it has, over the years, progressively built a stable platform and software ecosystem that has become de facto in business.
But like all great empires, Microsoft's is under threat from the essential ingredients that made it so successful.
It originally enabled user-empowerment by giving users powerful productivity software that freed them from corporate IT.
Today, Windows has evolved into the corporate IT environment and people wish to break free again – this time with alternatives from the likes of Google and Apple.
In the meantime, Microsoft wants businesses to continue upgrading Windows, but they are happy running stable, older releases. Windows XP is arguably the most successful operating system (OS) Microsoft has ever released. It is still going strong – despite being over 11 years old – following a major revamp in 2004 with Windows XP SP2. Support for the legacy operating system will finally end in April 2014.
Businesses are upgrading. Most will migrate from Windows XP to Windows 7. But Windows 7 was conceived before the age of IT consumerisation and mainstream tablet computing. It is regarded as a core OS for businesses and, like XP before it, is set to remain a staple of business computing for a very long time.
Windows 8 is coming
On 25 October, Microsoft will release Windows 8, which represents an evolutionary jump for the OS.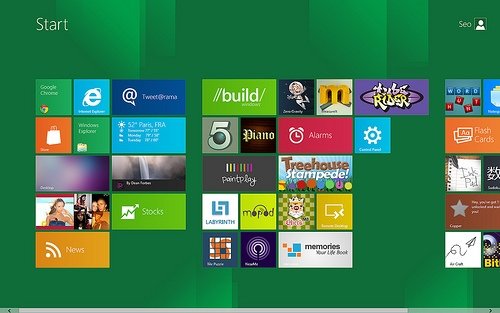 There are three versions: Windows 8 is effectively the "home" edition; Windows 8 Pro includes features for enterprises, such as support for Hyper-V, BitLocker, a virtual private network (VPN) client and group policy support; while Windows RT is a version of Windows built for ARM-powered devices such as low-powered tablets and lifestyle PC devices,. The main objective of Windows 8 is to be consumer friendly and it has been designed primarily to work well on tablets. It represents Microsoft's attempt to fight off the competition coming in through the back door – the rise of the bring your own device (BYOD) tablet and slate, based on Apple's iOS, Google's Android and various flavours of Linux operating systems.
Analysts believe that as new device form factors are introduced by PC manufacturers, the tablet battle will heat up and Microsoft will be a significant – but not market-leading – player. This will help it in the BYOD war. Michael Silver, research vice-president and distinguished analyst at Gartner believes few organisations will deploy Windows 8 broadly: "Many will deploy it for specific uses, mostly for users that want tablet/convertible/hybrid devices that can replace both an iPad and a PC." Most organisations are still trying to move from Windows XP to Windows 7. "Organisations that try to skip Windows 7 and jump from XP to 8 will likely not have XP out by the time support ends in 2014." says Silver.
By the time many Windows 7 deployments are done, he expects Microsoft will make available a preview of Windows 9. "We believe there will more likely be two years between Windows 8 and its follow-on, rather than the typical three," he adds.
The new UI
Windows 8 looks very different to anything Microsoft has done before. There is no "start" menu, no real concept of a desktop with shortcuts and icons. Microsoft has optimised the user interface for tablets. The applications Computer Weekly has tried seem to switch between the new user interface and old-style Windows. For instance, the control panel and system tools use a normal Windows user interface (UI), even though they have to be launched from the new one. In many ways it appears to mix up the two user interfaces, which will certainly confuse people until they learn that, just like in Windows 7, there are multiple ways to complete certain tasks in Windows 8.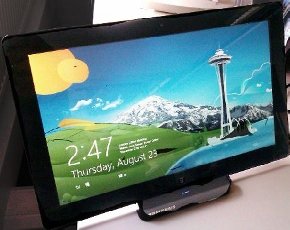 Gartner's Silver says the benefits of the new user interface running on a "traditional form factor device", like a desktop PC or clamshell notebook are not proven.
However, Quocirca analyst Clive Longbottom expects the new UI could help Microsoft establish the operating system in the table market. "With a neat, new tile-based front end ("Metro" as was, now either "Modern UI Style" or
Programming changes
Arguably, the biggest changes Microsoft is making to Windows is on the application programming framework. The .Net Framework, which was originally introduced in 2001 with its Visual Studio.Net programming tool, is being replaced. The new .Net Framework is the strategic server framework, which has been optimised for cloud computing. On the client side, Microsoft needs to support multiple devices from x86-based PCs, ARM-based Windows RT tablets and Windows-based smartphones.
In Forrester's Future of the .Net platform report, analyst John Rymer noted: "The .Net platform will change dramatically during the next year. Thefuture of Microsoft's platforms is on mobile devices and in cloud-computing services – not confined to PC desktops and Intel servers alone. Key to this change are innovations to both the clients and servers in Microsoft's platform. WinRT is the future, and it is a proprietary Microsoft-based hardware." WinRT is Microsoft's new runtime environment that enables applications to run on x86 (Intel-compatible) and ARM-based hardware. It provides a sandboxed environment which, in theory, means WinRT apps are unable to affect each other.
This should make the environment more secure and resilient to hacking.
Microsoft says businesses that wish to continue running traditional Windows client applications on PC devices can migrate their existing applications across from Windows 7. But to take advantage of the new technology and raft of devices that can now run Windows, Microsoft has built a WinRT application programming interface.
Computer Weekly's tests have found that Windows 7-compatible software should run fine on Windows 8 devices that use an x64 (Intel-compatible processor). To run these apps on an ARM-based device, the user needs a suitable virtual desktop client such as Citrix Receiver. But to make the most out of the new operating system, IT departments will effectively have to replace existing Windows x64 PC applications with new, web-based front-end applications On the Microsoft blog earlier this year Steven Sinofsky, president of Microsoft's Windows division wrote: "Many apps will be best served by building new Metro-style front ends for existing data sources or applications, and communicating through a web services API."
According to Sinofsky, line-of-business applications and many consumer web applications should be able to run this way. However, he said some application would need to be re-engineered for WinRT.
For many years, Microsoft has been building its credentials in the enterprise with Windows Server, providing an alternative to costly Unix systems. It has taken over 20 years – since it divorced IBM in 1990 – to build this reputation. On the desktop front, it has had no competition until Apple finally got its act together with the iPad.
Apple initially had little credibility in the enterprise, but its devices are being used within business and some companies are now even contemplating supporting iOS. It is with this backdrop, that Microsoft is setting the stage for the next battle over desktop IT. Windows 8 shows where the company is heading.
It can be used as an upgrade to Windows 7 for traditional PC desktop computing. But desktop computing is not what it used to be. Recognising the threat and opportunity of IT consumerisation, Microsoft has made Windows more like Android and iOS, even though these lack the enterprise heritage the company has worked so hard to earn.
This new OS shows where Microsoft is heading with Windows; it will be increasingly consumer-focused. Windows 8 does work with a mouse and keyboard, but it is certainly not the same user experience as Windows 7. The move from Windows XP to Windows 7 was a comparatively small step; the move to Windows 8 will be a giant leap. With Windows 8 Microsoft is providing separate features for enterprise users but Microsoft's Sinofsky wants businesses to use web-based applications and WinRT going forward.
As applications are redeveloped, the distinction between the consumer operating system and professional versions will disappear. Ultimately, on Microsoft's roadmap, there will be only one Windows, and it will use WinRT-based applications.