White Paper: DVD-ROM: the basic facts
A true successor to the CD ROM, the DVD ROM has much greater fault tolerance and storage capacity
A true successor to the CD ROM, the DVD ROM has much greater fault tolerance and storage capacity
Since there is no "application layer" for DVD-ROM, there are a number of potential compatibility problems that can occur with DVD-ROM products. In July 1997, Intel and the Software Publishers Association (SPA) held a DVD-ROM test event in San Jose, California, approximately 25 different DVD-ROM hardware and software vendors were invited to bring prototype versions of their systems, and about 40 title developers were asked to bring beta copies of their DVD-ROM titles. Over a two day period each DVD-ROM title was tested on each DVD-ROM enabled computer system.

Download this free guide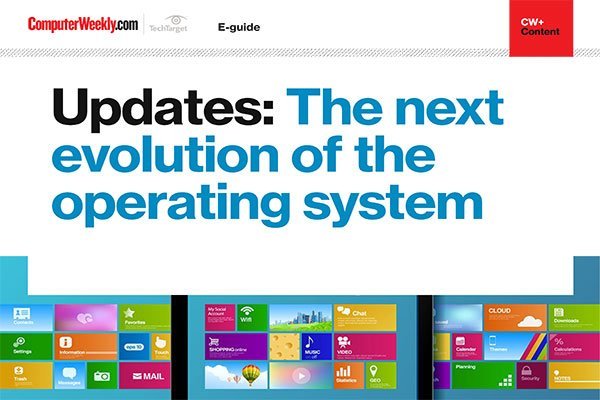 Software Updates: Our latest e-guide is available for your device. Download now?
See how operating systems are evolving with the help of continuous updates and learn about how the Spectre and Meltdown microprocessor flaws have led to improved, more secure processors being released and how Microsoft is evolving its Windows desktop operating system.

The results of the testing effort (66% of the titles tested did not work correctly on at least one, and in most cases several of the DVD-ROM systems) indicated that there were a number of compatibility problems with DVD-ROM. The SPA formed a Technical Working Group to investigate the DVD-ROM Compatibility problems and to develop recommendations to insure that any DVD-ROM title would work correctly on all DVD-ROM enabled personal computer systems. The SPA DVD-ROM Interactive Media Format Technical Working Group initially has only looked at Windows 95 applications, since the vast majority of title developers were targeting their products for standard Windows platforms. Most of the compatibility problems were caused by differences in the way that standard MCI drivers had been implemented by each DVD-ROM vendor. The SPA DVD-ROM TWG decided that the best course of action was to recommend a standard set of MCI calls that should be supported by all DVD-ROM hardware and software vendors. Once adopted by the DVD-ROM vendors, this standard set of MCI calls could be used by DVD title developers to insure that their titles worked on all platforms. Since time was of the essence, it was decided to base the DVD-ROM MCI recommendation on a subset of the OM-1 MCI recommendations for MPEG-1 which were completed about two years ago. Development of DVD-ROM titles under the Windows 95 operating system will typically require making several different MCI calls, particularly if the title includes any multimedia content. Microsoft has made it clear that they do not intend to provide MCI support under the Windows 98 operating system. They recommend that DVD-ROM titles, developed to run on Windows 98, use DirectShow 2.0 as the primary interface for multimedia support. Microsoft also recommends that all video, and audio content be stored as standard DVD-Video Video Object Files (VOB) within DVD-ROM applications for playback on Windows 98. It is important to note that DirectShow 2.0 is being designed to provide built-in DVD-Video navigation functions as well as DVD-Video stream demultiplexing functions. This means that DVD-ROM titles running under Windows 98 should use Video Object files (VOB and IFO) that are fully compliant with the DVD-Video specification, Revision 1.0. Apple's DVD-ROM strategy is not clear enough at this point to discuss how DVD-ROM titles should be developed for playback on Apple OS7 or OS8 systems. It is likely that the primary interface for DVD-ROM titles will be through QuickTime, but this may change as Apple's DVD-ROM products are further developed. A number of vendors are currently offering DVD-ROM drives and MPEG-2 playback boards that can be used to play DVD-Video titles on DVD-ROM enabled personal computers. DVD-ROM drives became available from several different manufacturers starting in the Spring of 1997. All DVD-ROM drives announced to date will be fully backwards compliant with the CD-ROM standard, so that they can be used to play a standard CD-ROM title. While the DVD-ROM Format Book requires that players provide a data transfer rate of at least 10.0 Mbits/s (8X CD-ROM), most manufacturers are planning on releasing drives that provide even faster transfer rates. Both internal and external versions of DVD-ROM drives will be available for use on a variety of computer platforms, as well as some DVD-ROM/DVD-Video combination drives that will include a MPEG-2/Dolby AC-3 decoder board for the PC. Several members of the DVD Consortium, including Hitachi, Pioneer and Toshiba, are shipping DVD-ROM devices. The authoring process for DVD-ROM titles will be very similar to the process currently used for CD-ROM titles. While each developer has their own unique methodology for publishing titles, there are a number of common steps that can be defined. During the first phase, the developer defines the overall concept of the title, determines what media elements need to be acquired and how the application program will integrate these media elements into a finished title. Many developers also generate a detailed specification for the title and a development plan that defines the proposed cost and schedule for the creation of the DVD-ROM. During the second phase, the developer acquires all of the media assets that are to be used in the title and has them converted into a format which is suitable for use on the DVD-ROM disc. These media assets can include video, audio, still images, graphics, text and animation. Video and audio content will be digitised, and possibly compressed, and then converted into a format that is compatible with the target playback platform. Still images, graphics, animation and text will also be digitised, if they are not already in a digital form, and possibly compressed, and then converted into a format that is compatible with the target playback platform. Then the developer writes the application program using a variety of off-the-shelf tools. This effort can be simple for a title such as a Clip-Art collection or complex for a title such as an interactive game. Over the past several years, the CD-ROM development community has benefited from a number of new development tools that simplify the process of writing custom multimedia application programs. It is likely that the vendors who currently offer these CD-ROM tools will come out with versions of their products for DVD-ROM. The developer then builds a prototype of the title for testing purposes. The prototype can be stored on a hard drive until the application has been tested and debugged sufficiently to justify having a DVD-ROM check-disc burned. If the application and its associated media elements are small enough to fit on a DVD-R disc, then the developer can create a DVD-ROM check-disc using a DVD-R write-once drive. This method provides the developer with the most flexibility and the lowest cost for preparation of the check-disc since they can control the entire process in their shop. If the application is too large to fit on a conventional DVD-R disc (larger than 3.8 Gb), then a master DVD-ROM disc must be made. This can be accomplished by sending a DLT tape to one of a number of companies that specialise in mass producing DVD-ROM discs. Most of these companies offer a check-disc program where a single DVD-ROM disc is made from the data provided on the DLT tape master. The DVD-ROM check-disc is sent back to the developer where it will be tested and debugged. Finally, the developer has the final DVD-ROM discs manufactured. Most DVD-ROM disc manufacturers will also provide packaging services. Compiled by Ajith Ram (c) 1998 Alphadvd LLC